Huawei Mate 10 Pro available for pre-order in the US on February 4
The Chinese company is making moves on US soil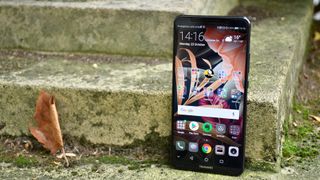 Huawei has officially planted its flag in the US at CES 2018. Among its many announcements, the global manufacturer shared the price and availability of the Huawei Mate 10 Pro – finally making it easy to snag a 2017 phone that we have many good things to say about. In fact, we voted it one of the year's best phones.
This has been a long time coming for the Chinese company, which for years has enjoyed success around the world. Steadily building on the comparatively limited, albeit beloved presence in the US found with its wearable lineup and more recently, some standout laptops, like the Huawei MateBook X, it's now primed to release a smartphone to the masses.
The GSM-only (perfect for AT&T, T-Mobile, Cricket, MetroPCS, etc.) Huawei Mate 10 Pro will be available for pre-order in the US on February 4 via its retail partners, which includes Amazon, Newegg, B&H, Best Buy and Microsoft Store (both online and its brick-and-mortar locations – the latter of which could amount to a huge win for Huawei).
The phone will be available of February 18 to purchase for $799, but there's a good reason to pre-order, as you'll get a free $150 gift card to whichever retailer you purchase through in the lead-up to its release.
But wait, there's mor(sche)!
Releasing the Mate 10 Pro alone would be fine and dandy, but it wouldn't be a proper entrance into the US if Huawei didn't also bring over its special edition made in collaboration with Porsche Design: the Huawei Mate 10 Porsche Design. If you've got some extra Benjamins and an itch that only sleek Porsche Design can scratch, you'll also be able to pick up this phone in February.
Compared to the Mate 10 Pro, which features 6GB of RAM and 128GB of storage, the Mate 10 Porsche Design features double the amount of internal storage and a souped-up look to match the name. But of course, it's going to cost you. This one will set you back a staggering $1,225.
Is it worth the price? It certainly will be, for some. For the rest of us, let's just say that it's nice to have options, even if this one's not for you. Nevertheless, we'll be checking it out on the showfloor to see for ourselves.
New year, new tech – check out all our coverage of CES 2018 straight from Las Vegas, the greatest gadget show on Earth
Sign up to receive daily breaking news, reviews, opinion, analysis, deals and more from the world of tech.
Cameron is a writer at The Verge, focused on reviews, deals coverage, and news. He wrote for magazines and websites such as The Verge, TechRadar, Practical Photoshop, Polygon, Eater and Al Bawaba.