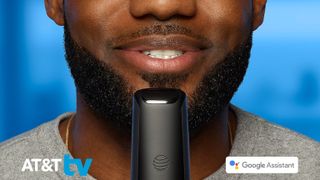 (Image credit: AT&T)
Back in early March, AT&T unleashed its new streaming service called AT&T TV that is set to rival the likes of YouTube TV, Sling TV and Hulu. Unlike the services already on the market, though, AT&T TV is both a streaming service and the name of the Android TV hardware that AT&T sells you with each subscription.
The service allows you to stream more than 170 channels of TV with 40,000 on-demand titles and 500 hours of DVR storage space, making it probably the most robust live TV streaming service on the market.
The internet-delivered streaming service is available now throughout the US to both non-AT&T and AT&T cable subscribers alike in multiple tiers, with pricing plans that start at $49.99 per month and rocket up to $130 per month for packages that include HBO, Cinemax and additional sports channels.
So what's the catch? The first year of the service is heavily discounted with a big price bump after the first year is over... unless you commit upfront to a two-year contract.
Should you cut the cord, and should you do so with AT&T's new streaming service? Here's everything you need to know about AT&T TV.
AT&T TV 101: What is it? Can it replace cable?
AT&T is a live TV streaming service from AT&T that can replace your cable package. It requires AT&T's Android TV-based player, but you don't necessarily need AT&T's internet package to subscribe to it.
AT&T recommends a minimum of 8Mbps per stream for optimal viewing, which it says would pair nicely with its Internet 25 plan, but again, it's not absolutely necessary to get internet service from AT&T to use AT&T TV.
Although it's competing against AT&T's other services like DirecTV Now and the upcoming HBO Max, AT&T TV will be the company's flagship service – one that you can expect to see pretty highly publicized from here on out. (According to Variety, the service won't be outright replacing DirecTV Now, AT&T's previous streaming endeavor, but the latter won't see much screen time.)
The good news is that you're welcome to stay with DirecTV Now – the upfront cost is more expensive, but there's no price jump after the first year like with AT&T TV.
How you see AT&T TV as a viable alternative to cable will depend on whether you see its introductory price as a reprieve from your costly cable bill or merely the oil used to lure the fly to the trap.
In some ways, the low up-front cost and bundled hardware – capable of acting as a 4K streaming device for Netflix, Disney Plus, YouTube, Spotify and Pandora, plus built-in Google Assistant – make it a decent deal.
That said, that deal isn't nearly as good at $135 per month for the Xtra package in its second year or, if you ever need a second box that costs $120... in fact, it's probably more expensive than traditional cable at that price.
AT&T TV channels, prices and packages
Like your regular cable package, AT&T TV is divided into a number of packages that offer a different set of channels based on how much you pay.
Right now, the service is divided into four plans (six if you count the HBO extras), but that's something that could change down the road as AT&T decides to cut packages or add more to match the needs of its users.
AT&T Entertainment is the basic package that includes ESPN, TNT, Nick, Home & Garden and your local channels plus many, many more that we'll cover below. The plan currently costs $49.99 per month for the first two years of the contract, and then shoots up to $93 per month once that contract expires.
AT&T Choice is better for sports fans as it includes a lot of the Fox Sports, NBC Sports and Travel and Cooking channels. The plan currently costs $54.99 per month for the first two years of the contract, and then shoots up to $110 per month once that contract expires.
AT&T Xtra is going to look like the cable package you're used to seeing with pretty much all the channels you'd get on your cable package available without the cord. Specifically it adds a lot of the niche channels like MTV Classic, Golf Channel and Nat Geo Wild. The plan currently costs $64.99 per month for the first two years of the contract, and then shoots up to $124 per month once that contract expires.
AT&T Ultimate is everything Xtra has plus the Starz network of channels. This plan currently costs $69.99 per month for the first two years of the contract, and then shoots up to $135 per month once that contract expires.
AT&T Plus adds HBO to the mix. It starts at $110 per month and doesn't have a set price yet after that contract ends.
AT&T Max is the ultimate streaming package and includes all the premium channels. It has HBO, Starz, Cinemax and all available sports channels. This one starts at $130 per month and doesn't have a set price yet after that contract ends.
For the complete channel offerings, check out AT&T TV's website.
AT&T TV vs YouTube TV and others
Probably the biggest question you'll have about AT&T TV is whether it's the best TV streaming service on the market... and while we'd love to give you a definitive answer, it's going to depend largely on what your monthly budget is, how many channels you feel you need and whether you want a dedicated box.
If you compare AT&T TV to, say, YouTube TV, the latter is cheaper and doesn't require any sort of contract. That's great if you see yourself not being able to commit to the service long-term and just want something to watch for a few months.
That being said, YouTube TV does have fewer channels than AT&T TV and it doesn't come with any dedicated hardware - which is nice for folks who don't have a streaming box in their home already. AT&T TV also has more flexibility in how many channels you can add to the service, with the option to include every premium TV channel and all the extra sports channels.
We believe that YouTube TV is probably going to be the better fit for most people, but it's worth considering AT&T TV if you want the most channels and don't mind paying a hefty premium for them.
Sign up for Black Friday email alerts!
Get the hottest deals available in your inbox plus news, reviews, opinion, analysis and more from the TechRadar team.
Nick Pino is Managing Editor, TV and AV for TechRadar's sister site, Tom's Guide. Previously, he was the Senior Editor of Home Entertainment at TechRadar, covering TVs, headphones, speakers, video games, VR and streaming devices. He's also written for GamesRadar+, Official Xbox Magazine, PC Gamer and other outlets over the last decade, and he has a degree in computer science he's not using if anyone wants it.