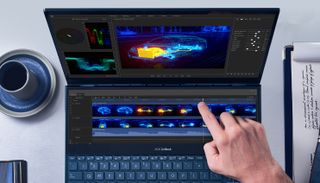 (Image credit: Asus)
Turning back the clock to the start of the last decade, laptops were a very different kind of beast. They were a lot less portable, for starters – particularly more powerful notebooks or gaming machines. But a lot has changed for the better, in terms of the internal hardware components, screens, connectivity, not to mention the overall design.
Speaking of design, the most obvious overall change in the laptop arena – aside from devices getting much slimmer – is the development of 2-in-1 convertibles. Back in 2010, this category of hardware hadn't even hit the mainstream, and had only seen clunky and experimental products emerge.
Nowadays, 2-in-1 laptops are widely used, and come in the form of convertibles (which fold back to convert into a thick tablet) or detachables (with a keyboard that comes off). These hybrids provide a degree of flexibility and portability which couldn't be imagined a decade ago, and still, the notebook world is pushing further with a daring new concept – devices which comprise of two screens.
We'll come back to that freshest of innovations, but first, let's take a look at the laptop fundamentals, and the advances we've witnessed with internal hardware throughout the years.
Cores for action
Processors are much faster now, for starters. Back in 2010 the likes of Apple's MacBook Air 11-inch was still using Intel® Core™ 2 Duo chips, whereas now we're onto 10th Gen Intel® Core™ processors. And of course powerful 8-core mobile processors are now becoming more common, packing even more performance for demanding tasks.
The leap forward can be felt just as keenly with the productivity and streaming abilities of new laptops as well. It's now easier than ever to have multiple apps running at the same time - so you could be writing up a few emails in one window, while streaming the latest binge-worthy Netflix show in another.
It means laptops are also better gaming devices as well, and we're not just talking about playing the latest games at ultra-high definitions – modern laptops are great for playing casual and addictive games as well.
With modern notebooks getting slimmer and slimmer (as well as lighter), they are much easier and more convenient to carry around with you than was the case a decade ago.
Battery and cost benefits
Aside from power and portability, there are two further obvious ways in which laptops have progressed considerably since 2010 – namely cost and battery life.
You can now pick up some very affordable laptops, and the real difference is that these budget machines offer a genuinely solid level of performance compared to the portables of yesteryear.
You can also now get an impressive performer of a gaming laptop for a price that would have been unbelievable not so long ago. And most laptops make use of Solid State Drives to store your apps and documents on. These are much faster than traditional hard drives, and mean even budget laptops can fire up Windows 10, along with your favorite apps, incredibly fast.
As for battery life, we have seen the introduction of innovative new laptops which boast frankly incredible battery longevity (with help from modern processors like the 10th Gen Intel® Core™ series, which are increasingly power-efficient).
Dell does very well when it comes to the best laptops with long battery lives, offering models with around 20 hours of longevity – and you can get even more with so-called 'always connected' PCs.
These can offer up to a claimed battery life of 22-23 hours, and prove that just because laptops are getting thinner and lighter, it doesn't mean you have to sacrifice battery life either.
Connectivity chops
'Always connected' machines get their name from the fact that they have built-in 4G (and 5G) cellular connections – like smartphones do. This lets you go online wherever you are, and offers a more convenient (and secure) way to browse the internet when out and about.
Meanwhile, Wi-Fi 6 has burst onto the notebook scene, featuring much faster wireless speeds (and perhaps even more importantly, better performance in crowded environments with lots of Wi-Fi devices).
Then on the wired side we have the likes of Thunderbolt 3 ports offering massive data transfer speeds, and also the flexibility of piping not just data, but also video signals and power (for charging) down the same cable. You can now have an external graphics card in an enclosure at home (or work) that can be plugged in to your notebook, supercharging its graphics power to the full level of a desktop PC (at least when you're at your desk).
Intel's Project Athena has been another force driving forward for laptops with lightning fast connectivity, longer battery life, superfast wake from sleep functionality, and generally pushing to deliver better performance with thin-and-light machines. The Athena-certified HP Elite Dragonfly stole the crown for our best 2-in-1 laptop in 2020 with its superb battery life, excellent keyboard, and sublime overall design.
Screen machines
While a lot of the innovative developments we've traced so far deal with what's inside modern laptops, we've also witnessed some much more immediately obvious and striking changes in the laptop world.
Like Apple's MacBook Pro introducing the Touch Bar, a context-sensitive touch strip at the top of the keyboard which can provide tailored icons for software that supports it.
But bigger moves than this have been made with the idea of secondary displays, like Lenovo's Yoga Book with an E-Ink screen that doubles as a virtual keyboard. Or Asus bringing in a second screen that sits below the primary display, nestling above the keyboard, in its ZenBook Pro and gaming laptops. This allows you to use another app on the smaller secondary display.
We've also seen laptops with foldable screens arrive on the scene, like Lenovo's ThinkPad X1 Fold, which is expected to be launched imminently (mid-2020). And there are dual-screen devices in the pipeline which will use Windows 10X, a special spin on Microsoft's desktop operating system designed for this kind of portable. (Microsoft's own Surface Neo dual-screen offering is also coming, which could help us become far more productive if early research is any indication).
Speaking of screens, 4K displays in general have been a huge eye-opener (literally), and jaw-dropping displays abound, including OLED efforts that deliver an image quality we could only have dreamt of 10 years ago.
When you further consider some of the more under-the-radar advancements, such as with security – including integrated fingerprint sensors, or facial recognition login via the laptop's webcam, convenient systems which have become far more commonplace – it's clear that the laptop landscape has changed dramatically over the past decade, from the fine details to the bigger picture.
And with much more power, better battery longevity, and advances in Project Athena and 'always connected' devices, along with widespread 4G coverage – and now 5G – perhaps the biggest difference of all since 2010 is that the laptop has become so much more effective in terms of being able to use it on-the-move. Which, after all, is ultimately the point of these portables.
Get daily insight, inspiration and deals in your inbox
Get the hottest deals available in your inbox plus news, reviews, opinion, analysis and more from the TechRadar team.