The best GoPro apps and accessories for boosting your fitness workouts
Upgrade your exercise with these GoPro apps and accessories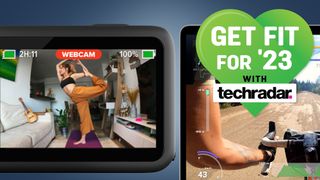 (Image credit: Future)
Sticking to your fitness goals is a lot easier when exercise is a byproduct of having fun. And those are the kinds of workouts that GoPro action cams love to be a part of. Whether you're recording a Go Ape adventure, check your lifting form, or adding motivational data to your cycling videos, these little action cams can be brilliant exercise buddies. After all, research shows that people who enjoy exercise are far less likely to spend time on the sofa.
Sure, you don't necessarily need an action cam to achieve your fitness goals. But if you already have a GoPro in your possession, you can easily use it to upgrade your workouts. If you're busy shooting a sports montage, you might forget that you're actually working out.
Whether you're pushing in the gym or going easy in the saddle, adding a GoPro to your workouts can augment your routine and help you stick to it. If you're lifting weights, for example, you can set up a GoPro to record your form and review where there's room for improvement. Equally, with the right software, you can capture real-time training telemetry and overlay it on the resulting footage – whether for a competitive edge or simply an interesting insight.
If you want to incorporate a GoPro into your fitness routine, this guide will help you get started. From tripods to chest mounts, we've picked out the best GoPro accessories to help you film different types of exercises. Further down, we've also highlighted the top apps for adding workout data to your videos, from simple speed readouts to GPS route overlays and G-Force gauges.
We've included several suggestions for upgrading your gym sessions, but our list isn't limited to indoor workouts. We've also covered accessories and apps fit for a range of outdoor pursuits, suitable for first-time paddle-boarders and experienced skiers alike. If you don't own a GoPro already, check out our favorite models in our guide to the world's best action cameras. But for now, it's time to check out the best GoPro accessories and apps for boosting your fitness workouts.
Best GoPro accessories for fitness workouts
Best for watersports: Nu Bear Nu Grip
Whether you're a seasoned surfer or a student sailor, this four-way handle is ideal for gripping while exercising out on the water.
It looks very much like a standard action camera handle, with the option to extend it telescopically for wider shots. But thanks to the Nu Grip's floating tips, you can use it to capture your water-borne activities without fear that a dropped GoPro will disappear down to the murky depths. And because they're bright orange, those buoyant ends should make it easier to find and fish out if your GoPro does go overboard.
If you're keen to give snorkeling a splash, the Nu Grip's party trick will prove particularly useful. It can float upside down in tripod formation, for steadier shots below the surface. You can also extend its central pole down for deeper videos.
Enabling HyperSmooth image stabilization on a recent GoPro should do plenty to counteract any bobbing motion, helping you to record smooth footage of your sub-surface workouts. Who knows, you might yet find fame as a synchronized swimming sensation.
Best for extreme sports: GoPro Chesty
$39.99 / £44.99 / AU$39.99
Mounting a GoPro to your body is the best way to capture point-of-view videos during workouts. It lets you move freely, without having to stop and reposition a static camera.
Attaching a GoPro to your head or helmet is one option, but this has some drawbacks. While the latest Horizon Lock smarts and HyperSmooth stabilization can cancel out serious wobble, a head-mounted GoPro will face the way you're looking, rather than where your body is heading.
GoPro's Chesty mount solves that problem. Strapped to your chest, the harness offers hands-free flexibility while directing your GoPro forwards. This is useful for solo activities such as mountain biking, kayaking and skiing, as well as team sports.
Enable HyperView on a GoPro Hero 11 Black and you'll get an immersive 16:9 frame sourced from the full 8:7 sensor. Paired with some of the apps below, the resulting footage will let you evaluate factors such as speed and route. Manually reviewing it could also reveal aspects of your technique – or capture the moment where you score a glorious goal.
Best for weightlifting workouts: GoPro Gumby
$39.99 / £39.99 / AU$59.95
This compact GoPro mount fixes in place with secure yet flexible twist ties. Thanks to this versatile setup, it can wrap around a whole range of objects, from the handlebars of a bike to the fence at your local tennis court. More portable than a standard tripod, it's also a useful alternative if your chosen arena doesn't feature an obvious spot to set up a three-legged stand.
The base itself rotates through 360 degrees for full framing flexibility. As a result, you can find all kinds of creative angles, whether to add something new to your next exercise video, or to capture fresh perspectives on your form.
We think it could be most useful for gym and weightlifting workouts where space is at a premium. Rather than positioning a tripod opposite your lifting station, you could use the Gumby to fix your GoPro to the post of a squat rack. Alternatively, you could attach it to an overhead beam for a birds-eye view of your lifting technique, or strap it directly to the bar itself.
Best for cycling: Forevercam Metal Bicycle Mount
$18.99 / £16.99 / AU$16.99
If you're happy in the saddle but prefer not to wear a chest strap, this handlebar mount is a great alternative for capturing fitness footage during your rides.
Road or trail, the aluminum attachment bolts securely around the bars of your bike for a fixed view of the route ahead. With Horizon Lock and Hypersmooth image stabilization enabled, the whole setup should be reliably steady, even if you're hopping over rocks. And if you'd like to feature in your own fitness video, you can swivel the neck through 360 degrees.
The Forevercam mount is a top choice if you want to create graphics in the style of TV cycling coverage. The apps further down this page allow you to add all sorts of telemetry data to your GPS-enabled videos as a customizable overlay.
By using this metal mount to fix your GoPro to your handlebars, you'll have a secure base for shooting your pedal-powered progress. And depending on how wide you set the lens, videos may also appear more cinematic, as your bars won't be visible in the shot.
Best for technical exercises: Joby GorillaPod Action Tripod
A tripod is a truly useful tool for recording your workouts. From the gym to the ski slope, you can use this base to capture stable workout footage with your GoPro. Because a tripod holds your camera steady, dialling up the frame rates should produce crystal clear fitness footage. Both the Hero 10 Black and Hero 11 Black can capture 4K video at 120fps, or 2.7K at 240fps. Whatever your sporting discipline, this is ideal for analyzing your technique in detail – or capturing dramatic slow-mo moments.
Joby's GorillaPod Action Tripod combines stability with flexibility. It can serve as a standard tripod, but its ball-and-socket setup also makes the legs bendable in all directions, meaning you can mould them to suit uneven surfaces or twist them around pretty much any object.
That could be a tree branch beside a mountain bike track, the railing on a sailboat or a boulder beside your climbing spot. Besides providing a platform for wobble-free video, the creative opportunities unlocked by the Gorillapod could well tempt you into trying new activities.
Best GoPro apps for fitness workouts
There aren't yet apps that will transform your GoPro into a full-fat fitness coach. But there are several software options which can enhance your workout videos by overlaying the telemetry that's captured in real-time by your action camera.
This includes data such as GPS, speed and G-Force, which you can add in different ways during the edit. You can also experiment with motion-detection tools to trigger recordings, check your technique and generally add a new element to your exercise. Because it's that enjoyment factor which will keep you active.
The following GoPro models feature built-in GPS:
• GoPro Hero 11 Black
• GoPro Hero 10 Black
• GoPro Hero 9 Black
• GoPro Max
• GoPro Hero 8 Black
• GoPro Fusion
• GoPro Hero 7 Black
• GoPro Hero 6 Black
• GoPro Hero 5 Black
GoPro Quik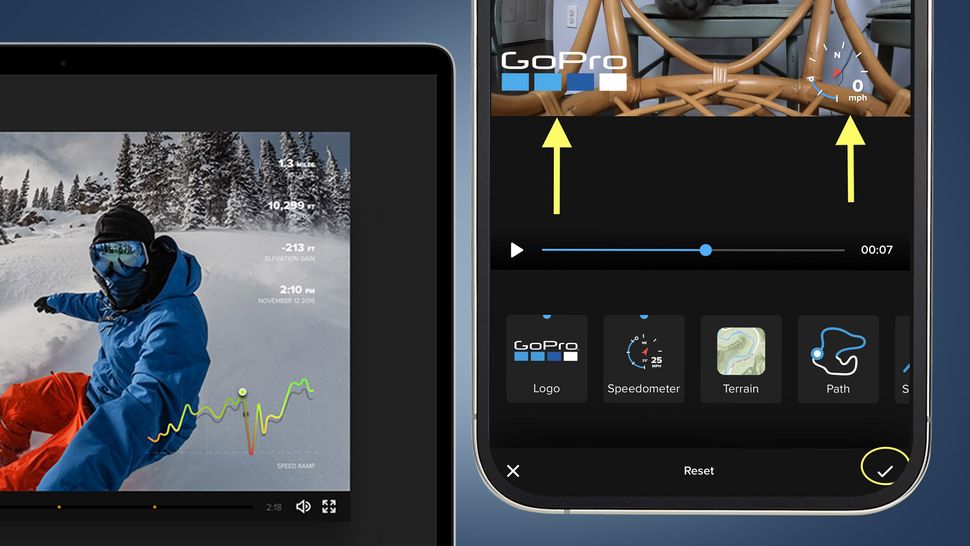 Available for Android and iOS, Quik is GoPro's official video editing app. It allows you to easily trim, adjust and arrange clips from your GoPro via your smartphone. One useful facet of the app for fitness purposes is the option to add Stickers. These use the telemetry captured by your GoPro to display data graphics in sync with the action. Options include a speedometer, terrain graphic, altitude meter, G-Force gauge and path overlay.
Before you start, you'll need to check that GPS is enabled on your GoPro. You can do this from the Preferences menu by selecting GPS, or Regional then GPS, and toggling it to 'On'. When the location pin along the top of the screen turns solid, it's locked on to a satellite and your videos will include the necessary data. Note that this doesn't work with timelapses.
To add Stickers, simply import a GPS video from your Media library. Tap the pencil icon to edit the clip and you'll see the Stickers option. Tapping a Sticker will add it to the top left corner, while tapping again will shuffle it to the next corner. You can add different Stickers to each corner, for a full telemetry overlay.
Garmin Virb Edit
Originally designed for Garmin's Virb action cameras, Virb Edit is a desktop tool that can overlay telemetry on GoPro videos. It hasn't been updated in a while, and it might require some workarounds, but it's a solid option if you want to experiment with adding graphics to your workout videos on desktop. Its library includes animated gauges for the likes of speed, altitude, heart-rate and G-Force.
Whether you download it for Mac or for Windows, Virb Edit only works with footage shot in MP4. Luckily, this is the standard format for GoPro videos. That said, some users have reported issues importing MP4 files straight out of the camera. If this happens, you may need to load files through a program such as iMovie, then export them as MP4 files.
Virb Edit can't pull location data directly from a GoPro video file, so you'll need to load this in separately. Unless you're using a separate GPS tracker, this means extracting the metadata from your videos, which you can do for free using a tool called GoPro Telemetry Extractor. Drop the resulting GPX files into Virb Edit and you'll have synced telemetry and footage, ready to show just how fast and far you exercised.
Telemetry Overlay
$149 (around £125 / AU£225)
At its core, Telemetry Overlay achieves the same result as the two options above: adding data graphics to your workout videos. However, Telemetry Overlay is very much the premium, advanced option. If you're willing to pay a one-off fee for the privilege, you'll bag a comprehensive tool for Mac, Windows or Linux. It can process the data captured by your GoPro, as well as external loggers, to produce polished graphics that upgrade your fitness videos.
It offers all of the telemetry metrics you'd expect, from speed, acceleration and distance travelled, to elevation, G-Force and bank angle. Its catalogue of graphics covers a whole range of categories and styles, including radial dials, virtual instruments and customizable route maps.
There are also preset overlays for several sporting disciplines, which feature info specific to different activities, such as cycling, skiing, sailing, and even aviation. Not only can these graphics give your footage a professional feel, but they can also take your video analysis to the next level, allowing you to assess multiple metrics against the action as it happens.
GoPro Labs
GoPro Labs is a suite of experimental features for your action camera. Not included in a production release, these tricks have the potential to add new dynamics to your workout videos. To use them, you'll need to download and install the latest GoPro Labs firmware (where you'll also find a list of compatible camera models). Doing so won't sacrifice any of the existing features of your GoPro.
Once installed, you'll have an expanded arsenal of recording tools. One is Motion Triggers, which uses your GoPro's accelerometer and gyroscope to record only when the camera's in motion. This could be a useful option if you want to shoot each rep of a deadlift set as a separate clip, for example.
Alternatively, you can use Motion Detection across all video modes to capture video only when action is happening in the frame. This could be particularly handy for conserving battery life, or setting and forgetting your action camera.
Position it on a tripod at a point along a ski slope or skate park, for example, and it'll shoot your moves only when you pass the camera, letting you review your technique without having to scan through minutes of empty video.
Sign up to receive daily breaking news, reviews, opinion, analysis, deals and more from the world of tech.
Formerly News Editor at Stuff, Chris has rarely been able to resist the bite of the travel bug – so he now writes about tech from the road, in whichever Wi-Fi-equipped café he can find. Fond of coffee kit, classic cars and sustainable gear, if there's one thing Chris loves more than scribbling, shooting and sharing his way around the world, it's alliterative triplets.