The SweetNight Original Pillow is stuffed with cubes of memory foam, which can be removed to take it from super-chunky to flat-as-a-pancake. This means it'll suit pretty much any sleep style and build. I was also a fan of the plush feel, and impressed with the temperature regulation too. The fact the cover can be removed and machine-washed makes it easy to keep clean. An outstanding all-rounder that'll suit almost anyone.
Pros
+

Adjustable fill

+

Can suit any sleep position

+

Doesn't need to be plumped

+

Doesn't trap heat

+

Removable/washable cover
Cons
-

Might have a slight odor upon unwrapping

-

Not cool to the touch

-

Synthetic materials
Why you can trust TechRadar We spend hours testing every product or service we review, so you can be sure you're buying the best. Find out more about how we test.
SweetNight Original Pillow: Two-minute review
The SweetNight Original Cooling Gel Foam Pillow is a fat pillow. Honestly, I've hugged humans that didn't seem to be this substantial. It's thick and chunky – and I love it. Admittedly, I'm a big fan of tall, soft, high-loft pillows. However, if you prefer a medium or low loft, you can zip it open and remove as much of the gel memory foam stuffing you need to until it's the perfect height for you. This makes the SweetNight Original pills suitable for back, stomach, and side sleepers, as well as various builds.
The gel memory foam and breathable cover also combine to help with temperature regulation, which is important to hot sleepers. While this pillow isn't 'cool to the touch' per se, it didn't make me hot, either, in the more than two weeks that I slept on it. In addition, the outer cover is hypoallergenic, antibacterial, and dust-mite resistant, and can be removed and washed, which is a win on the hygiene front.
Keep reading to see how the pillow matches up to the rest of the on the market. And if you're looking for ways to really boost your sleep comfort further, take a look at our guide to this year's best mattress for all budgets.
Having tested plenty of other other options, I think the SweetNight Original Cooling Gel Foam Pillow is one of the very best pillows on the market right now. It's ultra-comfortable, effectively temperature regulating, and reasonably-priced. Plus, the adjustability means it can suit any type of sleeper. Read on for my full SweetNight Original Cooling Gel Foam Pillow review.
SweetNight Original Pillow review: Specs
Swipe to scroll horizontally
| | |
| --- | --- |
| Stuffing | Cubes of gel-infused memory foam |
| Cover | Rayon and polyester blend, removable and washable |
| Loft | Adjustable |
| Size | Standard, queen, king |
| Trial period | 30-day full refund policy |
| Warranty | 3 years |
| MSRP | $75 - $85 |
SweetNight Original Pillow review: Price and deals
Currently the SweetNight Original Cooling Gel Foam Pillow is the only pillow in the SweetNight range, and it's available in three sizes. It's available to purchase directly from SweetNight but also might be available via Amazon – although the stuffing on that version looks different in the photos, so it might not be exactly the model I reviewed. Regular sales mean you should be able to avoid paying full price.
Here's a look at the official pricing and the discounts available on the SweetNight site at time of writing:
Standard: MSRP $75 (on sale for $60)
Queen: MSRP $80 (on sale for $64)
King: MSRP $85 (on sale for $68)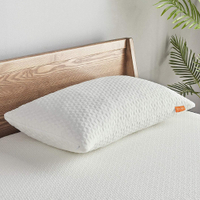 View the SweetNight Original Pillow from $75 now $60
The SweetNight Original pillow comes stuffed with cubes of cooling gel foam, which can be removed to achieve the perfect loft. It's available in three sizes (although the standard seems to be perpetually out of stock) and all are discounted at time of writing.
SweetNight Original Pillow review review: Design and materials
Gel-infused, cubed memory foam stuffing
Stuffing can be removed to adjust loft
Outer cover is waterproof and machine-washable
The SweetNight Original Cooling Gel Foam Pillow is made of gel-infused shredded memory foam filling. With all the cubes inside, this is a seriously thick pillow. However, they can be removed to adjust the loft to the sleeper's exact preferences.
This pillow actually has two covers. The cubes of foam are encased within an inner cover, and then there's a second, outer cover, made from a rayon and polyester blended fabric. The outer cover can be removed and tossed into the washing machine, making it easy to keep this pillow clean. SweetNight recommends tossing the pillows into the dryer every two months (with the zippered covers on) to keep them from going flat.
There are three sizes to choose from. At time of writing there were no dimensions listed on the SweetNight site, but the PR provided sizes as follows:
Regular: 62cm x 45cm (out of stock at time of writing)
Queen: 70cm x 45cm
King: 91cm x 45cm
The pillows are also OEKO-TEX certified to be free of harmful chemicals, and the foam is CertiPUR-US certified, which means it meets certain environmental and health standards (all the best memory foam mattresses will have this certification for their foams).
Design score: 5/5
SweetNight Original Pillow review: Comfort and support
Gel-infused cubed foam stuffing is comfortable and supportive
Can be adjusted to suit all sleep positions and body types
When full, this pillow is very thick
The SweetNight Original Cooling Gel Foam Pillow is a thick pillow that provides a comfortable – actually huggable – experience. It's one of those pillows that encourages you to sleep face down simply so you can hug it. And let's be honest, that's actually the best position for the best sleep! (ed's note: this is actually not the best position to sleep in, as it's not good for your back in the long run – you're better lying on your side).
The SweetNight Original Cooling Gel Foam Pillow comes filled with cubed foam stuffing, designed to make the pillow supportive yet comfortable. Zips on the inner and outer covers enable you to remove as much stuffing as you want, to achieve your perfect loft. If you leave all the stuffing inside, this is a seriously thick pillow, but you could make it a medium loft or even a low loft if you prefer. All this means it can be adapted to suit pretty much anyone, of any build and sleep position, and ensure your head is at the perfect height to ensure correct spinal alignment.
My preference is for a thick, high loft pillow that's huggable, so I never removed any of the fill. It's hard to imagine a better sleeping experience – I would liken it to sleeping on a cloud, but a supportive cloud that could be hugged.
Many memory foam pillows are made from a single block of foam, which can feel overly firm or solid. The cube-shaped memory foam filling here makes the SweetNight pillow incredibly soft and fluffy. It contoured comfortably around my head when lying on it, but there was none of the slow-moving, quicksand feel traditionally associated with memory foam – instead, the SweetNight pillow is springy and bounces back immediately when pressure is removed. It also kept its shape extremely well, and I never had to refluff it.
For me, sleeping face-down was the absolute best position with the DreamFoam pillow. Sleeping on my side was also comfortable, as was propping the pillows behind my back when sitting in bed to watch TV. When sleeping on my back, the pillow wasn't uncomfortable, but my body tended to transition into the other two positions – partially because they were more comfortable, and partially because I only sleep on my back when in testing mode.
Firmness and support score: 5 out of 5 stars
SweetNight Original Pillow review: Temperature regulation
Not cool to the touch, but the general temperature regulation is good
No issues with this pillow trapping body heat
Cubed memory foam offers better breathability
The memory foam stuffing in the SweetNight Original pillow is infused with gel (referred to as 'icy particles'), which is designed to help with temperature regulation. Gel-infused foam is used regularly in memory foam mattresses, but in reality, industry insiders will tell you that the gel is added in such small quantities that it won't make an appreciable difference to how the foam feels. Nevertheless, some foams do sleep cooler than others, and I found the SweetNight offered decent temperature regulation.
The fact that the foam is cubed will also help boost breathability compared to if it were a solid slab, because there's space for air to circulate within the pillow.
The SweetNight Original Cooling Gel Foam Pillows weren't cool to the touch, but neither are the vast majority of 'temperature-regulating' pillows that I test. However, the pillows did provide a relatively cool sleeping experience. Since I have central heat and air, the temperature doesn't change much in my home, so I'm never hot in the summer or cold in the winter. However, during testing phases, I sometimes get hot in any season if the pillows or bedding is hot. I didn't have any issues with the SweetNight pillow trapping heat or getting warm overnight.
Temperature regulation score: 4.5 out of 5 stars
SweetNight Original Pillow review: Setup and extras
Arrive shrink-wrapped, 1-2 hours to expand
SweetNight warns there can be off-gassing
... but I didn't have an issue with this
The pair of SweetNight Original Cooling Gel Foam Pillows arrived in two branded boxes. I'm not a fan of branded boxes, since they tend to advertise what's inside. So I'm always thankful when these boxes safely reach their destination.
Admittedly, the boxes were a little beat up, but had been thoroughly taped, and the contents were in good condition. Inside each box, the pillows were individually wrapped in one layer of plastic, and shrink-wrapped in a second layer of plastic.
Image 1 of 4
SweetNight recommends allowing 1 to 2 hours for the pillows to fully inflate, so I tore open the plastic wrap, and then left them for 2 hours to expand. The brand also warns that it's normal for new pillows to have a slight odor, but by letting the pillow air out for 1-2 days, the smell would dissipate. This is know as off-gassing and it's harmless but can occasionally be unpleasant. To be on the safe side, I moved my SweetNight pillows to another location for two days, although I never smelled any off-gassing odors – and my nose is sensitive.
In terms of extras, you've got a 30-day full refund period (there aren't many details at all about what kind of returns will be accepted during this period). The pillow comes backed with a three-year warranty.
Setup and extras score: 4/5
SweetNight Original Pillow review: Customer reviews
At time of writing (Sep 2023), on Amazon, the SweetNight Original Cooling Gel Foam Pillow has 603 ratings with an average rating of 4.3 stars. Many reviewers highly recommended the pillow, said they absolutely loved it, finally found the right pillow, and were glad it relieved shoulder and neck pain and supported their neck region. Among the handful of negative reviews were comments that the pillow was too flat, hard as a rock, and produced a chemical smell.
On SweetNight, the pillow has 382 reviews with a 5.0 rating – and 100% would recommend the product. There were only 5- and 4-star reviews. Buyers found the pillow very comfortable, and noted that they had less neck pain when sleeping on it. Among the 4 star ratings, some buyers said they wanted more filling, or thought the pillow was too big, but still loved it.
Should you buy the SweetNight Original Pillow?
The SweetNight Original Cooling Gel Foam Pillow is one of the best memory foam pillows that I've tested. It's supportive while also being soft and luxurious. The ability to remove some of the fill makes the pillow a good choice for side, back, and stomach sleepers. Also, the gel foam filling and outer cover are temperature regulating to keep the pillow cool. And since the outer cover is machine washable, it's easy to keep the pillows clean. An excellent all-rounder that will suit almost anyone.
SweetNight Original Pillow review: Also consider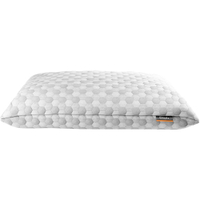 Layla Kapok pillow
This is a comparable option, from a better known, well-respected sleep brand. The Layla Kapok uses Kapok fiber (harvested from the seeds of Kapok trees and designed to be light and airy) and memory foam, and like the SweetNight it's overstuffed with fill, so you can remove it for a lower loft. Both pillows are designed to sleep cool, and both have a machine washable cover. In our Layla Kapok Pillow review, our tester was hugely impressed with this model. However, it does cost significantly more than the SweetNight Pillow, and needs regular fluffing to keep its shape.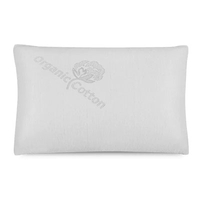 Brooklyn Bedding Talalay Latex pillow
If you'd prefer something natural, check out this latex pillow option. It's not adjustable, but comes in a high-loft and a low-loft versions – stomach and back sleepers can get the low-loft version, and side sleepers will probably want the high loft version. The Talalay latex is breathable, and the pillow is made of organic cotton, so it doesn't trap heat. And the pillow is hypoallergenic. In our Brooklyn Bedding Talalay Latex Pillow review, we found it did get flat and needed to be re-fluffed daily. It's slightly more expensive than the SweetNight Pillow – but when it's on sale, the pillows are almost identical in price.
How I tested the SweetNight Original Pillow
For over two weeks, I slept on a pair of SweetNight Original Cooling Gel Foam Pillows to see how they fared in performance, testing for setup, comfort, support, and temperature regulation. I also lay in side-, back-, and stomach-sleeping positions to see if the performance was the same.
First reviewed September 2023
Terri is a freelance writer living in Birmingham, AL. She is an experienced mattress and bedding product reviewer, and has tested hundreds of home and tech products, with bylines at Architectural Digest, Popular Science, CNN Underscored, NBC News, The Daily Beast, USA Today, Homes & Gardens, Bob Vila, and Tom's Guide. When she's not testing products, Terri is interviewing the world's foremost leaders for The Economist, and tracking down legal experts for the American Bar Association Journal. Follow her adventures @Territoryone.