Outstanding brightness and a good collection of features marks Govee's LED Strip Light M1 as a top-notch budget alternative for those wanting to get smart lights into their home. Easy to install and use, Govee's best features are hidden away on their own app, but it'll integrate with most smart homes.
Pros
+

Incredible brightness

+

Great for smart home beginners

+

Easy installation
Cons
-

The best features are hidden in Govee's app

-

Looks unattractive when not in use
Why you can trust TechRadar We spend hours testing every product or service we review, so you can be sure you're buying the best. Find out more about how we test.
Two-minute review
Govee's M1 LED Strip Light is truly next-level. Govee say the M1 is the brightest light they've ever made, boasting this is twice as bright as their earlier models thanks to 60 LEDs in every meter of lighting. And, after installing it in my office area, I can safely say they're not wrong; it's so bright that it washes out the wall it's shining onto, which is a look I quite like.
The M1 is vibrant and there are a host of different lighting options available to fit a variety of moods or vibes, including the ability to react to music; I found over 60 options in the app when I totted them up. Most of these were too intense for me, but can be desaturated or toned down using the app. In fact, all of the M1's coolest features are locked away in the Govee app, but once I'd synced it up to my Google Home, it was easy enough to ask Google to turn my lights on and off, only dipping into the Govee app if and when I wanted a more drastic change.
Some of the features are a bit ridiculous — the Gaming Lab section lets you set up your lights as if you're in an airsoft arena, while one pre-set flares lights across the strip bolding suggesting that it's for use when driving a tank. It can also auto-generate a more relaxing colorscape, which worked better for me.
Syncing things up and installation was simple, and the two-meter coil that I used came in a tight drum and was easily unfurled and stuck up with the attached M3 adhesive. Plus, there was an extra M3 adhesive on the back of the control box if you also want to affix that to something.
The two-meter strip cost $47.99 / £79.99. If you're toying with your first smart light, the M1 has to be a strong contender, but it's good enough to impress hardened smart home fans, too.
The big dog of smart lighting is the Philips Hue stable of products, but the Govee holds its own in terms of light quality. The Govee strip is cheaper, but with an impressive 60 light beads per meter, it's got the most beads in anything we've recently reviewed. It looks less attractive than some of its competition when it's put up and on the wall but if — like me — what you want is a light that's bright and will light up a dark area, the M1 is a solid option and doesn't feel like a poor compromise at all.
If anything, at full brightness the white lights felt a little bit too much, and I ended up making a custom setup that factored a little purple and red into the mix just to soften the light up a little bit. Depending on your use case — my lights are half a meter above the computer monitors I spend most of my time at — this could actually be a benefit.
Image 1 of 3
The tunable white light is a feature you don't often see in strip lights because RGB lights will often use that RGB to make a facsimile of white using those different colored lights; however, because Govee's LEDs can just pump out white, you can customize it a little bit.
I've used this to create stark lighting, but toyed around with a few different colors and tones, and I have to say that while lighting things up is a real strength for the Govee M1, warm tones are significantly weaker. This is more obvious with the white, but several of the brighter colors also lose their verve somewhat when you try to bring a little warmth to a room.
Controlling the lights is easy to do using the Govee app. I also used its extension with Matter, and while it's a boring way to change the lights, asking my Google Max to turn on the lights is easier than getting my phone out or reaching for the included control unit.
This control unit is nice and simple to use though, and its big buttons that mean if you were purchasing this for a household that may not be entirely tech-savvy, all you have to do is set it up via the app and get them to push the big power button to get the lights on.
All in all, it's tough to find a reason not to recommend the Govee M1 smart light strip. You may decide to opt for something fancier that has more features, or you might want to work with a different ecosystem that you already have installed in your home. Still, whether you're looking for a bright static light to brighten up a dark area of your home, or you think the flashing lights and music-reactive settings could give a little life to the back of a Twitch stream or Instagram video, the M1 is a surprise delight.
Govee M1 Strip Light: specifications
Swipe to scroll horizontally
The specs of our Govee M1 Strip Light review unit - TO FINISH

| | Govee M1 Strip Light |
| --- | --- |
| Price: | $47.99 / £79.99 |
| Designed for: | Any room in the home |
| Connectivity: | Wi-Fi, Bluetooth, Matter |
| Voice command compatibility | Alexa, Google, Siri Shortcuts, IFTTT, SmartThings, Matter |
| Lumen output at 4000K: | Unknown |
| Lifetime up to: | Unknown |
| Light color: | RGBICW |
| Length | 2m |
Govee M1 Strip Light: Should I buy it?
Buy it if...
You want your first smart light
Govee's M1 is bright and cheerful and cheaper than many alternatives from other premium brands while still feeling impressive itself.
You need something bright
Govee's M1 strip light is probably one of the brightest smart lights on the market right now, and can completely change a room by itself.
You like to tinker
Govee's app is a little clunky, but it's powerful and with the M1's RGBIC tech meaning lights can display more than one colour at the same time, there's a world of tweaks and tunes you can sort out, providing you're happy to experiment.
Don't buy it if...
You want detailed Matter control
Yes, Govee's M1 strip light will work with everything through Matter, but using voice control alone hides away most of its more interesting parts. If you want to tweak your lights a lot, you'll need to get comfortable with Govee's own app.
You want something simple to set up
You'll also need to tinker with this light a little bit to get it just right. Installation is easy, but that tinkering will suit someone happy to spend a bit of time getting things just the way you like it.
You need something that looks great when it's turned off
Govee's light can look a little ropey, even when turned on. The light it kicks out is fantastic, but the strip itself isn't a looker, and feels pretty "meh" when you see it switched off.
Govee M1 Strip Light: Also consider
Swipe to scroll horizontally
WiZ LED Strip smart light comparison table

| | WiZ LED Strip smart light | Nanoleaf Essentials Lightstrip | Philips Hue Lightstrip Plus |
| --- | --- | --- | --- |
| Price: | $34.99 / £29.99 | $49.95 / £44.99 / AU$99.99 | $99.99 / £79.99 / AU$149.95 |
| Connectivity: | 2.4 Ghz Wi-Fi | Thread, Bluetooth | Bluetooth, Philips Hue Bridge |
| Voice command compatibility | Alexa, Google, Siri Shortcuts | Apple HomeKit and Google Assistant | Alexa, Google Assistant and Apple HomeKit |
| Lumen output at 4000K: | Up to 840 | Up to 2,200 | Up to 1,600 |
| Lifetime up to: | 15,000h | 25,000h | 20,000 |
| Light color: | 2700-5000 (RGB) | Unknown | Unknown |
Still not sold on the Govee M1 Strip Light? Here are two other options you might want to consider.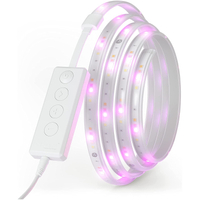 Nanoleaf Essentials Lightstrip
Pay out a little more and you can get Nanoleaf's first strip smart light, which has a few more value-adding features like music or film syncing. However, the app is a little frustrating and it's not Alexa-compatible.
Read our full Nanoleaf Essentials Lightstrip review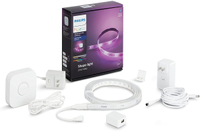 Philips Hue Lightstrip Plus
On the pricier side by some ways, the Philips Hue Lightstrip Plus is the ultimate premium smart light strip, offering the full gamut of features, beautiful, vibrant and bright lights, and easy setup.
Read our full Philips Hue Lightstrip Plus review
How I tested the Govee M1 Strip Light
I've had the Govee M1 installed for a month in my office.
I installed the lights and fiddled with all of the settings and presets in the app
I connected the app to my Google Home and control it there most days
To test the Govee M1 Strip Light I installed it in my office and then just set about using them. While I've used several smart lights before, I've never set a strip light up in my office and I was impressed at how much it revolutionized the space.
I dove into the app in detail and spent hours playing with different lighting effects - before discovering I actually wanted something quite simple. The app played ball all the way, and I didn't notice any particular colors looking washed out. Most were vibrant, and I compared these to similar smart home devices like the WiZ LED Strip and Hue Lightstrip to ensure they looked the part.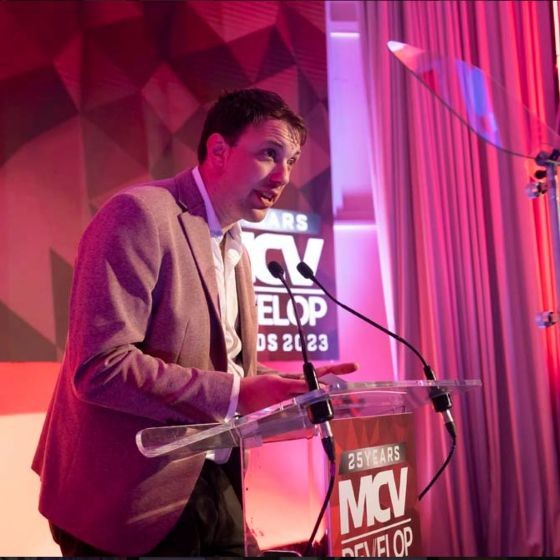 Editor in chief, TechRadar Gaming
Jake Tucker is the editor in chief of TechRadar Gaming and has worked at sites like NME, MCV, Trusted Reviews and many more. He collects vinyl, likes first-person shooters and turn-based tactics titles, but hates writing bios. Jake currently lives in London, and is bouncing around the city trying to eat at all of the nice restaurants.