Where the TP-Link Tapo RV30 Plus stands out from the crowded robovac market is by offering an auto-empty dock that has the biggest dust bag of any brand we've tested to date – a whopping 4L. Considering that reduces the number of times you need to replace the dust bag, there's good value for money here, particularly if you can suck up some savings during a major sale. While its vacuuming is quite powerful, its mopping capabilities are more basic, but it will leave your floors clean when it's done.
Pros
+

Large 4L dust bags

+

Powerful suction

+

Accurate mapping and navigation

+

Excellent app
Cons
-

Very basic mopping capabilities

-

Scatters lightweight dirt and hair
Why you can trust TechRadar We spend hours testing every product or service we review, so you can be sure you're buying the best. Find out more about how we test.
TP-Link Tapo RV30 Plus: One-minute review
The Tapo RV30 Plus is TP-Link's flagship robot vacuum cleaner model in its smart home range. It can vacuum, mop and then self-empty its dustbin into one of the biggest dust bags that I've seen in any robot vacuum cleaner brand.
I've tested robot vacuum cleaners with 2L and 3L dustbags in their auto-empty docks, but this is the first time I've come across a 4L replaceable dustbag. And that means the number of times you need to replace it reduces, potentially saving you money in the long run.
When it comes to vacuuming, there's up to 4,200Pa of suction power available and, while the default Standard suction is fine for relatively clean hard floors, I thought leaving it in Turbo was the best option. And even in Max mode it doesn't drain too much of its ample three-hour battery life.
However, you will need to keep in mind that the breeze from the rotating side brush can scatter strands of hair and microscopic dust particles instead of pushing it towards the bar brush below the machine.
Mopping, however, is a lot more basic. While it can pump out three different water levels when you attach its mop plate, even the Max output isn't enough to clean up dried, caked-in dirt and stains. There's no agitation here like there is with some other robot vacuum cleaners like the Ecovacs Deebot X1 Omni or the Deebot X1 Turbo.
Where it really shines is how much control the companion app provides. From no-mop zones to customized cleaning routines, the Tapo app is excellent and the robovac follows all the instructions perfectly. If you have mixed floor types – hard floor as well as carpet – you can set no-mop zones and the RV30 won't even enter that zone to vacuum if the mop plate is still attached. You can later remove the plate and send the machine back to do a spot clean. You can vacuum a space up to three times, meaning you will have a clean floor when it's done – as long as you don't have caked-in stains anywhere.
The RV30 is the same size as most other circular robot vacuums, but it looks large in comparison to its own auto-empty docking station, which is actually quite compact considering it houses a 4L dust bag. So you will still need a decent amount of floor space to store the whole machine.
And if you can pick it up during a major sale event, there's some really good bang for buck here.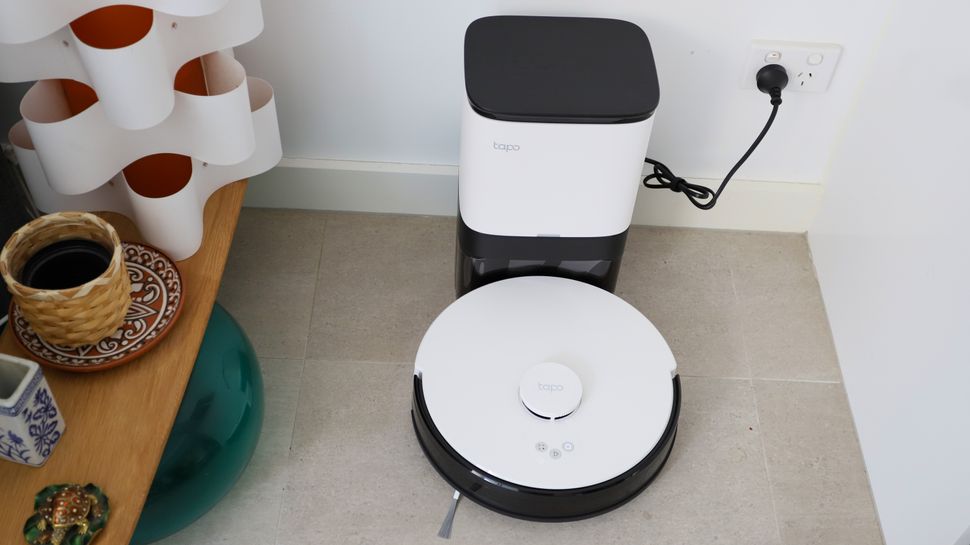 TP-Link Tapo RV30 Plus review: price and availability
Announced early 2023
Priced at £599.99 / AU$999 (US pricing TBC)
Available now in the UK and Australia; yet to be released in the US
As a flagship model, the Tapo RV30 Plus isn't what we would call 'cheap', but it isn't as premium as some other brands like iRobot's Roombas. At the time of writing, the RV30 Plus is available to buy in select markets, including the UK and Australia, but not in the US. It will set you back £599.99 / AU$999 respectively at full price but can be picked up from Amazon UK and Amazon AU at a discount during major sales.
While it's listed on Tapo's US website, the RV30 Plus isn't available to buy just yet in America. The closest alternative from TP-Link would be the Tapo RV10 Plus that will set you back $399.99 on Amazon US and misses out on the newest lidar navigation tech and its suction isn't as powerful in comparison to the RV30 Plus.
In Australia, you can also buy the Tapo RV30 itself without the auto-empty dock for AU$799 from Amazon AU.
The RV30 Plus offers good value for money at its price point, considering it can vacuum, mop and empty its bin itself. What makes it stand apart from the crowd is its relatively large dust bags in the auto-empty dock – a whopping 4L, so you don't need to worry about replacing it too often. Replacement bags will cost £17.99 / AU$49 for a pack of three. You can also find replacement kits for the bar brush, side brush and the filters on Amazon in your country.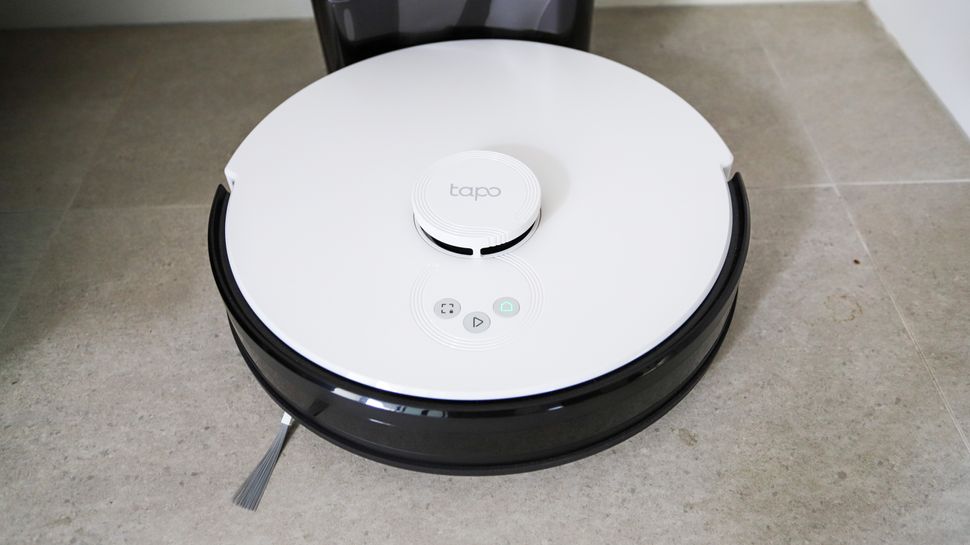 TP-Link Tapo RV30 Plus: specifications
Swipe to scroll horizontally
| | | |
| --- | --- | --- |
| Suction: | 4,200Pa robovac; 27,000Pa auto-empty dock | Row 0 - Cell 2 |
| Bin volume: | 350ml | Row 1 - Cell 2 |
| Dust bag volume: | 4L | Row 2 - Cell 2 |
| Mop water volume: | 300ml | Row 3 - Cell 2 |
| Suction levels: | 4 | Row 4 - Cell 2 |
| Water levels: | 3 | Row 5 - Cell 2 |
| Noise level: | 60dB (standard mode) | Row 6 - Cell 2 |
| Mapping: | LiDAR + Gyro | Row 7 - Cell 2 |
| Obstacle avoidance: | LiDar | Row 8 - Cell 2 |
| Battery life: | 5,000mAh (up to 3 hours runtime) | Row 9 - Cell 2 |
| Dimensions: | 342.6 × 342.2 × 95 mm robot; 227 × 191.4 × 381.3 mm auto-empty dock | Row 10 - Cell 2 |
TP-Link Tapo RV30 Plus review: Design and features
Familiar, circular design with 2-in-1 dustbin and water tank
Compact auto-empty dock with 4L dust bag
Voice prompts; plus Google Home and Alexa support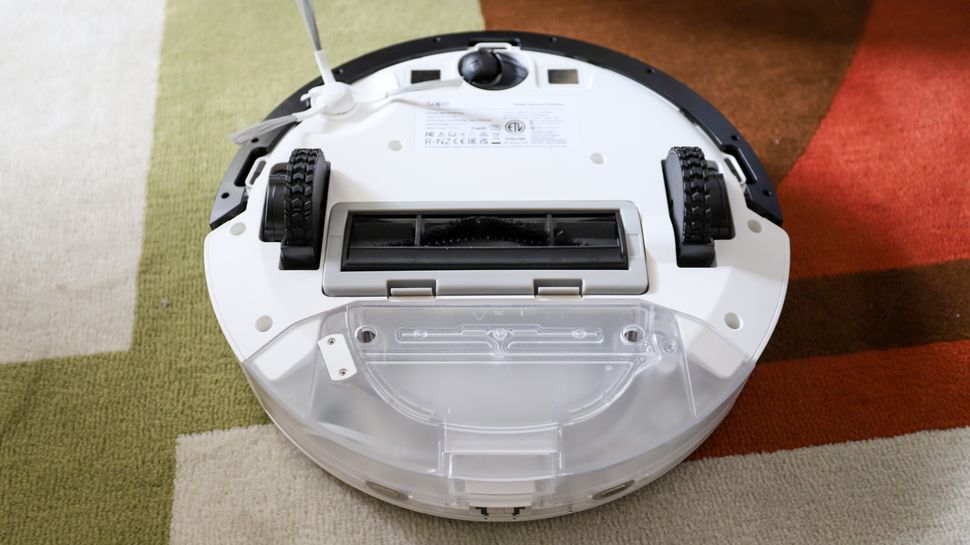 The RV30's design isn't anything new – it's the familiar circular robot vacuum cleaner with the lidar navigation system installed in the dome on top. Like a lot of other models, the RV30 is also white, with its front bumper a translucent black. There are three buttons in front of the lidar system – one for start/stop, a spot-clean button and the send-to-dock control. If it wasn't for the Tapo branding on the top of the lidar dome, it could be any robot vacuum.
What is surprising is how much wider the vacuum itself is compared to its auto-empty docking station. While the RV30 has a diameter of 34.1cm, the auto-empty station has no docking plate, is a compact 19.1cm wide, and still manages to hold a 4L dust bag in its tank.
On the undercarriage of the RV30 is a bar brush which, unfortunately, isn't anti-tangle and will require regular maintenance to keep it working optimally. If you have pets or people with long hair in your household, I'd recommend checking it after every one or two cleans in case it needs detangling.
Unlike some other robot vacuums, there's only a single side brush here, placed just ahead of the bar brush. The bristles on the side brush are long and I was pleasantly surprised that the bot can get close to walls to effectively clean room edges, although it will miss corners like pretty much every other robovac.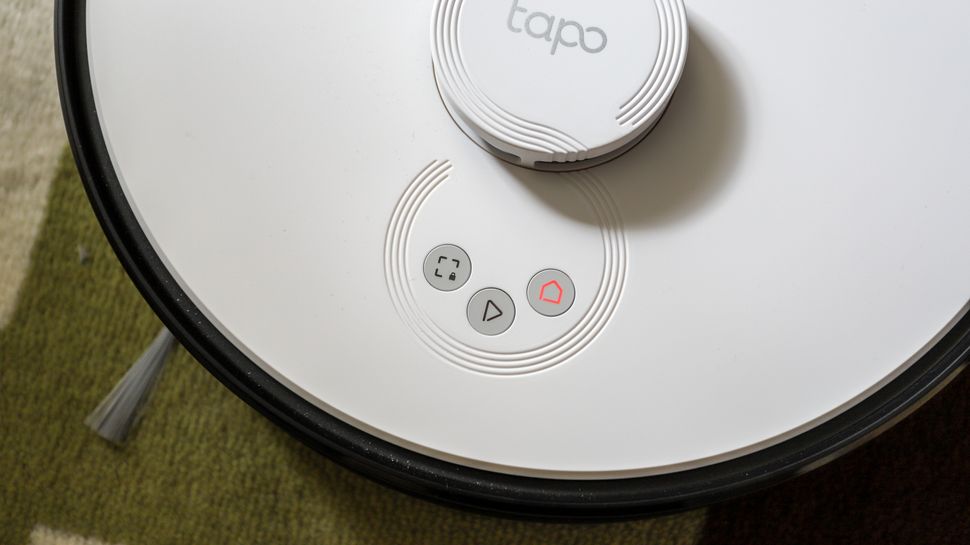 Also on the underside is the 2-in-1 dustbin and water tank. Yes, it's the one transparent plastic container for both and accessible by picking up the robot – not from the top as in other brands. Despite being a 2-in-1 compartment, you still get a standard 350ml dustbin, plus a 300ml water tank that's enough to mop up to 200 square meters (or 2,100 sq ft). The recharging sensors are on the rear of this compartment, so if you've taken out the tank to empty and dry, the RV30 will not be able to juice up.
There are plenty of voice prompts on this machine – from telling you if it's stuck to when it's starting to charge. There is Alexa and Google Assistant support here, so you can use voice commands to start and stop the machine, even send it back to charge, but it doesn't recognize commands for specific cleaning routines however – it just does a default full home vacuum.
There's up to 4,200 pascals of suction power here, which is pretty good for a robovac at this price. There's also a whopping 27,000Pa of suction in the dock that leaves only the lightest of fine dust sticking to the sides of the bin compartment.
There's also a generous 5,000mAh battery pack inside that can let you vacuum a decently-sized one-bedroom apartment up to three times in Turbo mode, plus mop once at the highest water level and still have something left over in the tank.
Design and features score: 4.5 / 5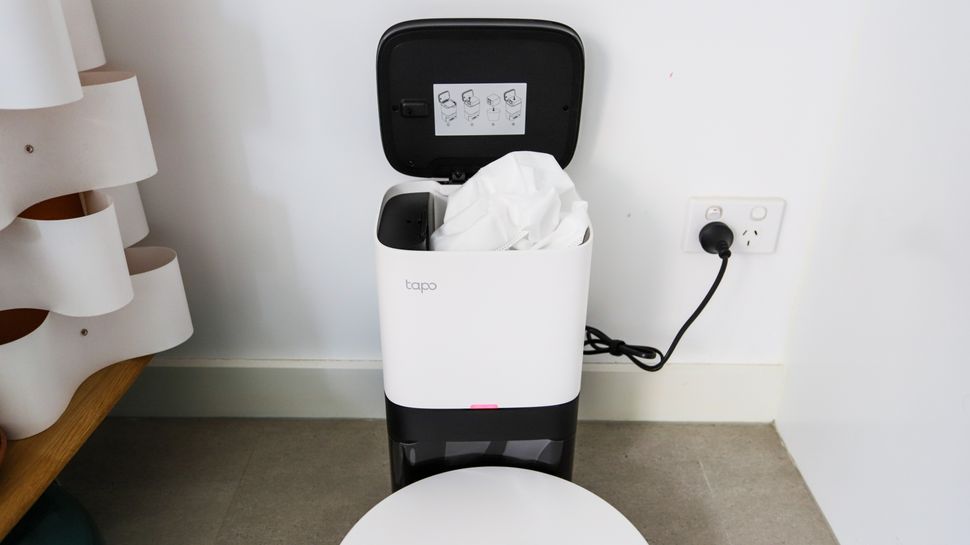 TP-Link Tapo RV30 Plus review: Setup and app control
Well-designed, easy-to-use app
Lots of customization options
Wi-Fi 4 standard, plus Bluetooth 4.2 connectivity
As with any robot vacuum cleaner, if you want to make the most of the RV30, you're going to need to download TP-Link's Tapo app available from the Google Play Store or the Apple App Store for free. You will need to create an account if you don't already have one (which you would if you already use another Tapo smart home device), then just add the Tapo RV30 Plus from the list of robot vacuums that show up on your screen. All of TP-Link's smart home devices have separate tabs in the app, so they're easy to locate and control individually.
After that, follow the instructions on screen to pair the RV30 once it's been plugged into a power socket. These instructions include removing all protective strips on the machine, plus powering it up by using a switch on the side of the bot.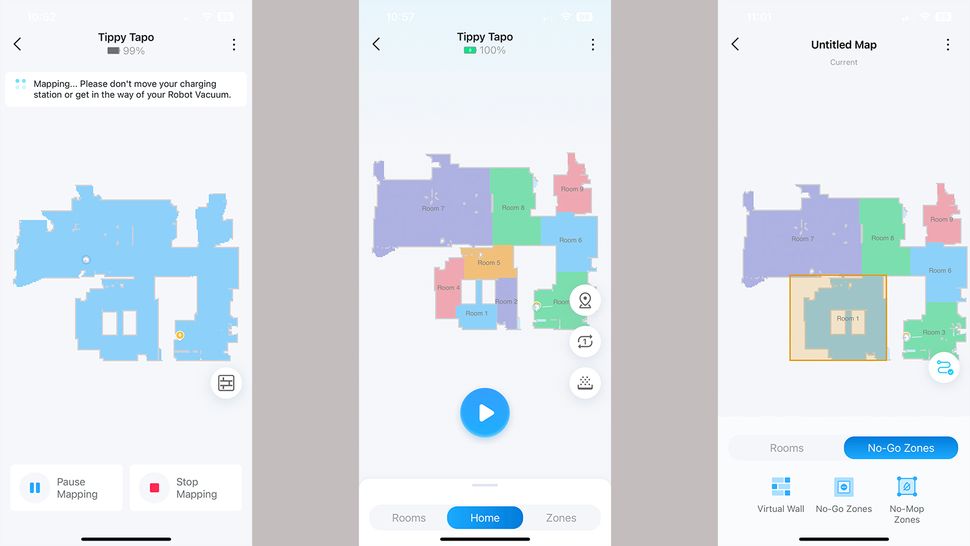 It's all real simple but, in my case, it just refused to accept my Wi-Fi password despite it being correct each time I entered it. It took about seven tries for my review sample of the RV30 Plus to pair up with the app. This is likely an isolated case and I wouldn't worry too much about it. Once connected, though, you never have to worry about re-pairing it again even if you don't use it for a long time and it completely drains its battery. This has happened to me with other smart home devices where inactivity has removed the device from its app, but I was pleasantly surprised that the Tapo app remembered the RV30 after a month of inactivity (while I was testing other vacuums).
Once you're all set up, you can give your robot vacuum a name if you want, and give it a location, after which the app automatically checks for firmware updates and, if any, you'll be asked to install it. Future updates can be set to automatically install overnight.
The next step in the app is to get your home mapped. You just start it and the RV30 creates an accurate map of your home remarkably quickly. Note that no cleaning takes place during the initial mapping process, so don't worry if you find the bot not going close to walls or furniture. Mapping on the RV30 is via both gyroscope sensors and lidar, which results in a very accurate map that you can edit easily in the app. You can divide or merge rooms that bot has created, plus assign them names – you can do this at any time after you've started using the RV30. Importantly, you can save multiple maps, which is handy if you live in a duplex or multi-story home.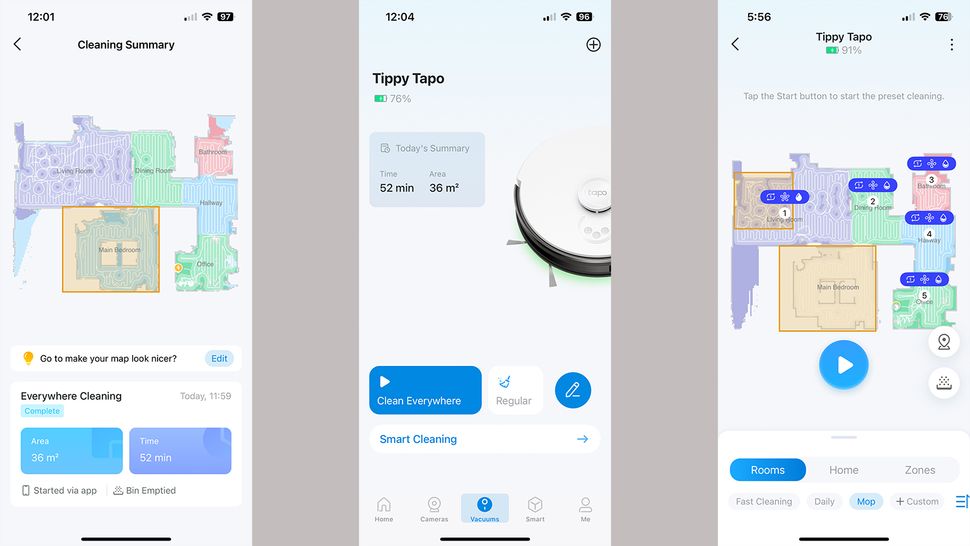 You can set up no-mop zones and, if the mop plate is attached, the RV30 won't enter that space at all, even to just vacuum. This is a good failsafe as the mop plate doesn't rise and, although water will stop pumping, your carpets could get damp from the wet mopping pad. You can always set up a spot clean for the no-mop zones.
You can create different cleaning runs – in my case, for example, I have one daily cleaning routine that's vacuum-only for the whole home, plus a mop routine that includes three vacuum runs and a mop.
I really like the Tapo app – everything is laid out neatly and it works very well. You get control over the volume of the voice prompts from the bot (which is very loud out of the box), plus you can set up schedules, see cleaning reports and even move the RV30 manually to a specific spot using the Remote Control feature.
Setup and app score: 5 / 5
TP-Link Tapo RV30 Plus review: Performance
Excellent lidar and gyroscope navigation
Powerful suction for both vacuuming and cleaning out the bin
Good battery life
I've already mentioned how well the RV30 can vacuum. With up to 4,200Pa to tap into, there are four suction levels to choose from and you can set each room to be vacuumed up to three times in the app. Leaving the bot in its Standard mode was enough for my test space which was a mix of hard floors and carpet (plus a rug) as the RV30 automatically boosts suction when it senses it's on a carpet or rug. If you aren't too impressed with the Standard mode, you can always set your vacuuming routine to be at Turbo via the app.
I found that the side brush can scatter hair, fur and some lightweight dust instead of sweeping it towards the bar brush – getting the bot to run over your floors multiple times means you get good results. The flip side to the scattering of hair and dust by the side brush is that sometimes the dirt can get pushed under low-lying or heavy, unmovable furniture and there's not a lot the RV30 can do about that.
As excellent as the vacuuming is, the mopping functionality isn't anything to write home about. While it vacuums and mops at the same time if the mop plate is attached, it's more a wipe than a scrub with the RV30, so you won't be able to get rid of caked-in stains. In fact, during my testing, dusty footprints occasionally got left behind after a mop and, sometimes, even after repeated spot cleans, some stains remained because there's no agitation applied to the mop plate so it's unable to buff a floor.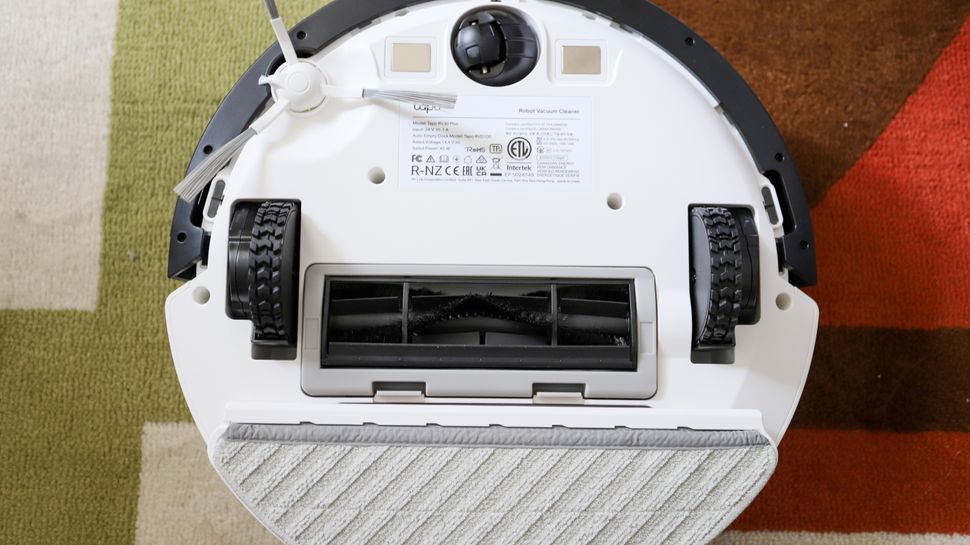 If you do have carpets or rugs that you want to avoid getting wet, you will need to remember to either remove the mop plate or set up no-mop zones. However, a no-mop zone means the vacuum will never enter that space while the mop plate is attached, even to only do a vacuum run, so you can alternatively use virtual boundaries in the app. In my case, I preferred the no-mop zones, and then followed it up with a spot-clean vacuum session for those spaces.
The suction of the auto-empty docking station is excellent as I only found the lightest of fine dust layering the sides of the dustbin. This, however, isn't washable, but it's so light that it's easy to ignore. While the dustbin gets emptied automatically as soon as the RV30 has docked, you can trigger another suction via the app if you find it hasn't done a good job, although I never found this to be necessary.
What does need maintenance is the bar brush as hair can get tangled around it very easily. My unit didn't come with a cleaning blade, so you will need a pair of scissors to cut through the tangles. In the three months that I've used the RV30, I found that doing a quick check after every cleaning run ensured the bar brush didn't get too difficult to clean.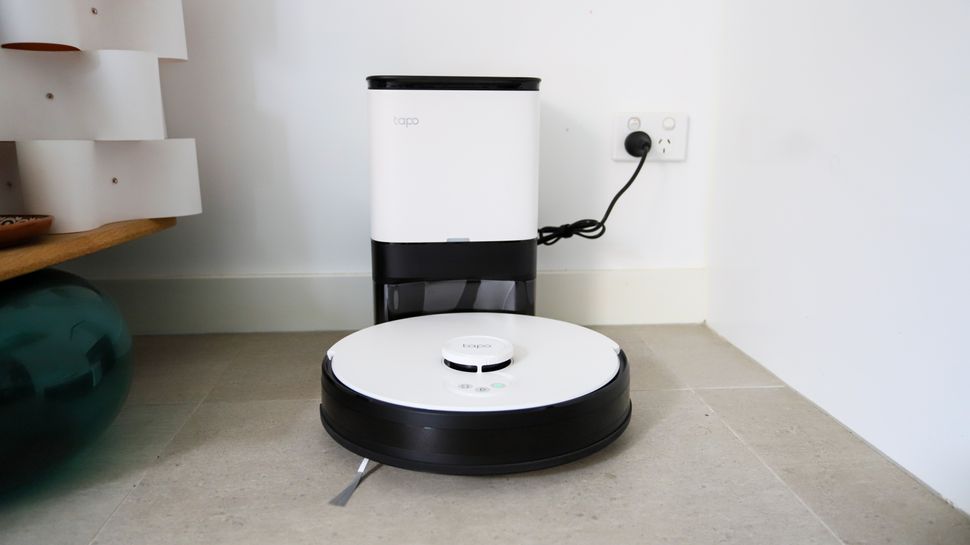 The HEPA filter inside will also need dusting out regularly – note that it isn't washable. You can wash the mopping pad though, and I'd highly recommend at least setting it out to dry, if not wash, after each mop run. Leaving the mop plate on overnight can make the wet pad start to smell.
With a 5,000mAh battery under the hood, there's plenty of juice here to vacuum and mop a large home. TP-Link promises the RV30 will give you up to three hours of runtime, and I never needed it to go on that long during my testing. In my test space, which was a 40 sqm (430.5 sq ft) one-bedroom apartment, a 52-minute cleaning session only drained the battery to 71%.
Should I buy the TP-Link Tap RV30 Plus?
Swipe to scroll horizontally
| Attribute | Notes | Score |
| --- | --- | --- |
| Value | It's relatively affordable for an auto-emptying robot vacuum, but if you can get a discount during a sale, there's good bang for buck here. | 4 / 5 |
| Design & features | It might have generic looks, but it's feature-packed with smart home support as well. | 4.5 / 5 |
| Setup & app | It's easy to start using and the Tapo app is wonderfully streamlined and easy to use. | 5 / 5 |
| Performance | While it vacuums well, its mopping isn't anything to write home about. | 4 / 5 |
Buy it if...
You want an affordable self-emptying robot vacuum cleaner
Even at full price, there's value for money here – powerful suction, auto-emptying, plus a larger dust bag than any other brand that won't need replacing as often. Keep an eye on its price during sales to increase its value.
You want a set-and-forget robovac
If you can remember to keep the mopping water topped up, everything else about the RV30 Plus can be automated via the Tapo app. You can set up schedules or custom cleaning routines and, after each of them, the dustbin will empty itself. You'll only need to swap out the dust bag once every couple of months, if not longer.
You live in a large home
There's plenty of battery life here to do at least one cleaning run of a large home. You can even carry it to another floor if necessary and start it again.
Don't buy it if...
You need power mopping
The RV30 Plus cannot buff your hard floors – for that, you will need to look elsewhere at more premium robot vacuum cleaners.
You want to automate most of your floor cleaning chores
If you don't even want to keep the mop water topped up in the RV30 Plus, you'll need to get yourself a robot vacuum cleaner that also features a water tank in its docking station. Some of these models can also dry out the mop pads using hot water, offering a more hands-off floor cleaning solution.
You want a cheaper robot vacuum cleaner
If you don't mind emptying the dustbin of a robovac after each clean, you can save a lot of money by opting for a more basic option that doesn't have the auto-emptying feature.
Also consider
Not sold on the prowess of the Tapo RV30 Plus? Below are a couple of alternatives that you can consider.
Swipe to scroll horizontally
| Header Cell - Column 0 | TP-Link Tapo RV30 Plus | Roborock S8 Pro Ultra | iRobot Roomba Combo J7 Plus |
| --- | --- | --- | --- |
| Price | £599.99 / AU$999 (US price TBA) | $1,599 / AU$2,699 (unavailable in the UK) | $1,099.99 / £999 / AU$2,199 |
| Max runtime | 180 minutes | 180 minutes | 90 minutes |
| Battery | 5,000mAh | 5,200mAh | 2,410mAh |
| Bin size | 350ml | 350ml | 313ml |
| Water capacity | 300ml | 200ml | 210ml |
| Self-emptying (Y/N) | Y | Y | Y |
| Dust bag volume | 4L | 2.5L | 1.7L |
| Self-cleaning (Y/N) | N | Y | N |
| Suction power | 4,200mAh | 6,000mAh | Unlisted |
| Dimensions | 34.2 × 34.2 × 9.5 cm | 35 x 35 x 9.6 cm | 33.9 x 33 x 8.6 cm |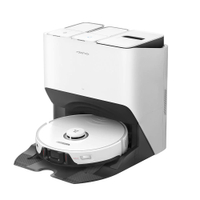 Roborock S8 Pro Ultra
If you have the floor space and the extra change, you can opt for a powerful robot vacuum that not only vacuums, mops and empties its dry dustbin, but also washes its mopping pads and refills its mop water too… for a price.
Read our full Roborock S8 Ultra review to find out more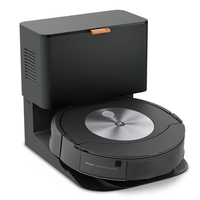 iRobot Roomba Combo J7 Plus
This Roomba will raise its mopping pad automatically when it detects a carpet or a rug, in addition to vacuuming, mopping and emptying its dry dustbin. However, it won't refill its mop water like the Roborock listed above, and it's quite expensive.
Read our in-depth iRobot Roomba Combo J7 Plus review
How I tested the TP-Link Tapo RV30 Plus
Used as main vacuum cleaner for two months
Tested space included carpets and hard floors
Scattered grains in its path; dropped sauces on kitchen floor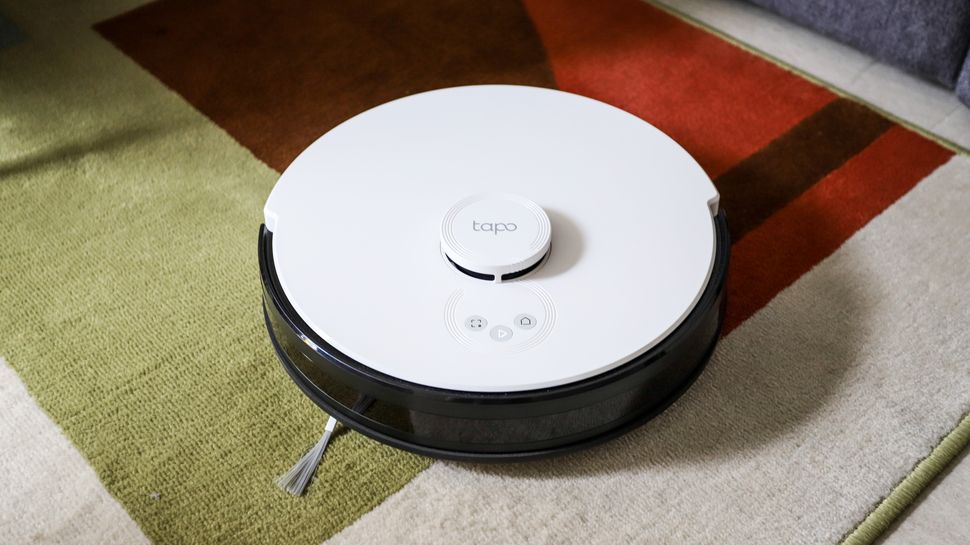 I've had the Tapo RV30 Plus for a while now and used it intermittently for the first month. After a gap of a few weeks, I set it up as my main vacuum cleaner and used it in my inner-city apartment that contains both hard floors, plus carpet in the bedroom.
To test the vacuuming prowess, I spread some small grains like rice and oats in the path of the vacuum, also allowed some hair to gather on carpets over a period of time before testing the automatic suction boost on it.
To test the mopping abilities, I dropped some green Sriracha sauce on the kitchen floor and allowed it to dry. I also had some dusty footprints in the living room.
I set two custom cleaning routines, set no-mop zones and did quite a bit of spot cleaning as well. I washed the mop cloth in the washing machine to see if it held up.
[First reviewed October 2023]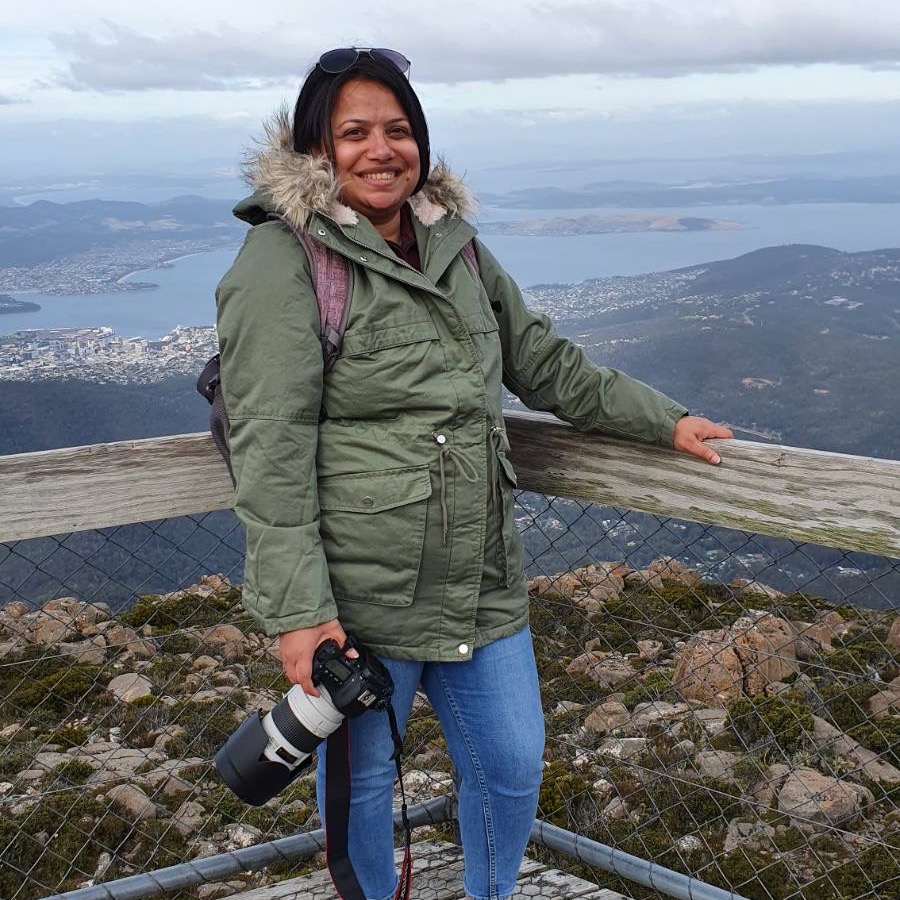 Sharmishta is TechRadar's APAC Managing Editor and loves all things photography, something she discovered while chasing monkeys in the wilds of India (she studied to be a primatologist but has since left monkey business behind). While she's happiest with a camera in her hand, she's also an avid reader and has become a passionate proponent of ereaders, having appeared on Singaporean radio to talk about the convenience of these underrated devices. When she's not testing camera kits or the latest in e-paper tablets, she's discovering the joys and foibles of smart home gizmos. She's also the Australian Managing Editor of Digital Camera World and, if that wasn't enough, she contributes to T3 and Tom's Guide, while also working on two of Future's photography print magazines Down Under.