Our favorite free iPad gem-swap, tile-match, and rhythm action games.
Casual Metaphysic‪s‬
Why you can trust TechRadar We spend hours testing every product or service we review, so you can be sure you're buying the best. Find out more about how we test.
Casual Metaphysic‪s‬ might have a lofty theme at its heart (reaching an ever higher state of consciousness), but it's fundamentally a match game in which you get to play against an opponent.
If you choose to play against the game's AI, a gigantic, brightly colored hand will begin to move around on the other side of the screen, matching shapes. You soon realize that speed awards you additional points, helping you blaze toward the magic 100 needed to win.
So will the game help you "reach a state of pure metaphysical being"? No, obviously, but it's without doubt a visually striking and unique take on match games that makes excellent use of the iPad's screen acres.
Empty
Empty sits you before 19 handcrafted levels, each of which features a minimalist room full of colorful objects. The aim is to make each item disappear into a wall or ceiling of the same color.
Much of the skill here is in figuring out in which order items must be removed. But the interactions are quite forgiving in not making you line everything up too precisely. Empty is clearly a game that wants to be enjoyed rather than to frustrate.
On the larger screen of the iPad, it's a joy. The bright visuals shine, and the game's tactile nature works wonderfully with you being able to make expressive swipes. Its brevity will leave you wanting more; but what you do get is satisfying - and generous in being entirely free from price tags and ads.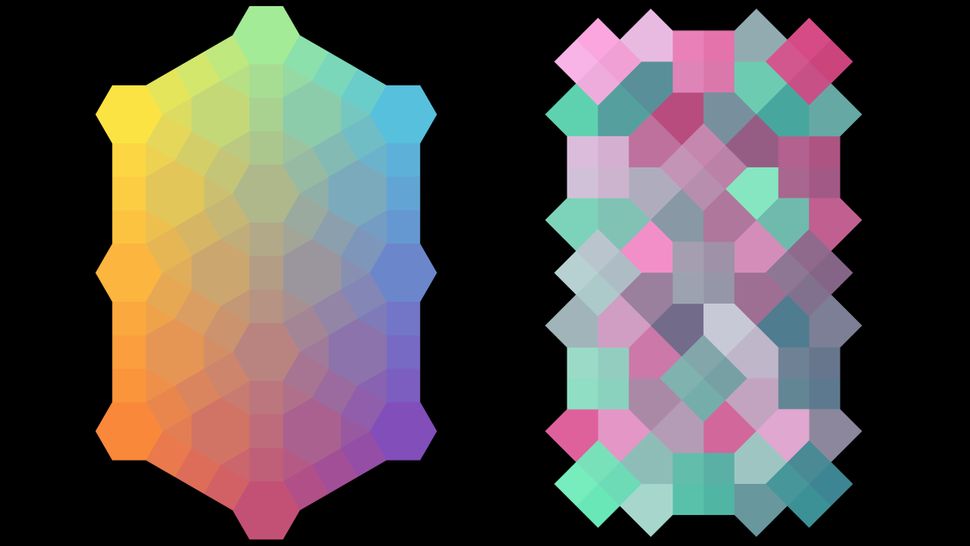 I Love Hue Too
I Love Hue Too is a shape-match free iPad game based around colors. Every level begins with a canvas of connected tiles, painted with a single gradient. On beginning a level, many of these tiles disappear, and then reappear in different locations. Your job is to swap tiles and recreate the original layout, thereby wrenching harmony from chromatic chaos.
You can approach I Love Hue Too in various ways. You might remember the original layout, and try to match it that way, or perhaps you'll slowly piece things together by recognizing small differences between colors.
Either way, there are no timers to stress you out – the only targets are based around moves, comparing how many you make against the minimum and the worldwide average. On iPad, with its large display, the game proves to be a relaxing, tactile, engaging experience.
The Ninja in the Dark
The Ninja in the Dark finds evil forces amassing, and threatening to take over the world. Fortunately, they're a bit dim, meaning in each of the game's several hundred stages, you get a free swipe at them. The tiny snag: while you do so, the lights go out.
Quite why this happens, we've no idea. Perhaps the titular ninja is a show-off and just wants to boast about not even having to see his targets to hack them in half. Still, this makes your life harder, having to memorize everything on the screen before unleashing your finger of doom, swiping across where you believe baddies to be lurking.
Do well and you accrue points, unlock characters, and get to yell 'HI-YAAAA!' a lot. Hit a bomb and, well, your ninja's days will have permanent darkness.
AuroraBound
AuroraBound is a puzzle game that's all about matching patterns. Each level provides you with a tiled board, onto which you place colorful pieces. The aim is to ensure that all the lines and colors join up.
This isn't the kind of puzzler designed to smash your brains out – for the most part, it's a rather relaxing experience. But as the boards increase in size, with patterns on each tile that are only very slightly different, you may eventually find your ego and complacency handed back to you.
Even so, AuroraBound never becomes frustrating. There are no time limits, and you can experiment by shifting pieces around at will. Neatly, the level select screen is a tiny puzzle to complete as you go, too.
Little Alchemy 2
Little Alchemy 2 is an exploratory logic game. You start off with a small number of items, which can be dragged to the central canvas. Items are then merged to create new ones.
At least that's the theory. If you just set about randomly shoving items together, nothing happens. Instead, you must utilize rational thinking – or a little whimsy. For example, combine a couple of puddles and you'll get a pond. Obvious, really. But also you can create a blender from a blade and 'motion', and a rocket from 'metal' and 'atmosphere'.
In all, there are over 600 items to discover, and although Little Alchemy 2 can irk if you hit a brick wall, you can always pay for hints via IAP if you get stuck. Alternatively, tough it out and feel like a genius when you hit upon a suitably clever combination.
Estiman
This one's all about counting really quickly. That admittedly doesn't sound like much – but stick with it, because Estiman is actually a lot of fun.
It begins by displaying a bunch of neon shapes. The aim is to prod a shape that belongs to the most numerous group, and work your way to the smallest. Do this rapidly and you build a combo that can seriously ramp up your score. Now and again shapes also house credits, which can be used to buy new themes.
On iPad, the game looks great, and although some themes (such as gloopy bubbles) make the game easier, that at least gives you a choice if the minimal original theme proves too tricky.
And despite Estiman's overt simplicity, its odd contrasting mix of relaxation (chill-out audio; zero-stress timer) and urgency (if you want those combos) proves compelling.
Groove Coaster 2 Original Style
Like a simulation of having a massive migraine while on a stomach-churning roller-coaster, Groove Coaster 2 Original Style is a rhythm action game intent on blasting your optics out while simultaneously making your head spin.
It flings you through dizzying, blazing-fast tracks, asking you to tap or hold the screen to the beat of thumping techno and catchy J-Pop.
The game looks superb – all retro-futuristic vector graphics and explosions of color that are like being stuck inside a mirror ball while 1980s video games whirl around your head.
Mostly you'll stick around for the exhilarating tap-happy rhythm action, which marries immediacy with plenty of challenge, clever choreography tripping up the complacent on higher difficulty levels.
It never becomes a slog though – tracks are shortish and ideal for quick play; and for free, you can unlock plenty of them, but loads more are available via in-app purchase.
Imago
With its numbered sliding squares and soaring scores, there's more than a hint of Threes! about Imago. In truth, Threes! remains the better game, on the basis that it's more focussed, but Imago has plenty going for it. The idea is to merge pieces of the same size and colour, which when they get too big explode into smaller pieces that can be reused.
The clever bit is each of these smaller pieces retains the score of the larger block. This means that with smart thinking, you can amass colossal scores that head into the billions. The game also includes daily challenges with different success criteria, to keep you on your toes.
Planet Quest
Having played Planet Quest, we imagine whoever was on naming duties didn't speak to the programmer. If they had, the game would be called Awesome Madcap Beam-Up One-Thumb Rhythm Action Insanity — or possibly something a bit shorter. Anyway, you're in a spaceship, prodding the screen to repeat beats you've just heard.
Doing so beams up dancers on the planet's surface; get your timing a bit wrong and you merely beam-up their outfits; miss by a lot and you lose a life. To say this one's offbeat would be a terrible pun, but entirely accurate; it'd also be true to say this is the most fun rhythm action game on iPad — and it doesn't cost a penny.
Threes! Freeplay
The best puzzle game on mobile, Threes! has you slide cards about a grid, merging pairs to create ever higher numbers. The catch is all cards slide as one, unless they cannot move; additionally, each turn leads to a new card in a random empty slot on the edge you swiped away from. It's all about careful management of a tiny space.
On launch, Threes! was mercilessly cloned, with dozens of alternatives flooding iTunes, but 2048 and its ilk lack the charm and fine details that made Threes! so great in the first place. And now there's Threes! Freeplay, where you watch ads to top up a 'free goes' bin, there's no excuse for going with inferior pretenders.
Triple Town
Triple Town is a match game where you merge cartoonish plant life and buildings. But don't be fooled by the cute facade – this is a brilliantly designed brain-smashingly tough puzzler where you must think many moves ahead to succeed.
In this game, trios of things combine to make other things – for example, three bushes become a tree, and three trees become a hut. Such merges then give you space on the tiny board to evolve your town – especially when one particularly cunning move chains several merges together.
All the while, roaming bears and ninjas complicate matters, blocking squares on the board. At times surreal, Triple Town is also challenging and addictive. Note that free moves are on a replenishing timer, but if you can't wait for another go, there's an unlimited moves IAP.