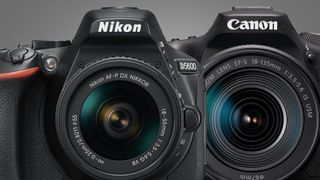 (Image credit: Nikon / Canon)
SLR – or single-lens-reflex – cameras were the go-to option for enthusiasts and professionals for many a decade. Then the SLR mechanism and optics entered the digital age by being combined with an image sensor instead of recording onto film, and DSLR cameras – or digital-single-lens-reflex – truly hit the market at the turn of the century.
New DSLRs are a rarity these days, though, with camera giants Canon and Nikon now focusing almost entirely on mirrorless models – a technology better suited to video, as well as photography. Their latest DSLRs were the EOS 1D X Mark III and D780 from early 2020, and Hasselblad recently discontinued its medium format H System DSLRs.
There is one company that remains a fan of the old-school camera format: Pentax, who recently launched a black-and-white only version of a DSLR from 2021, called the Pentax K-3 III Monochrome. Even Pentax is shifting its focus to film, though, and the truth is that the DSLR market is dormant. The production lines have either stopped or are grinding to a halt.
However, in 2023 the secondhand market is an active place for DSLRs, where you can grab a bargain on a camera that is still extremely capable of taking excellent photos and even video in the more recent models. Who knows, maybe one day decades from now, DSLRs could make a comeback.