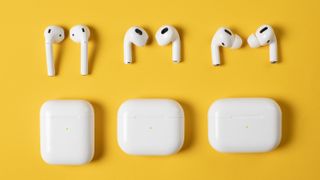 (Image credit: Shutterstock / Ivan_Shenets)
Earbuds go by many different names, including earphones, in-ear headphones, in-ear monitors or simply buds. They also come in all shapes and sizes and can be both wired or wireless, with some variations. Probably the most widely known (and worn) earbuds are the AirPods, which Apple launched in 2016.
Compared to over-ear and on-ear headphones, they offer a more compact, lightweight design that's easier to set up and store. Earbuds are often cheaper too (usually), and have better stability. Being small does have its disadvantages - namely with sound quality, which can't match wired headphones - but every music lover should own at least one pair all the same.