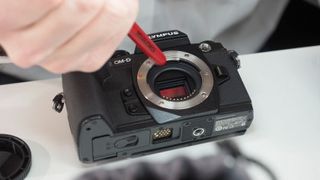 Best tip: Olympus sensor cleaning
Not content with providing show visitors with a free massage, Olympus also had a small laboratory where white-coated technicians would clean your Olympus camera while you waited. A quick scrub with a toothbrush dealt with that tricky area round the mode dial, a careful wipe with a lens cloth put the sparkle back in your glassware and some delicate work with a blower brush and a pair of tweezers took care of any spots, hairs or other debris on the sensor surface.
We did pick up a particularly useful tip. There wasn't a sensor swab in sight for the sensor-cleaning part. Instead, the technicians were using a fresh little square of rice paper picked up with the tweezers, wrapped around the end and dabbed with a spot of special sensor-cleaning fluid. Interesting...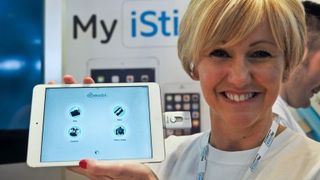 Best gadget: My iStick
Now here's a smart idea. It's a USB storage device with not one plug but two. The aluminium casing slides across to reveal an Apple Lightning connector on the other side, and you can use this handy gadget to transfer photos (or music) from your iPhone or iPad to your computer. It's all a bit old-school, and you could do this using iCloud or a cable connection too, but the iStick is quick and simple and easy to understand, especially for photographers. It's also a way to back up your files while you're out and about or just to gain a little extra storage space on your device.
You start by plugging the iStick into your iOS device and this automatically initiates the app download. You can then use the app to choose the files you want to copy across to the iStick. It comes in different capacities, from 8Gb (£50) to 128Gb (£200) and while the makers acknowledge there are similar devices out there already, this is not only the cheapest, it's the first to be made from aluminium. You can find out more at the My iStick website.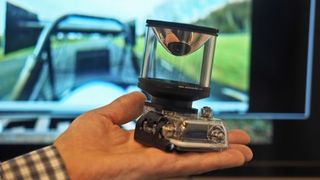 Weirdest gadget: 360-degree Pano Pro Go Pro
We've seen all sorts of devices, cameras and software for creating panoramic images, including 360-degree rotating cameras, panoramic heads and VR stitching software. But here's a clever product that takes just one shot with a regular camera that doesn't even need to move – and the maker, Pano Pro Ltd, has just produced a Go Pro version.
It's rather clever. The camera is mounted facing upwards into a specially-shaped circular mirror. It produces a full 360-degree circular image that can then be edited by the software into a regular horizontal panoramic image. The key point with the Go Pro version is that you can shoot from a single viewpoint, and then rotate the view afterwards to change the viewpoint through a full 360 degrees.
The regular version is much larger, using a specially made tubular mount with the camera at the base and the mirror at the top. There will be some quality loss that stems from extracting rectangular segments from the circular image, but this is balanced by the sheer convenience of being able to capture a full 360-degree image with a single exposure and no panning or stitching.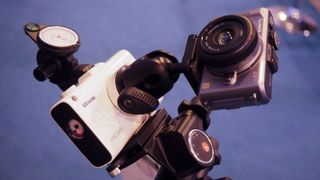 Simplest solution: Vixen Polarie Star Tracker
It's not so easy to get into astrophotography. The usual route is to start with a telescope then work out how to add a motorised drive to your tripod and find an adaptor to fit your camera. But the Polarie Star Tracker, from Vixen UK, offers a much simpler and cheaper solution for photographers – essentially, this is for photographers who want to shoot star fields rather than astronomers who want to take photos.
It's disarmingly simple. You fit the Polarie to your tripod head, adjusting the angle so that it's pointing at the pole star (Polaris) – you can get an spotting scope for this. This sets the Star Tracker at the right angle to follow the arcing movement of the stars across the sky.
You then attach your camera to the Star Tracker via a second tripod head, start the motor and start your time exposure. It looks brilliantly simple, and was on sale at the show for £319, including the Polar Scope. But what if (we hear you ask) you're in the southern hemisphere, where you can't see the pole star? Simple – there's a switch on the base for 'S' (southern) and 'N' (northern) hemispheres.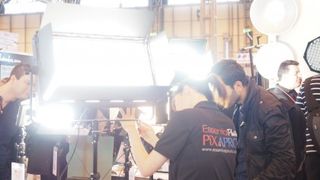 Biggest battle: LEDs vs flash
Professional studio lighting is always a big crowd-puller at The Photography Show, but there are signs that big LED panels are gaining ground. Flash produces a short, intense burst of light that's tricky for non-experts to work with because you only really see the effect once the picture has been taken. But LED panels produce 'continuous' lighting that's less intense but lets you check the exposure and judge the lighting effect much more easily. This was taken at the Pixapro stand.
LED panels give out far less heat than traditional continuous studio lighting such as tungsten, halogen or fluorescent lamps, they use less power and they can be run outdoors from battery packs. They're perfect, of course, for video, where flash units are useless.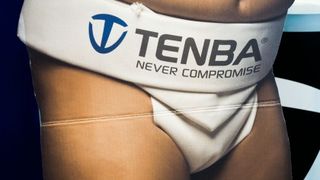 Best Sumo pants: Tenba
Tenba makes camera bags, as do many other manufacturers, but Tenba has chosen a Japanese sumo star as its marketing mascot and gave us some of the best laughs of the show. He featured in a bunch of publicity shoots taking pictures in a jungle, pulling wheelies on a mountain bike and wrestling with camera cables.
Tenba also had a backpack designed especially for GoPro users, which was handy because we were presenting talks on action cams daily on the TechRadar Mobileography stand – Marketing Manager Peter Waisnor even let us borrow one for our demonstration. It has compartments designed specifically for GoPro cameras, mounts, backs and tools.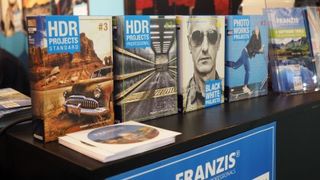 Best software we've never heard of: Franzis
Franzis is big in Germany but unknown (to us) in the UK. It publishes its own 'Projects' software as well as distributing more familiar brands, including Topaz plug-ins, in Germany. We spoke to Senior Produktmanager Ulf Schulmeyer who gave us a run-down on his company's products and a disc containing all five programs – look out for a full review on TechRadar once we've tried them out.
They do sound interesting. 'Projects' is the name of the brand, and they're standalone image-editing apps for Mac and PC. They include HDR Projects, Denoise Projects, Focus Projects (focus stacking), Black and White Projects and Photo Works Projects (general image effects).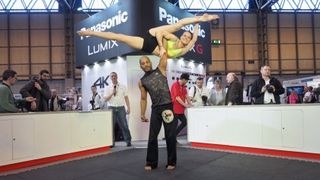 Most convincing argument: 8MP stills from 4K video
The Panasonic stand was the setting for a whole bunch of weird and wonderful set pieces including sparring boxers and these athletic acrobatics. Honestly, it's not so easy to hold someone over your head with one arm. (We tried this back at the office and it didn't go well.)
There was a serous point. Around this mini-arena were lines of 4K Panasonic cameras, and visitors got to shoot 4K video and pull out 8-megapixel stills. The video is grabbed at 30fps, so effectively you're getting 2-3 times the frame rate of the best sports stills cameras.
Can you really get decent stills from video footage? It's not the sort of claim most photographers would believe, but Panasonic is deadly serious, and had large format prints to prove it. Not only that, they had photographers there who actually shoot 4K for stills, and for their own livelihood. We chatted to sports pro Ian Cook and portrait maestro Ross Grieve after the show and they couldn't stop talking about how good these stills were for their own work.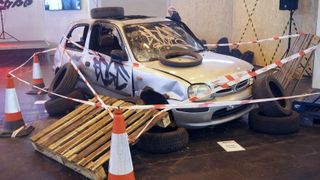 Coolest stage: Down on the street... scape
The Streetscape stage gave pro speakers a chance to teach some urban photography skills. Speakers included Panasonic 4K fan Ross Grieve, TechRadar opinionist Damien Demolder, James Madelin (who also presented 5 top tips for better phone photography on the TechRadar stand) and advertising photographer R.Cleveland Aaron talking about Light, Shapes and Space.
I just wish I hadn't lent them my car.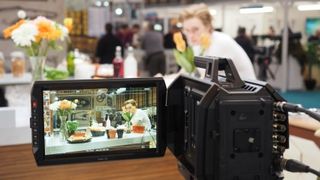 Coolest dudes: Blackmagic Design
Blackmagic Design makes mid-high end video cameras, from the £699 Micro Four Thirds based Pocket Cinema Camera through 2.5K and 4K Production and Studio cameras. And to show visitors what these cameras can do and how they work, Blackmagic set up this surreal coffee bar complete with actors, props and lighting – then surrounded it on four sides with cameras. It was like filming an episode of Neighbours or Home and Away. Not that we've ever watched these programs. Ahem.
Full credit to Blackmagic for thinking up an innovative stand design that gave visitors plenty of room, and time, to try out the cameras. (And for making a video camera rig that looks like a prop from a Terminator film.) Video was a big theme at this year's show, and while some amateurs still don't like the idea of being force-fed video features on DSLRs, most pros are realising that video is going to be more and more important in the future.