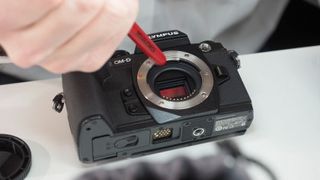 Best tip: Olympus sensor cleaning
Not content with providing show visitors with a free massage, Olympus also had a small laboratory where white-coated technicians would clean your Olympus camera while you waited. A quick scrub with a toothbrush dealt with that tricky area round the mode dial, a careful wipe with a lens cloth put the sparkle back in your glassware and some delicate work with a blower brush and a pair of tweezers took care of any spots, hairs or other debris on the sensor surface.
We did pick up a particularly useful tip. There wasn't a sensor swab in sight for the sensor-cleaning part. Instead, the technicians were using a fresh little square of rice paper picked up with the tweezers, wrapped around the end and dabbed with a spot of special sensor-cleaning fluid. Interesting...