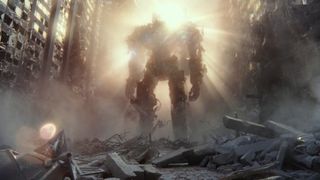 Introduction
When it comes to movies there's nothing quite like the escapism offered by Sci-Fi. Distant worlds, strange cultures and awe-inspiring technologies have been used by generations of directors to provide us with a visual feast, but the possibilities of sci-fi go far deeper than amazing CGI and (let's face it) even more amazing practical effects.
Sci-Fi allows us to take our conception of humanity and turn it inside out in ways that simply aren't possible in other genres of film. At its best, good sci-fi acts as a mirror to the world as we know it, and by magnifying issues that we've become blind to through familiarity, it can offer a new take on a seemingly familiar issue.
When it comes to streaming sci-fi, both Amazon and Netflix have a large selection of content, but from our research Amazon has the better selection of quality films. Netflix definitely has its fair share of titles, but there are some odd omissions. Why someone on at Netflix HQ has gone to the trouble of licensing 'Men in Black 3' without the far superior original is beyond us, and that's not to mention including 'Star Trek: Into Darkness' without the far superior J.J Abrams reboot.
The point we're trying to get at is that when it comes to sci-fi, the word 'limitations' is a cute little concept from a seemingly bygone era, and if you're looking to make the most of your Amazon Prime subscription, you could do a lot worse than exploring our five picks below.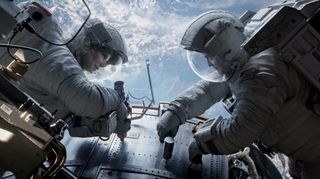 Gravity
It wasn't luck that got 'Gravity' nominated for ten Oscars in 2014, only losing out in 'Best Picture', 'Best Actress' and 'Best Production Design'. When you consider that the seven awards it took away included 'Best Cinematography', 'Best Film Editing' and 'Best Visual Effects' you've got yourself a recipe for one of the most visually stunning sci-fi movies of recent years.
'Gravity' has one of the most breathtaking (and lengthy) opening scenes we've ever seen, a seventeen minute shot that manages to successfully establish both characters and introduce the disaster that catapults the plot through the rest of the movie. The impressive thing about this shot is less the technology that was used to create it (remember that the entirety of the film was shot on a green screen that's a great deal more forgiving to these sorts of longer takes) and more the fact that Alfonso Cuarón's directing manages to maintain an almost obscene level of tension throughout the entirety of the sequence.
If nothing else, 'Gravity' is worth streaming for this opening sequence alone.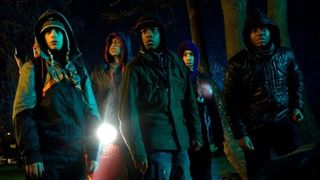 Attack the Block
It's rare for a film to find itself set in the grimier side of one of south London's many council estates, and rarer still for it to feature an alien invasion in this same setting. Yet this is exactly what 'Attack the Block' attempts, and crucially, succeeds at.
Yes, those who like their sci-fi shinier and more escapist might find their tastes better served elsewhere, but where 'Attack the Block' excels is with its characters, who over the course of the film go from a gang of petty thieves to a sympathetic group of youths (including a young John Boyega) who have been dealt a decidedly unfair hand in life.
The creepy smoke-like alien menace is also one of the cooler aliens we've ever seen.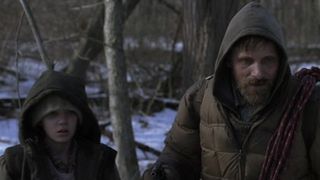 The Road
Ok, it might be a bit of a stretch to claim that post-apocalyptic thriller 'The Road' is science fiction in the traditional sense, but frankly we at TechRadar will happily take any opportunity to talk up this amazing piece of cinema.
'The Road' sees Viggo Mortenson in a decidedly un-Aragorn role as he attempts to survive in a nightmarish post-apocalyptic world alongside his son played by Kodi Smit-McPhee. It would be a stretch to claim it's an easy watch, but it's certainly a worthwhile one, and a film that will stay with you for years to come.
Our one bit of advice if you choose to settle down with 'The Road' this weekend is that you shouldn't do so while eating, or you might find your appetite disappearing rapidly during one one particular scene...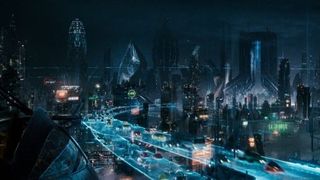 Cloud Atlas
Part post-apocalyptic drama, part dystopian sci-fi and part period drama (not to mention part modern day thriller) 'Cloud Atlas' is a film with more than a couple of surprises up its sleeve. A large ensemble cast which includes Halle Berry and Tom Hanks alongside Wachowski favourite Hugo Weaving (who you probably remember as Agent Smith from 'The Matrix' and V from 'V for Vendetta) play a variety of characters across six different time periods and locations.
Critics were divided over this central decision to share actors across time periods (and more awkwardly, races), but the film's central message about the universality of human experience more than makes up for many of the missteps along the way. Not to mention the fact that the futuristic Neo Seoul is one of the most spectacular urban sights to grace cinema screens since Blade Runner's take on Los Angeles' 2019 future.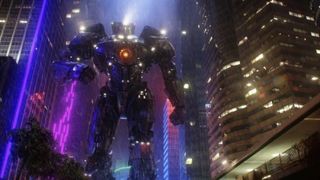 Pacific Rim
'Pacific Rim' is a movie that feels like it shouldn't exist. A movie that feels like a Japanese anime come to life, brought to you by the director behind 'Pan's Labyrinth' and both 'Hellboy' movies, it's a film that revels in the absurdity of its central premise of watching humanoid robots fighting combat colossal monsters that have emerged out of an interdimensional portal at the bottom of the pacific ocean.
It's just as ridiculous as it sounds and the movie knows it. The result is a shallow but enjoyable piece of cinema that feels right at home on a Sunday afternoon.
Guillermo del Toro's name has become synonymous with his unique art style that bizarrely feels right at home in the world of sci-fi. 'Pacific Rim' is a movie that shouldn't be entered into with anything other than modest expectations, but viewers who take a chance with it will be thankful they did so.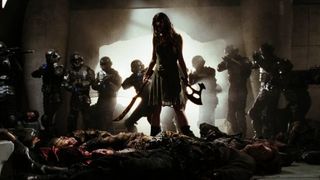 Honourable Mention: Serenity
Although 'Serenity' might not be available to stream for free on Amazon's service, a purchase price of £7.99 is a steal for what stood tall as one of the funniest sci-fi movies ever made before it was de-throned by 'Guardians of the Galaxy' in 2014.
For the uninitiated, 'Serenity' sees a rag-tag group of bandits adventuring round their solar system attempting to make as much trouble as possible for the oppressive 'Alliance'. Nathan Fillion stars as 'Mal', a charming spaceship captain who's taken more than a few cues from Han Solo, but the real star here is Joss Whedon's writing which is fast, witty, and frankly just plain fun.
If you've already watched the excellent TV series 'Firefly' then 'Serenity' is a no-brainer, but even if you're one of the few who have yet to be introduced then this is still an excellent slice of sci-fi cinema.