Last year, after Intel's Coffee Lake and AMD's Ryzen CPUs released, an age of stagnation in the CPU world finally ended. Now, in 2018 the longstanding competition between the two tech giants is back in full force, each competing for your hard-earned money. This competition has resulted in some of the best processors that have ever existed, and there's never been a better time to capitalize on this feud – both companies are offering compelling and valuable solutions for a wide range of different budgets and use cases with their new lines of processors.
More than anything, this rivalry makes 2018 an exciting time for anyone who loves PC tech – or even for anyone who is looking to buy one of the best processors. One drawback, though: the market for CPUs is notoriously unstable, especially concerning the pricing and availability of the most recent products. Don't worry, though: we have your back, and we've found all the best processors you can buy today. Even if you can't get your hands on that shiny new chunk of metal you've had your eyes on, there are plenty of great Kaby Lake processors available at great prices that are still worth their weight in silicon.
In 2018, there is a chance for everyone to get their hands on one of the best processors – regardless of budget. Both AMD and Intel are offering a wide range of CPUs in every shape and size. No matter what you're looking to do – whether you're a bleeding-edge enthusiast or someone who just wants something that works – this competition and innovation means everyone's a winner.
Trust us, we get it. You pull up Amazon or Newegg, looking for the best processor for gaming and immediately you're flooded with a wave of confusing model numbers. This confusion is natural and is an unfortunate side effect of the booming CPU market. Fortunately TechRadar has your back – we've created this list of the best processors available in 2018. Every single chip on this list was tested and reviewed by us, so you can be confident that they'll be worth your time and money. So sit back, relax, and get ready to realize PC performance you've previously only dreamed of.
Best CPU: Intel Core i7-8700K
Overclockable champion, now with more cores
Cores: 6 | Threads: 12 | Base clock: 3.7GHz | Boost clock: 4.7GHz | L3 cache: 12MB | TDP: 95W
Hyper-threading overtakes Ryzen
Low-impact overclocking
Overclocking only on K models
Requires new motherboard
During the Coffee Lake-S launch, Intel claimed that it'd be giving us its best gaming processor ever; they weren't wrong. This 'K' series chip decimates AMD's flagship in almost every way possible. Abandoning the company's invisible rule to keep processors sporting over four cores out of the hands of the mainstream, the i7-8700K makes hexa-core the new vogue.
Read our full review: Intel Core i7-8700K
Best high-end CPU: AMD Ryzen Threadripper 1950X
Ripping threads and breaking records
Cores: 16 | Threads: 32 | Base clock: 3.4GHz | Boost clock: 4.0GHz | L3 cache: 32MB | TDP: 180W
Ready for the ultimate mega-tasking
Easier to install than Intel
More power-hungry than Intel's rival
Switching profiles requires a full restart
When AMD released its Zen architecture-based Ryzen chips back in June, they relied on the promise of a price-to-performance ratio that finally knock Intel off of their untouchable throne. Simultaneously, however, they fell quite short of Intel in terms of raw horsepower. That all changed overnight with the AMD Ryzen Threadripper 1950X, a chunk of silicon that's not only a better value than Intel's Core i9-7900X, but it's also easier to anchor into the socket of any x399 motherboard.
Read the full review: AMD Ryzen Threadripper 1950X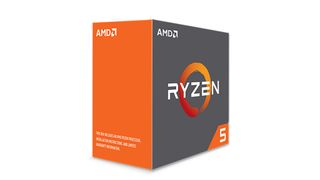 Best mid-range CPU: AMD Ryzen 5 1600X
Six cores for less than the price of four-core chip
Cores: 6 | Threads: 12 | Base clock: 3.6GHz | Boost clock: 4.0GHz | L3 cache: 16MB | TDP: 95W
Awesome multi-core performance
Cool running chip
Tricky overclocking
It shouldn't come as a surprise that with its mid-range chip, AMD offers more cores for less money when compared to Intel. While in year's past this has equated to making compromises in other areas to keep the costs low, the Ryzen 5 1600X remains economical without being shown up. After all, operating with six cores and 12 threads, there's no shame in a 3.6GHz base frequency, not to mention the 4.0GHz boost in addition to overclocking capabilities.
Read the full review: AMD Ryzen 5 1600X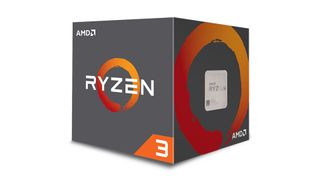 Best entry-level CPU: AMD Ryzen 3 1300X
Welcome to the circus of value
Cores: 4 | Threads: 4 | Base clock: 3.5GHz | Boost clock: 3.7GHz | L3 cache: 8MB | TDP: 65W
Impeccable value
More cores than most budget CPUs
Lagging benchmark scores
Runs a little too warm
Many people will assume that because it requires discrete GPU to use, the AMD Ryzen 3 1300X is built solely for gaming. Once you drop your assumptions, though, you'll see it as the little processor that could. That's because, at a price that's the definition of reasonable, you're getting a chip that's 53% faster at encoding video than the Intel Core i3-7350K in Handbrake and – with the right GPU attached – can easily help you attain 60 frames per second in Overwatch.
Read the full review: AMD Ryzen 3 1300X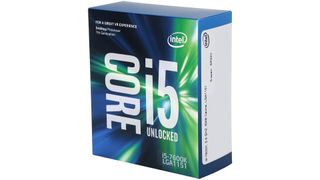 Best gaming CPU: Intel Core i5-7600K
"K" series Core processing at an i5 cost
Cores: 4 | Threads: 4 | Base clock: 3.8GHz | Boost clock: 4.2GHz | L3 cache: 6MB | TDP: 91W
Easy to overclock
OC approaches i7-6700K stock speeds
Negligible upgrade over Skylake
Like the 7700K that preceded it on this list, the Intel Core i5-7600K is an unlocked, overclockable quad-core processor from Intel. However, it also suffers from the same integral shortcoming; that is that it's barely an upgrade over the i5-6600K. Be that as it may, squeezing out only 300MHz over its precursor brings it nearly in line with the last-gen Core i7-6700K when overclocked. All the while, it won't put too much of a dent in your budget either.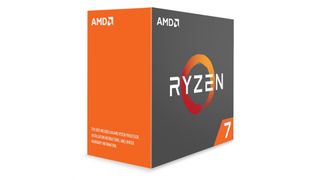 Best VR CPU: AMD Ryzen 7 1800X
Ryzen to the occasion and VR-ready to rumble
Cores: 8 | Threads: 16 | Base clock: 3.6GHz | Boost clock: 4GHz | L3 cache: 16MB | TDP: 95W
Stunning multi-core performance
Insane price
Overclocking is touch and go
Temperatures are 'unique'
The primary contender to Intel's Core i7-7700K, the AMD Ryzen 7 1800X poses a convincing threat to Intel's flagship. While it's unfortunately more expensive than the 7700K, uncharacteristic for the oft value-focused Red Team, the Ryzen 7 1800X most certainly keeps up with some of Intel's older chips. Plus, unlike the Core i7-5960X and -6700K it most intimately rivals, the AMD Ryzen 7 1800X is much more qualified for VR now and into the future.
Best video editing CPU: Intel Core i7-7820X
Cores: 8 | Threads: 16 | Base clock: 3.6GHz | Boost clock: 4.3GHz | L3 cache: 11MB | TDP: 140W
Solid multi-core performance
Best value for an eight-core Intel chip
Little benefit over cheaper Ryzen 1800X
Threadripper is cheaper
The naming convention is confusing, given that the Intel Core i7-7820X is part of Intel's "Skylake-X" series rather than the X-class chips built on the 14nm Kaby Lake node, but semantics matter very little when you get to go hands-on with an Intel CPU boasting this many cores. Although the fact that you'll need a new motherboard to use this octa-core monster might be enough to scare some users off to Ryzen, Intel loyalists shan't mind the upgrade.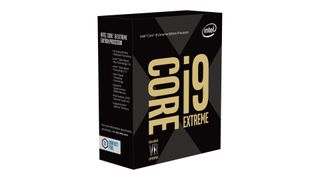 Best performance processor: Intel Core i9-7980XE
This 18-core processor dominates all
Cores: 18 | Threads: 36 | Base clock: 2.6GHz | Boost clock: 4.4GHz | L3 cache: 24.75MB | TDP: 165W
Exceptional performance
Single-core results are incredible
Price, price, price
Monstrous overclocking power draw
Intel's 18-core processor is all about brute force. With the ability to kick up all of its cores to 4.8GHz (by our testing at least), this monstrous CPU brings performance to a new level of insanity. The only caveats are this processor power draw and price are equally beastly.
Read the full review: Intel Core i9-7980XE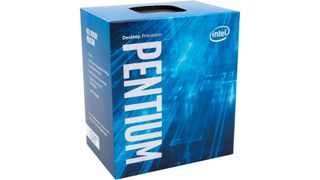 Best budget CPU: Intel Pentium G4560
Intel Core i3 power at a Pentium price tag
Cores: 2 | Threads: 4 | Base clock: 3.5GHz | L3 cache: 3MB | TDP: 54W
Closely tails Core i3-7100
Supports hyper-threading
Limited to DDR4-2400 memory
Inferior performance to Intel Pentium G4560
With the amount of money you'll save by purchasing the Intel Pentium G4560 over a Core i3 chip, we promise you won't mind the ever-so-slight loss in performance you can expect from this hardy value chip. As the first Pentium processor in quite some time to feature hyper-threading, the G4560 goes out of its way to show us all what we've been missing. And, in benchmarks, it proves itself eerily adjacent to the more expensive Intel Core i3-7100.
Best HTPC CPU: AMD A12-9800
Integrated graphics, now there's a novel idea
Cores: 4 | Threads: 4 | Base clock: 3.8GHz | Boost clock: 4.2GHz | L2 cache: 2MB
Doesn't require graphics card
Compatible with AM4 mobos
Limited to DDR4-2400 memory
Inferior performance to Intel Pentium G4560
Maybe you've probably heard some bad things about the AMD A12-9800, some of which are justified, but some salty impressions we've seen are just based on how AMD's first AM4-compatible APUs aren't Zen-based. Instead, the A12-9800 takes advantage of the Bristol Ridge architecture, which is basically just a refresh of the Bulldozer family AMD has been slowly iterating on since 2011. Even so, this is the best way single AMD chip build independent of a discrete GPU – for now.