Google Drive vs OneDrive: Which is best?
We pitch Google Drive against Microsoft OneDrive in this cloud storage showdown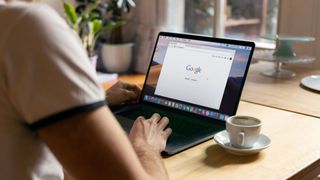 (Image credit: Unsplash)
Choosing the best cloud storage on the market is a difficult task as the market is extremely competitive these days, making it difficult to know which solution is right for you. Two of the frontrunners are Google Drive and Microsoft OneDrive, standing head and shoulders above the competition when it comes to sheer market competition with an estimated three billion users between the two.
Whatever your specific needs, both Google Drive and OneDrive represent solid choices, which is why they are the two most popular cloud storage solutions on the market. On the most basic level, users will find that Google's offering is more consumer-friendly - a reflection of its suite of personal cloud tools like Google Photos to Gmail.
Microsoft OneDrive, on the other hand, focuses more on business customers. Both, however, have their eyes on business and personal users. The below guide will take you through the pros and cons of each solution, evaluating each on its features, performance, support and pricing. You could be forgiven for not being entirely sure which cloud solution is the best fit for your needs.
Swipe to scroll horizontally
Google Drive vs Microsoft OneDrive, in a nutshell

| Header Cell - Column 0 | Google Drive | Microsoft OneDrive |
| --- | --- | --- |
| Free storage capacity (GB) | 15 | 5 |
| Lowest capacity (GB) | 100 | 100 |
| Price for Lowest capacity ($/per year) | 15.99 | 23.88 |
| Highest capacity (TB) | 2 | 6TB |
| Price for highest capacity ($/per year) | 79.99 | 79.99 |
| Version period | 100 | n/a |
| Versions kept | 30 days | 30 days (365 only) |
| Online editing | Yes | Yes |
| Platforms | Mac, Windows, iOS, Android | Mac, Windows, iOS, Android |
| File size limit | 5GB | 15-25GB |
| File sharing | Yes | Yes |
| Encryption | Yes | Yes |
| Other features | Row 12 - Cell 1 | Row 12 - Cell 2 |
| Time to upload 1GB (seconds) | 267 | 339 |
| Time to download 1GB (seconds) | 85 | 447 |
OneDrive vs Google Drive: Features
Users working on a Windows machine will have OneDrive installed by default, and it is the most obvious choice thanks to the way it integrates deeply into Microsoft's entire ecosystem. A whole range of files can be saved in OneDrive, including common documents, photos, videos, and PDFs.
Even files that can't be opened on a Windows computer can be saved in the cloud, such as Pages, Numbers, and Keynote files which is great for macOS users, but most users will end up running Word, Excel, and PowerPoint, which come as part of the Microsoft 365 bundle on higher-tier subscriptions.
Drive also includes a secure storage feature called Personal Vault whose access is protected by two-factor authentication, adding an extra layer of security.
Like most - if not all - cloud storage services, there is a browser interface for on-the-go access to your files. Yes, it's smooth and has plenty of user-friendly features like drag-and-drop and plenty of sharing options, but most users will get the best experience from using the desktop client.
This is because only Microsoft Office files can be edited online (using the company's online versions of the apps). Any other file types - like Photoshop templates - will need to be downloaded then re-uploaded. Using the desktop client, edited files are automatically replaced, as OneDrive deals with syncing in the background with no input from the user.
There are iOS and Android apps, too, and both computer and smartphone apps give you access to offline files so you don't necessarily need an Internet connection to access your work (though syncing will be paused until you regain a connection).
Google Drive works in a similar way to OneDrive in that you have online storage that can be accessed from browsers, desktop clients and mobile apps, and the company also operates its own suite of business-oriented apps under the Workspace banner; the most prominent ones are Docs, Sheets, and Slides. As is the case with OneDrive, Google Drive can open Microsoft Office-based files - such as Word documents - however it cannot open Apple file types.
The key difference with Google Workspace apps is that they are online-only: they are accessed through the browser and there are no downloadable versions so an Internet connection is a must. In this day and age with Wi-Fi and mobile hotspots available mostly everywhere, that may not be an issue, but if you expect to be somewhere without Internet - like abroad - it's worth considering when comparing OneDrive with Google Drive.
Microsoft OneDrive vs Google Drive: Performance
The desktop clients for both services work great for syncing files in the background, with options to download all files for offline access or keep them in the cloud to free up storage. Just remember that Google's own files are typically managed online anyway. Both have controls for bandwidth throttling, too, if you need that sort of control.
In our tests, Google Drive uploaded a 1GB file in just under five minutes which is pretty impressive. OneDrive did the same in about a minute more. The difference is more obvious when comparing download speeds for the same file - less than two minutes for Google vs more than seven minutes for Microsoft. That said, these times are just indications and will vary constantly, even when using the same broadband connection.
Microsoft OneDrive vs Google Drive: Support
Because these cloud drives belong to two of the most dominating companies in the sector, and indeed the entire tech industry, you can expect support to be extensive. Both provide a large number of self-help articles for some of the simpler troubleshooting, but there are options for real-time support if your needs are more complex.
OneDrive has email ticket generation and phone lines, which are available after quite some digging through several pages. There's no support for free plan members with Google, but paying customers get access to email, phone and live chat support which helps to cut down the waiting time for some queries. We would like to see a live chat option for Microsoft, too.
Google provides a dedicated Drive forum where an active community exists. Microsoft doesn't however have something similar although you should be able to put your questions in a more generic forum (Microsoft 365 and Office)
There is a cottage industry online based around informally providing support, often via how-tos and videos, to anyone looking for tips and tricks for both Google Drive and Microsoft Onedrive.
Microsoft OneDrive vs Google Drive: Pricing
Microsoft OneDrive starts off with a free 5GB storage plan, which is fairly average if not slightly unimpressive. It's also a storage-only plan, while Google's free tier gives access to its online word processing apps. It's also a much more generous offer of 15GB, which is among the best available for free unless you want to consider TeraBox.
OneDrive's cheapest plan - also storage only - is 100GB for $1.99 per month. If you want access to the company's Office apps, you'll have to upgrade to a Microsoft 365 package, of which there are two. A 1TB plan for $6.99 per month, or a family plan with 1TB each for up to six people for $9.99 per month, giving you a grand total of 6TB.
Google Drive paid plans include 100GB for $1.99 per month, which is cheaper than Microsoft's equivalent plan, and a mid-range 200GB plan for $2.99 per month. The top-tier plan at $9.99 per month includes 2TB of storage. Each of these three plans can be shared among six family members, while the range topping 2TB plan adds access to VPN for mobile devices running iOS or Android as part of its Google One service.
Business users will pay between $5 and $10 per user per month for cloud storage only, or between $6 and $12.50 per user per month for storage and Microsoft 365 apps. A trio of business plans offer 30GB, 2TB, or 5TB of storage to Google's business customers for $6, $12, or $18 per user per month, and there's a fourth plan for larger enterprises which is customizable.
It's also common to see annual plans offering a discount for both providers, though these are more typical of personal plans rather than business subscriptions. Because most people will subscribe to a cloud storage long-term, they represent the best value for money.
Microsoft OneDrive vs Google Drive: Verdict
Not only does every cloud storage platform offer a slightly different proposition, but every individual or business's needs will differ, too, so it's impossible for us to say which platform is right for you. However, in most scenarios, we think Google Drive comes out in the lead thanks to its slightly lower prices and wider range of supported apps. The drawbacks are its lack of client-side software, and that some OneDrive Business plans may work out much cheaper, especially if you want a lot of storage.
Are you a pro? Subscribe to our newsletter
Sign up to the TechRadar Pro newsletter to get all the top news, opinion, features and guidance your business needs to succeed!
With several years' experience freelancing in tech and automotive circles, Craig's specific interests lie in technology that is designed to better our lives, including AI and ML, productivity aids, and smart fitness. He is also passionate about cars and the decarbonisation of personal transportation. As an avid bargain-hunter, you can be sure that any deal Craig finds is top value!