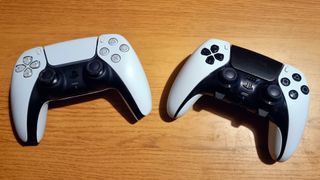 (Image credit: Future)
With the launch of the DualSense Edge, Sony has officially thrown its hat into the 'Pro' controller ring, alongside heavy hitters like Microsoft's Xbox Elite Controller Series 2. Not to mention third-party standouts like Nacon's Revolution X Pro.
The DualSense Edge, being a premium controller, houses a number of improvements and advantages over the stock DualSense pad. Features and additions like fully customizable button profiles, rear paddle buttons, and trigger lock settings present an upgraded experience. And the relatively stronger build quality is the icing on the cake.
But we're not counting out the standard DualSense here. The PS5's pack-in pad is no slouch, and felt sufficiently premium when it launched with Sony's current-gen console back in 2020. That's largely thanks to excellent features like haptic feedback and adaptive triggers, which helped the DualSense stand out from the crowd.
If you own a PS5, then, should you upgrade to the DualSense Edge now that it's here? Or is it best to stick to the already fantastic DualSense?
DualSense vs DualSense Edge: price and availability
When you buy a PS5 console, you're getting a DualSense out of the box. Though, if you want to buy one individually, say as a spare or for play on PC, that'll run you $69.99 / £59.99 / AU$109.95. You can pick up a DualSense either from Sony directly or at most major online retailers.
The DualSense Edge, available from January 26, 2023, sees a significant leap in terms of price. Sony's new premium pad launches at $199.99 / £209.99 / AU$339.95. It's expensive no matter how you slice it, so be nothing but absolutely sure you want to own the Edge before committing to its high cost.
DualSense vs DualSense Edge: design
Both the DualSense and the DualSense Edge might have near-identical silhouettes, but there are enough differences to set each pad apart in terms of design. For starters, the Edge is aesthetically unique, sporting black coloration in several areas in place of the DualSense's blanket white colorway.
The Edge's D-pad, face buttons, and touchpad all feature a slick black finish. The latter of which, alongside the triggers, stands out that much more thanks to a textured surface. The Edge also features improved build quality, meaning that overall, the premium pad looks and feels like it has more depth than its admittedly flatter counterpart.
Button, stick, and trigger placement are roughly identical on both controllers, and thus both are similar in quality when it comes to how each pad feels in the hands. The Edge's build quality improvements are nice, but certainly not as wholly transformative as the gulf in quality between the Xbox Wireless Controller and the Xbox Elite Controller Series 2.
DualSense vs DualSense Edge: features
When it comes to features, the DualSense Edge has a clear, erm, edge. But once again, it doesn't wholly pull away from the standard pad in terms of quality here. Both the Edge and the DualSense share identical haptic feedback and adaptive trigger strength; the Edge features little to no improvements in this department.
Where the DualSense Edge shines, though, is in its customizability, and the settings you can adjust that are non-existent on the PS5's pack-in controller. Namely, these are trigger lock switches, swappable thumbstick modules, rear paddle buttons, and a suite of controller customization options like vibration strength, analog stick sensitivity, and trigger dead zones.
That level of customization is supported by a pair of new Function buttons that rest just below the analog sticks. By holding one in, you'll have access to a quick menu wherein you can switch between custom button profiles, hop into the customization menu and adjust the volume and chat balance of a connected headset.
The DualSense Edge also packs some ancillary items out of the box. You're getting a sturdy carry case, along with two sets of rear buttons (a stubbier pair along with more traditional paddle-like buttons), some swappable thumbstick caps and a lock for the included USB-C cable if you're planning on going fully wired.
The Edge is the clear winner in the features department, then, sporting several extras that just aren't present on the original DualSense. Though, this is a huge contributor to the Edge's high price tag. The standard pad is still a solid option, features-wise, thanks to that strong haptic feedback and adaptive trigger support.
DualSense vs DualSense Edge: performance and battery life
This is perhaps the area where both controllers are astonishingly similar. In terms of performance, there's very little difference between the DualSense and its Edge counterpart.
Yes, the Edge has a slight advantage in terms of build quality. But the DualSense's standout features – namely its haptics, adaptive triggers and lightbar – are virtually identical on both pads. If there's any differences here, they're microscopic.
The same goes for battery life, and that's to the Edge's detriment. Our biggest complaint with the DualSense is its poor battery life, with the controller often struggling to survive more than six hours of playtime.
This hasn't been improved with the Edge. In our testing, the premium pad lasted just over seven hours before running out of juice. Charge time is roughly the same on both controllers, too, at around two to three hours with the DualSense Charging Station.
DualSense vs DualSense Edge: verdict
Both the DualSense and the DualSense Edge are excellent controllers. Two years since its launch, the standard DualSense remains one of the best gaming controllers around, and it's relatively affordable for the features you get.
The DualSense Edge is technically an improvement on all fronts. Better build quality, smart upgrades to the touchpad and triggers, and an excellent customization suite that allows you to really fine-tune your gaming experience. However, the Edge remains identical to its predecessor in several areas, rendering it to be a touch overpriced in our eyes.
The Edge is undoubtedly brilliant, but if you're even slightly hesitant about meeting its sky-high price tag, then we'd recommend sticking to the standard DualSense, which is still a phenomenal pad to this day.
Sign up to receive daily breaking news, reviews, opinion, analysis, deals and more from the world of tech.

Rhys is TRG's Hardware Editor, and has been part of the TechRadar team for more than two years. Particularly passionate about high-quality third-party controllers and headsets, as well as the latest and greatest in fight sticks and VR, Rhys strives to provide easy-to-read, informative coverage on gaming hardware of all kinds. As for the games themselves, Rhys is especially keen on fighting and racing games, as well as soulslikes and RPGs.