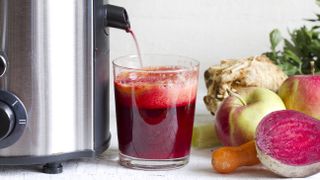 (Image credit: TechRadar)
Want to kickstart your day with a healthy cold drink? You're going to need a juicer or a blender, depending on what kind of drink you're after. If it's a glass of fresh fruit juice, you'll be looking for a slow juicer preferably. However, if you want to extract as much as possible from fruits, nuts and vegetables, then you should consider a blender.
But then how do you pick which one's right for you? This is where TechRadar's experts explain it all – the difference between a slow juicer and a super blender, a cold-press and a stick blender, which one is better and how they all compare with each other.
From Breville to Ninja Kitchen, NutriBullet to Smeg, and more besides, there are juicers and blenders galore across several price points. Allow us to explain which makes the better drink.