Why you can trust TechRadar We spend hours testing every product or service we review, so you can be sure you're buying the best. Find out more about how we test.
Interface and performance
Intuitive interface, but lack of touchscreen slows things down
Few apps and slow data speeds
The experience of the Nokia 3310 is limited, but that's the case on most modern feature phones, and you can do a lot more on this than you would have been able to on the original version of the phone.
There's no Android software here and Windows 10 Mobile is nowhere to be seen, instead it's running Nokia's feature phone OS. That's Nokia Series 30+, which is a lot more basic than we're used to on most modern phones.
It comes with a variety of basic apps, folders and functions, including Call Logs, Contacts, Photos, Internet, Messaging, Snake, Mobile Store, My Apps, Camera, Apps and Games, Music, Weather, Radio, Videos, Settings, Notes, Calendar, Calculator, Alarm Clock, Extras, Files, Voice Recorder and Counters.
All of the most popular feature phone apps such as the calculator and voice recorder are here then, but there's nowhere near the selection you'd expect on a modern phone.
If you'd like to access Instagram on this phone for example, you'll need to go through the very basic, slow loading internet browser, which can be tedious as you have to navigate and type using physical buttons.
There is an app store where you can download games and apps, but during our time with the phone we found the store only had a small selection of games.
Twitter and Facebook will be launching on that store soon, but it's safe to assume most of your favorite apps won't be available on this device, as it's going to be a pain for the big companies to develop for.
The interface is easy to understand, but as there's no touchscreen functionality it's a little bit more difficult to move around compared to iOS and Android devices.
If you're used to typing out text on a keypad you'll find this easy to use, but it won't be comfortable to switch to this from an iPhone or an Android device.
Browsing on the Nokia 3310 can take a long time, but the web browser is still a handy feature, especially given the lack of apps. One day we wanted to access the news from the BBC for example, and that wasn't too difficult, it was just a case of entering the URL slowly using the keypad.
One disappointing point is the fact the new Nokia 3310 is only 2.5G compatible. That means no 3G or 4G data speeds, resulting in a very basic, sluggish browsing experience.
There's also no Wi-Fi, so our advice is not to buy this phone if you're going to be using a lot of internet.
Instead, it's a nice little touch to be able to get online when you need it most but it won't be a main focus of the Nokia 3310 experience.
Performance wise we found the new Nokia 3310 to be mediocre at best. Most apps opened with a slight delay, but some of the key apps have no noticeable lag.
For example, Messages opens up immediately, but if you've got a bulging inbox on your phone full of messages it slows down a touch.
For gaming, the Nokia 3310 managed to load most titles within a few seconds, but the games aren't particularly intensive, as you'll find out in the next section.
Bluetooth is here, so you'll be able to upload music to your phone and listen to it over the air or plug in a headset with the 3.5mm headphone jack.
You'll want to use a microSD card though as there's only 16MB of internal storage space here and that's not going to let you even store a whole album.
The truth is, if you want to put media of any kind onto this device you will have to buy a microSD card. There's no getting around this – we only managed to store seven photos on our handset before it started asking us to resort to expandable storage.
Gaming
Snake is back
Comes with several other basic games
Snake is back on the new Nokia 3310, but it's had quite an overhaul from the version which graced the original 3310.
Called Snake Xenzia, the new version is made by Gameloft and features a series of levels with various map layouts, as well as the classic survival mode where you get an uninterrupted square to ply your trade.
The snake looks, well, more snake-like, and it's all in color for your visual pleasure. If you jump straight into the game you'll find the controls require you to use just the 4 and 6 keys to direct your creature in a similar fashion to slither.io.
Snake purists needn't fear though, as a quick trip to the game's settings menu allows you to select from four different controller options - with the classic 2, 4, 6, 8 directional controls present.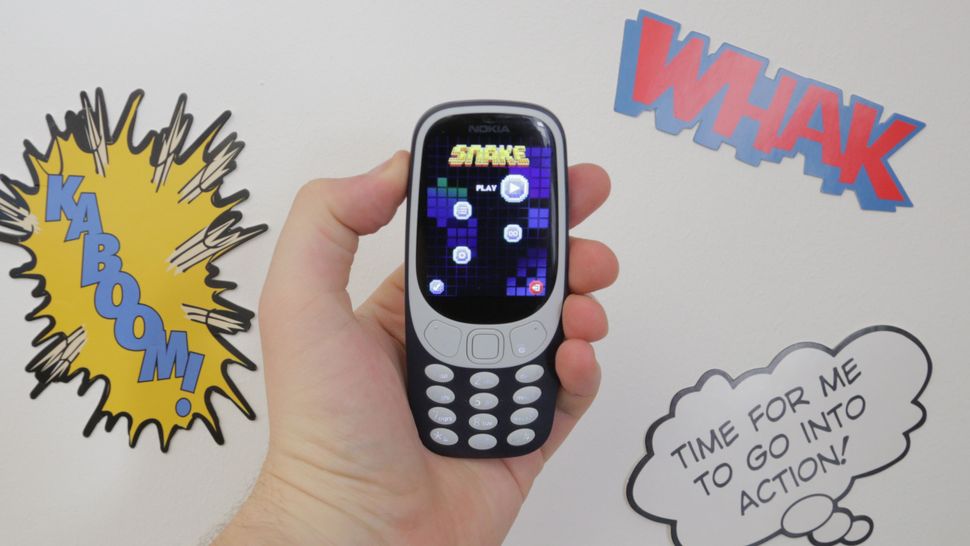 You can also opt to use the four way navigation pad on the new 3310 if you don't fancy using the number keys, and this makes it slightly easier to manage when playing one-handed.
The navigation pad is small though and you'll need to be accurate (and ideally slender-fingered) to make the most of it.
Snake isn't the only game you can play on the new Nokia 3310 though, with the phone also packing Asphalt 6: Adrenaline, Diamond Twister 2, Doodle Jump and Drag Race.
Don't get your hopes up too much, as our quick spin on Asphalt offered up some distinctly retro graphics. It still fun though, and takes you back to the old-school arcade racing games.
Battery life
Battery life of around a week
'Festival proof' on a single charge
Charges via micro USB
The original Nokia 3310 was known for its long battery life, and there's good news for those eyeing up the new 3310.
A removable 1,200mAh power pack is an instant upgrade over the 900mAh of the original, and thanks to the improvements in phone efficiency the new Nokia 3310 boasts 22 hours of talk time and up to 31 days of standby.
That's a huge upgrade over the 2.5 hours of talk time and 260 hours (around 11 days) of standby on the original Nokia 3310. You can charge the new 3310 with a standard micro USB cable too, but the one that comes in the box will only connect to your wall.
Any other micro USB cable you have will also be able to charge this up though, so if you've bought any kind of portable tech in the last decade you likely have alternatives.
We found the battery life of the Nokia 3310 to be solid and last for the best part of a week, but you should note it's not going to give you a whole month from a single charge.
That promise of month-long battery only applies if your phone is idle the whole time. But it should still keep you going a while, especially if this is a festival phone or a secondary device you're placing in your bag and not using much.
You can put your SIM card into it and know you'll be able to make a phone call without losing a lot of the battery life. If you're going to sit on this all the time though it won't give you as much of a battery boost as you might expect.
One other thing to note is if you buy this phone remember to lock the screen. Most of us are used to letting our phones lock themselves, but you'll need to manually do that with the new Nokia 3310 or the screen will stay on and you'll be hemorrhaging charge in no time.
Camera
2MP camera isn't up to much
No selfie snapper
The original Nokia 3310 came out before most phones had a camera on the rear, but for 2017 the company has decided to include one. It's a rather understated affair though with only a 2MP shooter on the rear of the phone.
There are no top-of-the-range features here either. It's essentially a simple point-and-shoot camera with digital zoom built in, but you won't be blown away by any of the photos you can take from this.
It will be useful for the odd shot of information you need to remember or want to just quickly grab, but that's about all. These photos won't even be useful for sharing on social media, as the quality is so low.
There's no video recording on the Nokia 3310 either, so you won't be able to film your upcoming masterpiece on this device.
Perhaps the biggest missing feature from the new 3310 is the lack of a selfie camera. There's no way to shoot selfies apart from turning your phone around and using that poor rear camera.
We wouldn't recommend that, as framing can be a bit of an issue and most of the selfies we took had to be reshot a few times in order to get it done properly.
Camera samples
Image 1 of 4
James is Managing Editor for Android Police. Previously, he was Senior Phones Editor for TechRadar, and he has covered smartphones and the mobile space for the best part of a decade bringing you news on all the big announcements from top manufacturers making mobile phones and other portable gadgets. James is often testing out and reviewing the latest and greatest mobile phones, smartwatches, tablets, virtual reality headsets, fitness trackers and more. He once fell over.