Mode Electric Toothbrush: One minute review
Mode is a relatively new brand that sells only one product: the electric toothbrush—and its replacement brush heads. That means a ton of thought and detail went into creating this device, and it shows.
The Mode Electric Toothbrush is one of the most aesthetically pleasing toothbrushes you can find, certainly prettier than some of the other best electric toothbrushes. No white plastic here: its minimalistic all-black coloring and wire-free charging. You'll happily set this toothbrush up in a wall outlet. Yes, you read that right. The charging dock plugs directly into your wall outlet, and the toothbrush magnetically attaches to it for easy charging. Therefore, your clunky wired chargers will no longer clutter the counter space. The charging dock also doubles as a night light.
Brushing with the Mode leaves your mouth feeling fresh and clean, thanks to some insanely powerful sonic vibrations. You'll never want to go back to manual toothbrushes. There's even a two-minute internal timer that pulses every 30 seconds, letting you know when to switch up the area of the mouth you're cleaning. However, there's only one cleaning mode, so if you've got ultra-sensitive teeth and gums, you may want to find a toothbrush that's a little less intense.
There is also no companion app or LCD screen to tell you how, when, and where to clean your teeth, uncomplicating brushing. But for those that prefer guidance, this is a deal breaker.
The Mode Electric Toothbrush doesn't come too cheap, landing it in the mid-to-higher-end of the toothbrush market. For those after its sleek styling and the handy functionality of the charging dock, it might just be worth the splurge. But there are also plenty of cheaper options that'll give you the same fresh from the dentist clean feeling.
Mode Electric Toothbrush review: Specifications
Swipe to scroll horizontally
| | |
| --- | --- |
| Component | Mode Electric Toothbrush |
| Price | $165.00 (around £125 / AU$240) |
| Dock | Wireless plug-in, rotating dock w/ nightlight |
| Battery | Rechargable, up to 30 days battery life |
| Settings | 1 |
| Brushing action | Sonic, 38,000 strokes pm |
| Companion app | None |
| Timer? | Yes, two minutes |
| Connection | None |
| Water resistant | Yes, IPX7 |
Mode Electric Toothbrush review: Price and availability
List Price: $165.00 US
Not available in other regions
The Mode Electric Toothbrush is currently only available to purchase and ship in the US directly from the Mode website for $165. If you're looking to save a couple of bucks, there's a subscription plan available for $150—on sale now for $120. With it, you'll get the Mode Electric toothbrush, and then every three months, they'll send you a brush head replacement for $10. You can cancel this subscription at any time.
If you opt out of the subscription plan when purchasing the toothbrush but still want a brush head replacement, it'll cost you $15. The cost of brush head replacements is on par with other high-end electric toothbrushes, such as the Oral-B iO Series 9. It's also possible to sign up for the $10 subscription plan after purchasing the toothbrush, and you'll save $5, getting the brush heads for $10. Active subscriptions even give the toothbrush a lifetime warranty against manufacturer defects.
Mode Electric Toothbrush review: Design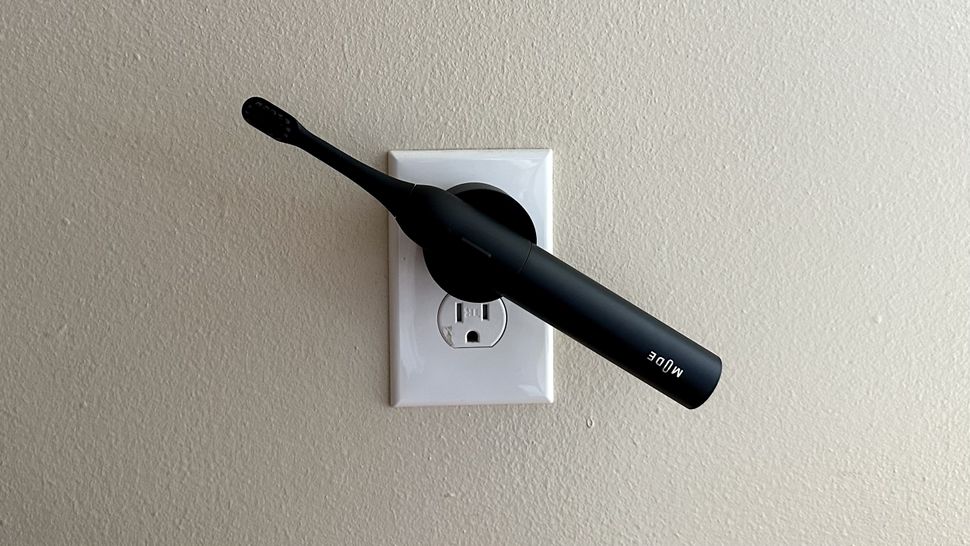 Sleek matte black design throughout
Simple one-setting vibrating brush head
Cordless, magnetic charging dock
No companion app
There's no denying the Mode Electric Toothbrush is a thing of simplistic beauty. Rather than going the gaudy colorful, or drab white route, the Mode comes in a sleek matte black. The black button and dark gray brush bristles stay on theme, while the small Mode logo shines in silver. Its charging base matches for a seamless look, ensuring this device won't be an eyesore in your bathroom. Even the packaging the toothbrush arrived in exuded that same opulence.
The Mode toothbrush feels great in-hand with a solid aluminum handle that's easy to grip and a brush head that stays firmly in place while brushing. It comes with a translucent black brush cover to keep debris and dust off while not in use, and that's also handy for travel. However, the brush is much heavier and bulkier than a traditional toothbrush, so it might not be the best travel companion.
To get using, a single slim black button on the handle turns on the device while a white indicator light glows to tell you it's working—if the strong pulsing wasn't obvious enough. That light will glow red when the battery is running low.
Only one brushing mode is available; a sonic vibration that promises 38,000 brush strokes a minute, or 76,000 when going by the two-minute internal timer. You aren't getting an oscillating head or different intensity levels. It uncomplicates things. That may disappoint some, especially if you're accustomed to tuning settings exactly to your liking. The relatively high price tag also leads you to expect more choice during your teeth cleanings, and maybe a less intense setting would've been a nice inclusion.
It is recommended that you replace your brush head every three months or so, and as I mentioned, there's an auto-refill program with relatively inexpensive $10 replacements. Taking the old head off requires just a light tug, and the new one pops on with ease. As someone who used a Quip toothbrush for longer than I'd like to admit and always struggled to get the new brush head on and off, this is a boon.
One of the best features of the Mode is the handle's waterproof design with an IPX7 rating. Therefore, you can rinse the whole toothbrush after every use, which is necessary given that the all-black design and often white toothpaste don't mix well. There's also a small gap between the brush head and handle that's prone to getting toothpaste caked in it. Diligent rinsing prevents this from becoming an issue.
However, the most unique aspect of the Mode is its charging dock. It's something I've never seen in a toothbrush before. The charging dock simply plugs directly into a wall outlet, so there are no more annoying cables cluttering the space on your countertop. Your toothbrush then magnetically attaches to it just below the brush head for cordless charging and storage, similar to the MagSafe charging on iPhones.
If you're worried about the toothbrush blocking access to other outlets, the dock actually rotates counterclockwise, so you can place your toothbrush at any angle you please. The circular charging dock is also compact at only two inches in diameter and 1.5 inches at its thickest point, not including the three prongs. I had no problem slotting in bulkier plugs under it.
The charging dock isn't only capable of charging your toothbrush wirelessly, as it's also rocking a night light feature. A soft glow emits from the back of the dock when in a dark space. There's even a sensor that detects when the room is dark, and it'll automatically turn on. But this is a double-edged sword because there's no actual way to turn off the night light feature other than unplugging the charging dock.
That dock is also water resistant, with an IPX4 rating, so after you rinse off your toothbrush, don't be afraid to immediately attach it to the dock. Just don't submerge the dock in water, and if it needs to be cleaned, use a damp cloth and wait until it's completely dry before plugging back in.
One glaring feature missing from the Mode Electric Toothbrush is an app. All the major electric toothbrush brands, from Colgate and Oral-B to Phillips Sonicare and Quip have companion apps that'll connect to their high-end toothbrushes, keeping track of cleaning and giving tips. Personally, I don't appreciate an app telling me how to brush my teeth. That's what my dentist is for. However, I can see the benefit in an app noting areas of my mouth I may have missed.
Mode Electric Toothbrush review: Performance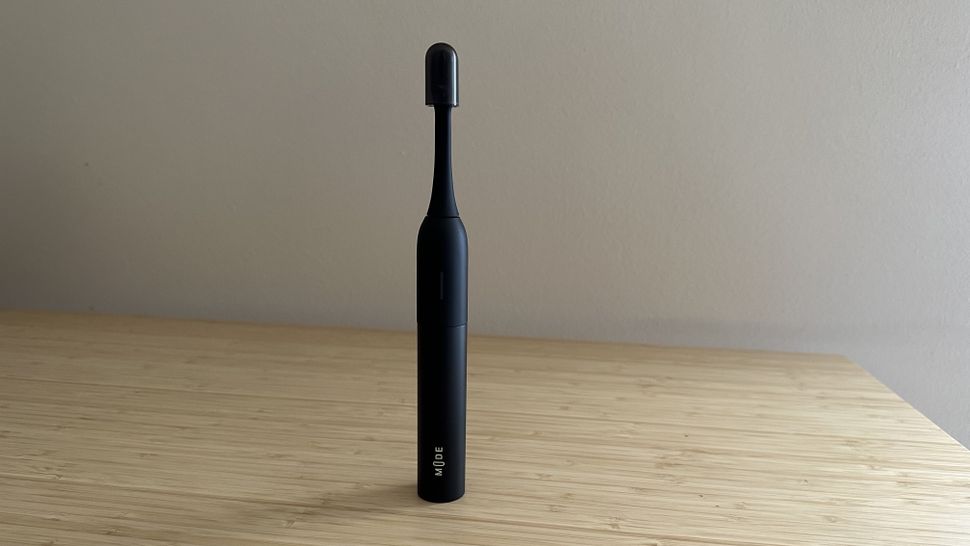 Deep-cleaning sonic vibrations
Only one cleaning mode
Charging dock rotates
The Mode Electric Toothbrush is simple to get using. Right when you take it out of the packaging, you can begin brushing, as the toothbrush comes charged. When you press the slim black button, powerful vibrations can be felt through your hand, though you still feel fully in control of the brush. There's also a noticeable hum from the motor, so if you're looking for silence, you may want to seek out a different option.
As I mentioned, you don't get different brushing modes. However, the one on offer has a lot of muscle. In fact, the first time I tested it, my toothpaste was shaken right off the brush head. The cleaning was thorough, removing all the nastiness left from the day. My teeth felt insanely smooth after blowing the performance of a manual toothbrush and my basic Quip toothbrush out of the water.
If you're worried about it being too rough for your teeth and gums, the tapered bristles on the brush are actually very soft. My gums have a slight sensitivity, and I felt absolutely no pain but still got a deep clean.
Unfortunately, there's no app or screen to guide you through your brushing, but the internal two-minute timer subtly pulses every 30 seconds. That gives you some guidance, letting you know when to switch cleaning areas. I used it, splitting my mouth into four sections to ensure each area got a fair amount of attention.
After you're done brushing, I'd recommend rinsing off the entire toothbrush, ensuring you're not left with toothpaste residue. It's water proof, and the rinsing should take maybe ten seconds, so there's no reason not to. During my two weeks of testing, toothpaste residue did start to build up, detracting from the sleek looks of the device. Obviously, I should've been more diligent with the cleaning.
Once it's clean, you can place the toothbrush directly onto the magnetic charging dock. No need to dry it off or anything. Just make sure you don't splash water into the other outlets.
Mode claims that this magnetic dock is the first of its kind, and I have to admit, I like it. My toothbrush just plopped right in and began charging. You don't need to worry about finding batteries every few months, while long wires won't be clogging up your counter space, and annoying charging stands won't leave your toothbrush prone to being knocked over.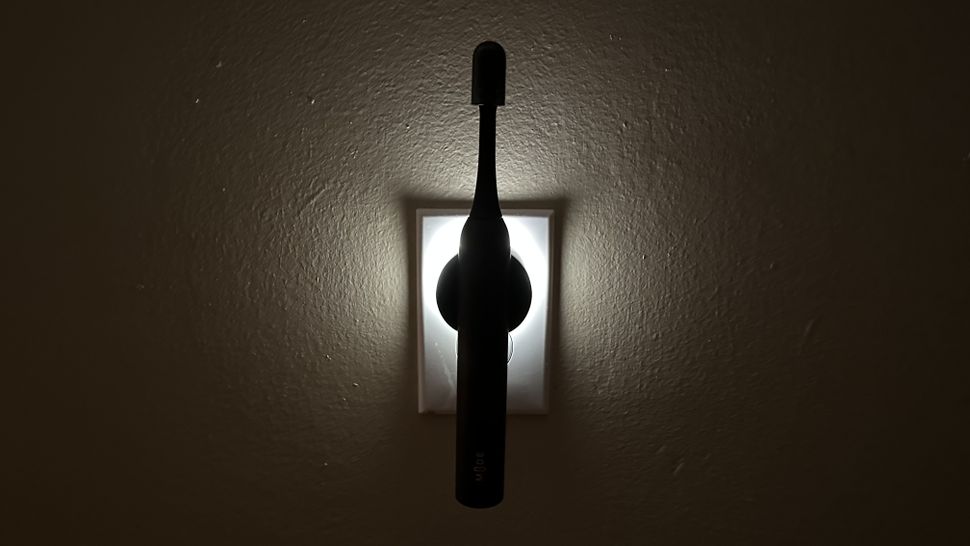 The charging dock also rotates, though I will warn you it's not the easiest to move, and the dock needs to be plugged in in order to actually make it turn. This feature came in handy when I wanted to plug in my blow dryer, as I just turned the toothbrush from a vertical positioning to horizontal and plugged the device in. The toothbrush stayed firmly in place the entire time.
As I noted earlier, warm light glows from the back of the charging dock when the room is dark enough. The ambient light shining from my bedroom didn't affect the night light from functioning in my master bathroom. However, as soon as I turned on the bathroom light, the night light shut off. But if you're not a fan of night lights, there's no way to turn off that feature besides unplugging the charging dock or turning on a light. The toothbrush has a battery that should last a month, so there's no reason you need to keep it charging all the time anyways.
Speaking of keeping it charging, I've noticed that the area where the toothbrush handle attaches to the charger is always warm. It's not too hot to touch or anything like that, but it's still slightly worrisome and makes me wonder about the longevity of the battery. Also, could it be a fire hazard? Be sure to keep an eye on it if you end up purchasing the Mode.
Of course, the lifetime warranty when Mode's subscription plan is active means you're covered if something happens to the toothbrush's battery or if you find other defects. Otherwise, the device has a one-year warranty from the date of purchase. Luckily, two weeks in, my Mode Electric Toothbrush is working just as great as when I first unwrapped it from its classy black box.
Mode Electric Toothbrush review: Battery life
30-day battery life
72-hour recharge time
The manufacturer claims that the Mode's rechargeable battery has a 30-day life, so you can always store the charging dock away in a cabinet if you don't want it left out all the time. I've only been testing the toothbrush for two weeks and have had no issues with the battery thus far. Whenever I placed it back on the charging dock, a light would pulse to indicate charging, going off after a few minutes.
If you decide you don't want to pop the Mode back on the dock after every use, a red light will glow, indicating it's time to charge it back up. A full charge should be achieved after 72 hours in the charging dock.
Mode Electric Toothbrush review: Verdict
Swipe to scroll horizontally
| | | |
| --- | --- | --- |
| Category | Comment | Score |
| Value | At $165, it's not the cheapest, but there's a lot of value compared to super-premium offerings. | 4/5 |
| Design | Not many features, but a solid waterproof construction, internal timer and powerful sonic motion. | 4/5 |
| Performance | No varying intensity settings is a drawback, but it's very simple to use with no frills and does the job well. | 4/5 |
| Battery life | Exceptional. Lives up to its claims | 5/5 |
| Total | Simple isn't always bad. A very good toothbrush that offers great value, but avoid if your teeth are overly sensitive due to no adjustable settings. | 4/5 |
Buy it if,,,
You want a stylish toothbrush
The matte black finish of the toothbrush and the charging dock is undeniably sleek and should look great in any bathroom
You want an easy-to-use toothbrush
Mode uncomplicates things by using just a single button/cleaning mode and no app to interface with. A rechargeable battery and magnetic charging dock make it simple to keep the battery topped up.
You want a great clean
Though there aren't different brush modes, the one sonic vibration mode available is insanely powerful, delivering a fresh from the dentist clean.
Don't buy it if...
You want a companion app
Mode's toothbrush has no app to intelligently connect to, so you won't be able to keep track of brushing or get tips to improve your cleaning habits.
You want multiple brushing modes
The only mode here is sonic vibrations. You won't find an oscillating head or different intensity levels.
You're on a budget
Though not as expensive as other electric toothbrushes, coming in at $150 or more, Mode's offering isn't cheap. You can find plenty of highly capable toothbrushes for less.
How I tested the Mode Electric Toothbrush
Our writer had the Mode electric toothbrush for several weeks and used it twice a day, wearing down the battery and using the brush to its fullest extent. Visit our how we test page for more details.
First reviewed: May 2023