The Insta360 Flow might not be the best smartphone stabilizer on the scene, but if you're okay with some limitations, its multi-function will more than make up for it, acting as a mobile tripod, power bank and a selfie stick, in addition to a mobile gimbal. The icing on the cake is its active tracking feature working in third-party apps, including native camera applications, albeit limited to portrait orientation.
Pros
+

Competent stabilizer and power bank

+

Mobile tripod and selfie stick function

+

Powerful tracking in the app

+

Works across Android and iOS
Cons
-

Range of motion isn't best-in-class

-

Third-party tracking locked to portrait orientation

-

Trunk doesn't lock when Flow is collapsed
Why you can trust TechRadar We spend hours testing every product or service we review, so you can be sure you're buying the best. Find out more about how we test.
Two-minute review
The Insta 360 Flow is a solid four in one for your smartphone. It's a selfie stick, small tripod, mini power bank and a basic gimbal – and that's before you even pair your phone with Insta360's app.
Once you do, you can enable smart tracking features that turn your Android or iOS device into a camera person, as well as a nifty panorama-taking, montage-making gadget.
The control system takes a little getting used to, and the Flow's range isn't best-in-class, and big phones with bulky cases may also be a challenge for its slimline phone grip.
Insta360 Flow specs:
Weight: 369g
Folded size: 79.6x162.1x36mm
Unfolded size: 73.6x269.4x69.9mm
Compatible phone thickness: 6.9-10mm
Compatible phone width: 64-84mm
Connectivity: USB-C, Bluetooth 5.0
Selfie stick length: 215mm
Battery capacity: 2900mAh
Quoted run time: 12 hours
Provided it can handle your smartphone case and you're comfortable with its limitations, the Insta360 Flow combines powerful features for casual and enthusiast smartphone videographers alike.
So between performing well at the basics and adding thoughtful touches like the built-in cold shoe and extending tripod legs to the mix, matched with its relatively compact size, the Insta360 Flow is a mighty offering if you're on the market for an affordable all-in-one smartphone camera companion.
Price and availability
Launched in March 2023
$159 / £145 / AU$239 list price for standalone kit
Three different kits available in all
Available in three packages, the Insta360 Flow can be picked up in the Standalone Kit, a Creator Kit, and a Pro Tripod kit.
If you buy it standalone, you'll get the Flow, a USB-C cable, a smartphone clamp, and a grip for the trunk of the Flow itself, as well as a bag to put it all in. It'll set you back by $159 / £145 / AU$239 – and for most, this kit would absolutely suffice.
If you fancy upgrading your carry case to transparent plastic, picking up a lanyard, and more importantly, getting a USB-C powered fill light, the Creator Kit's for you, costing $209 / £199 / AU$319.
The final package is the Pro Tripod kit. While the Insta360 has an extendable tripod that pops out of the base, it also has a standard tripod thread mount. The Pro Tripod kit ships with a wider, more solid tripod than the extending legs of the Flow, which screws into the bottom of the grip, and costs $192.98 / £179.98 / AU$283.
Design
Weighs 369g
Compact when folded
Compatible with big and small phones
The Insta360 Flow is a very compact gimbal system considering just how multi-functional it is.
While it isn't as light as the featherweight 309g DJI OM 6, at 369g, the Flow is still manageable.
The system trunk rotates when folded – not locking in place – but it's a relatively solid, sturdy closed system that you can chuck in a bag without worrying something might bend and snap.
Unfurl the Flow fully, and what sets it apart from its main competition are the extending tripod legs, which in-part help justify the extra weight nicely.
The trunk of the Flow has a round control panel with a joystick in the center, a trigger on the other side, and a USB-C port on the side so you can power up the gimbal.
The arm has a transparent plastic cover for some fun-looking, exposed circuit boards, a bit of branding, and that all-important cold-shoe mount.
At the top of the arm, there's also a USB-C port for charging your phone, or powering the fill light in the Creator Kit, as well as a magnetic mounting point.
If you haven't used a mobile gimbal before, the first couple of times you open it out, the Insta360 Flow might seem a little fiddly, but it's easy to get the hang of, and once you're confident in its folding mechanism, it feels at least as robust and natural to set up as the best competition.
The metal clamp that lives on your smartphone is also worth touching on. We used it across a range of phones, from a super-wide Samsung Galaxy S23 Ultra inside a Mous case, through to a compact Asus Zenfone 9, and its spring-loaded mechanism handled both extremes like a champ. What might be a challenge are large phone cases.
The saving graces of the Insta360 Flow are the soft rubberised grip cover that sheathes over the trunk of the gimbal and its extending base. Without these, holding the Flow is awkward, given how slim and short it is. Add the grip and extend the base, though, and even big hands should be able to maneuver the Flow without any awkward gripping.
Image 1 of 5
Features
Smartphone stabilizer with active tracking through app
2900mAh battery with power bank functionality
Mobile tripod and selfie stick
The first feature worth talking about is the Insta360 Flow's main function – being a gimbal.
Just like the DJI OM 6, it has three-axis stabilization, and while it covers different angles of pan, roll, and tilt, the range is virtually identical across both gimbals – 330º panning and rolling, and 180º tilting.
For anyone picking up the Flow primarily as a gimbal, therefore, it's well matched by the direct competition from DJI, but stabilizing isn't its strongest feature given the more limited range than more single-function options. Where the Flow does excel, though, is in its multifunction.
While the DJI OM 6 features a modest 1000mAh battery, the Insta360 Flow's is a much higher-capacity 2900mAh.
This isn't just a boon for long shoots, it also means as a power bank, the Flow can seriously boost battery life, especially when matched with a small phone like an iPhone 14 or SE.
The Insta360 Flow's selfie stick arm extends from the Flow by 187.6mm, which isn't quite as far-reaching as some competition, including the OM 6. It does, nevertheless, add some handy utility to the experience that goes beyond just selfies.
In addition to its battery, the Flow's extending legs are a key point of differentiation and perform a two-fold function. The first has been covered – they add extra length to the Flow's trunk, making it easier to grip. The second function of the legs is much more apparent – they become a tripod – perfect when shooting on a surface with the tracking feature in the Insta360 app, or using your phone as a webcam.
While the legs aren't super-sturdy, especially when the Flow's arm is fully extended, they can still hold a phone stable for steady footage and long-exposure photography provided your surface isn't too wobbly.
Through the Insta360 app, the Flow flexes more than just hardware, bringing excellent subject tracking to the fore, as well as manual photography, multi-shot panorama, Timelapse, TimeShift (hyperlapse), and our favorite feature, Live Mode. This lets you use the gimbal's smart tracking in other apps, whether you're on a WhatsApp call, in a Zoom meeting or just filming on the native camera application. When paired with a phone like the Xperia 1 V, with its mighty manual camera apps, therefore, it's a fantastic counterpart to eke out even more from your kit.
As a result, even if some of the Insta360 Flow's features aren't class-leading, as a package, its full feature-set is exceptional.
Performance
Three-axis stabilization isn't best-in-class
Multi-function features outclass the competition
Third-party subject tracking through the Insta360 app
We had a great time testing the Insta360 Flow out. Before you even fire up the application, all its hardware features are powerful standalone, especially once you realize that the extending legs make it much easier to hold one-handed.
The fiddliest thing about the gimbal is definitely changing modes. The round control panel has a bunch of inputs – buttons, a jog dial for zoom, and a touch-sensitive ring, as well as a joystick. It's this touch-sensitive ring that we struggled with.
The touch ring switches between Follow, Pan Follow, and First Person View, as well as Auto mode, so we didn't have to interact with it too much – but it's definitely the control system's weak point.
The jog dial to control zoom seems like Insta360's direct response to DJI's rotating toggle on the OM 6, and it isn't quite as refined but still does the job. Insta360 has a handy list of compatible phones on-site, and most phones we matched it with were able to directly access multi-camera system zoom using the Flow's controls, which is impressive.
We also found getting to grips with the familiar trigger, joystick, and buttons a breeze – super intuitive for seasoned gimbal users, and not too jarring for novices we asked to give it a whirl.
How good video capture when using the Insta360 Flow is will largely depend on your phone, but there's no doubt the gimbal system does a good job of boosting stabilization while simultaneously adding handy features to the mix.
We generally weren't fans of capturing content using the Insta360 app. It's clumsier than native apps, which is little wonder, because it isn't purpose-built for each camera system it's paired with. What we did love, though, was the fact Insta360's Live mode which works across iOS and Android expands some of the gimbal's core functionality – tracking – beyond the Flow's app, matching it with the much better native camera apps. It's just a shame that in our testing, this was locked to portrait orientation.
If you're wondering which setup to get, we'd suggest most folks opt for the original bundle. The Creator Kit fill light is handy, but isn't a must-have, and the gimbal's legs make the tripod kit seem a bit redundant. Most would be better off picking up a specific tripod or mini pod that fits their needs rather than go with the one bundled in that kit.
Irrespective of which kit you go for, though, we can definitely recommend Insta360's smart, powerful mobile gimbal, even if its controls can be a little fiddly and its stabilizing isn't best-in-class.
The DJI Osmo Mobile 6 is the Insta360 Flow's main competition, but so too are the OM 4 and 5 for anyone who doesn't mind last-gen tech. In fact, while the OM 4 is a much bulkier package, it offers a superior range and power bank functionality, making it a smart alternative for anyone who doesn't mind a little extra heft.
Also consider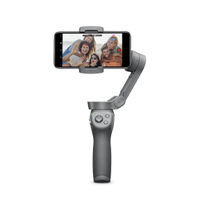 The DJI OM 4 was the first gimbal to capture smooth cinematic video without holding your smartphone hostage thanks to a magnetic clamp system. While it isn't as compact as the Insta360 Flow, it does offer a superior range of motion.
Testing scorecard
Swipe to scroll horizontally
| | | |
| --- | --- | --- |
| Price | Slightly higher price than rivals but more features | 4/5 |
| Design | Good looks combine with extending arm and tripod legs – smart! | 4/5 |
| Features | Multi-function to the max | 4.5/5 |
| Performance | Excellent tracking and competent stabilization | 4/5 |
Basil Kronfli is the Head of content at Make Honey and freelance technology journalist. He is an experienced writer and producer and is skilled in video production, and runs the technology YouTube channel TechEdit.