The HP Omen 27c curved gaming monitor is an affordable way for gamers to get 1440p at 240Hz with 1ms pixel response, but its low contrast and poor HDR performance will disappoint visual content creators.
Pros
+

Affordable 1440p, 240Hz/1ms display

+

Great gaming performance

+

FreeSync and unofficial G-Sync support
Cons
-

HDR support has issues

-

Limited Adobe RGB coverage

-

Limited monitor movement
Why you can trust TechRadar We spend hours testing every product or service we review, so you can be sure you're buying the best. Find out more about how we test.
HP Omen 27c: two-minute review
The HP Omen 27c curved gaming monitor fits well into HP's Omen line of displays, despite some notable caveats.
While not exactly cheap, it is still one of the best gaming monitors you're going to find if you're looking for an affordable, curved, QHD/240Hz display. The Omen series of gaming monitors typically deliver decent performance at approachable prices, including the HP Omen 25i and HP Omen 27, and the Omen 27c doesn't stray too far from the mean here.
In addition to a 1000R curved screen, this display offers a native 1440p resolution, a 240Hz refresh rate, speedy pixel response, and HDR certification. There's a lot to appreciate here, especially for the price.
Considering there aren't many displays available with a 1440p resolution and a 240Hz refresh rate for under $600/£600, the Omen 27c delivers commendable gaming performance where it counts. Hardcore gamers and aspiring esports players looking to plunge hours into perfecting their skills in League of Legends or Fortnite are definitely going to like HP Eye Ease as it's Eyesafe certified. Adding FreeSync Premium Pro with unofficial G-Sync support into the mix makes sure gaming sessions don't get interrupted by unwanted screen tearing.
However, the Omen 27c's biggest problem is its inconsistent visual quality due to poor HDR implementation and limited color space coverage. This means that gamers looking to also frequently watch video content, utilize Adobe or other content creation tools, or engage in activities like color correction might want to consider looking elsewhere.
HP Omen 27c: price and availability
How much does it cost? $529/£489 (about AU$745)
When is it out? The HP Omen 27c is out now
Where can you get it? Available in the US and UK, but not currently available in Australia
The HP Omen 27c is available now in the US and UK, for $529 and £489, respectively. Oceania is out of luck on this one as the 27c doesn't appear on any Australian retail sites that we've seen. We've reached out to HP to clarify Australian pricing and availability and will update this review if we hear back from the company.
Needless to say, this isn't the cheapest gaming monitor out there, but for the number of features, as well as its resolution, refresh rate, and pixel response time, the Omen 27c is pretty well-priced.
HP Omen 27c: design
Image 1 of 3
Easy assembly
Good number of inputs
Height adjustable, but no swivel
Out of the box, the HP Omen 27c is pretty simple to put together.
Connecting the stand to the monitor is as easy as placing the diamond-shaped display rear to the standing base slot where pre-installed screws can be locked. Though the monitor can be adjusted for height and tilt, it's disappointing that the screen can't swivel. For good measure, the top of the stand base has a headset rest.
Cable management is also a simple task due to the placement of ports at the rear diamond's bottom halves. The left side has two USB 3.0 ports, one USB-C port and a security cable lock. On the right is a power port, HDMI 2.0 port, Display Port 1.4 and 3.5m headphone jack.
As a nice touch, the box comes with a Display Port cable too. Both power button and control joystick sit at the far right side underneath the Omen insignia. Attempting to make adjustments and change settings is fairly intuitive. Be mindful that the USB-C port has to be connected to a PC to work properly since it's upstream only. This allows the other USB ports to work properly.
HP Omen 27c: features and performance
AMD FreeSync Pro with unofficial Nvidia G-Sync support
2560 x 1440p resolution at 240Hz looks brilliant while gaming
VESA DisplayHDR 400 certified, but HDR and contrast not great
General gaming performance on the HP Omen 27c is exceptional all around. With the right desktop or laptop set-up, it's a wonderful experience having a refresh rate advantage. After a team slayer round on Halo Infinite, those advantages were easily notable.
Racing games including Forza Horizon 5 and Dirt 5 performed well while providing a greater sense of speed, thanks to having 1ms response time with MPRT. Playing intensively speedy games like Doom Eternal at 240fps felt like another experience when compared to playing at 60fps.
HP Omen 27c Key Specs
Panel size: 27-inch
Panel type: VA
Resolution: 2,560 x 1,440p
Brightness: 400 nits
Contrast: 3000:1
Pixel response: 1ms
Refresh rate: 240Hz
Inputs: 1 x HDMI 2.0, 2 x DisplayPort, 1 x 3.5mm headphone output, 1 x USB C / 2 USB 3.0
Through HP Eye Ease, playing those games for long periods of time didn't lead to any eye strain or discomfort. Thanks to FreeSync Premium Pro and G-Sync support, there wasn't any noticeable screen tearing either.
Though VESA DisplayHDR 400 certified, HDR implementation on the Omen 27c is fairly basic and makes viewing content worse. When placed alongside deep blacks, there's blooming that bleeds over, which hurts picture quality. Meanwhile, the lower contrast makes images look a bit too bright and lack richness.
This was definitely noticeable when playing Halo Infinite. We had to turn the brightness down as colors were flat. It's even more noticeable when watching dark colored video content like the trailer for Jorden Peele's upcoming horror film Nope. Disappointingly, to get the best image quality on the Omen 27c, it's best to turn off HDR whenever possible.
Though the SDR is better than HDR available with the Omen 27c, it doesn't cover the entire Adobe RGB color space. This means that color accuracy won't be up to par for those who are serious users of Photoshop and Premiere alongside color grading applications like Red Giant Colorista. Gamers who are causal content creators probably won't notice the difference though.
Gamers on a budget looking for a 1440p monitor with a 240Hz refresh rate will get some good mileage out of the HP Omen 27c. Those who want more of a premium monitor experience for general usage and content curation are going to be disappointed.
Should I buy an HP Omen 27c?
Buy it if...
You want one of the cheapest 1440p/240Hz monitors available
1440p/240Hz displays usually don't come cheap and paying under $550 for the HP Omen 27c isn't necessarily a bad start.
You need solid gaming performance
When it comes to delivering solid gaming performance, the 27c handles titles from shooters to racing games with ease. Most importantly, there's no lag.
Don't buy if...
You want better HDR implementation
Between low contrast and blooming problems, HDR on the 27c actually hurts visual quality when enabled.
You need better color accuracy for non-gaming purposes
Gamers and the esports crowd may not care much about color accuracy. However, content curators who use Photoshop or Premiere Pro are going to have some issues.
Also Consider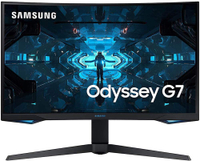 Samsung Odyssey G7
If you're willing to spend a bit more on a curved gaming monitor, the Samsung Odyssey G7 is a fantastic alternative. Featuring a 2560 x 1440p 1000R curved display running up to 240Hz and a 1ms pixel response time, the Odyssey G7 has a higher HDR rating and Samsung's QLED technology.
Check out our Samsung Odyssey G7 review
First reviewed April 2022
Ural Garrett is an Inglewood, CA-based journalist and content curator. His byline has been featured in outlets including CNN, MTVNews, Complex, TechRadar, BET, The Hollywood Reporter and more.