How to build a website using Friday
Friday provides widgets, SEO tools, and ecommerce integration to help you build professional websites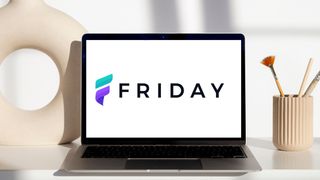 (Image credit: Future)
If you've ever wanted to create a stunning online presence without the complexities of coding or technical skill, then Friday could be the go-to solution for you.
With its easy-to-navigate interface and intuitive design, Friday empowers individuals and businesses of all levels to craft professional and captivating websites effortlessly. Even if you are an aspiring blogger, a small business owner, or an artist showcasing your work, Friday offers a seamless website-building experience.
To make things even easier, below is the step-by-step process of using Friday to bring your ideas to life, helping you unlock the potential of the digital world and reach a global audience with your unique website.
What is Friday?
Apart from a day of the week, Friday is a website builder tool that allows individuals and businesses to create professional websites without the need for coding or technical expertise.
It offers a range of templates, tools, and features to help you design and customize your websites according to your unique needs and preferences. Friday simplifies the website creation process, enabling you to bring your ideas such as a blog site, business site, portfolio, or an online store to life with ease.
Friday provides a streamlined and accessible solution to build a captivating online presence. With its drag-and-drop page editor, responsive design options, and a variety of templates, Friday empowers you to craft visually appealing websites that effectively engage your audience.
Steps to building a site using Friday
Step 1: Signing up for an account
To get started with building your website using Friday website builder, the first thing you need to do is visit the Friday website. On the homepage, you'll find a "Get Started" button. Click on it to begin the process.
Step 2: Enter your details
Once you click on "Get Started," you'll be directed to a registration page where you'll need to input your personal details like your name, email address, and password. Ensure you provide accurate information, as this will be crucial for managing your account and accessing your website later.
Step 3: Confirm your email
After filling in your details and clicking on the "Sign Up" button, you'll receive a confirmation email in your mailbox. Check your inbox for this email from Friday, and click on the verification link provided. This step is essential to validate your account creation and activate your Friday account. Clicking the link will redirect you to Friday's official website.
Step 4: Add a website
Once your email is confirmed, you'll be taken to a new page on the Friday platform. This page will give you the option to add a new website. Select this option to proceed further with creating your website.
Step 5: Selecting a template
Now that you've added a website, Friday will prompt you to choose a template for your website. This is an exciting step, as you'll have a wide array of pre-designed templates to choose from.
Take your time browsing through the templates and select the one that best matches your vision for your website. If you can't find the perfect template from the list, Friday also provides a "search template" option that allows you to find templates based on specific keywords or themes. Also, you can preview each template to see how it looks before making your final decision.
Step 6: Personalizing templates
Once you've settled on a template, the next step is to personalize it according to your preferences and branding. Friday allows you to add the name you want for your website, giving it a unique identity. After entering the desired name, you'll proceed to complete the payment process.
Step 7: Editing your website
After the payment is successfully processed, you'll be granted access to your Friday website builder dashboard. Here, you'll find various menus and options that will allow you to edit and customize your website to your heart's content. Let's explore some of these menus:
- To add a new theme
If you ever want to change the overall theme of your website, click on the "Site theme" option located in the top left corner of your screen. By selecting a new theme, you can completely transform the look and feel of your website. Also, you can adjust colors, fonts, and even incorporate media elements such as videos and images to enhance the visual appeal.
- To add a new page
As your website grows, you might want to add more pages to cater to different sections or aspects of your content. Click on the "Pages" option in your dashboard to manage and create new pages. The page menu provides you with the ability to add standard pages, popups, and other essential elements that contribute to a dynamic website.
- To add widgets
Friday's widget is a powerful tool that enables you to enhance the functionality and interactivity of your website. Widgets come in various forms, including Text, Icons, Media Slider, Photo Gallery, Contact Form, Buttons, Maps, and more. Simply click on the "Widgets" option to explore and add the desired widgets to your pages.
- To personalize
Personalization is key to creating a unique and engaging website. With the "Personalize" option, you can unleash your creative skills by crafting popups, welcome messages, promotions/banners, and captivating call-to-action elements from scratch. This empowers you to tailor your website's content and user experience to align perfectly with your vision.
- To manage an ecommerce store
For those looking to establish an online store and drive sales, Friday offers a range of tools to integrate third-party ecommerce platforms seamlessly. This includes the ability to create, customize, and manage your online store, giving you full control over the shopping experience for your customers.
- To add a new blog
Blogging is a powerful way to connect with your audience and provide valuable content. With Friday, you can effortlessly add new blog posts, manage existing ones, edit blog layouts, and even import blog posts from other platforms. Also, you have the flexibility to enrich your blog posts with various media elements such as videos, images, and music, making your content more engaging.
Step 8: Optimizing your website for search engines
As your website takes shape, you'll want to ensure that it gains visibility on search engines. Friday understands the importance of search engine optimization (SEO) and provides valuable tools to boost your online presence.
The SEO option enables you to add site meta titles, meta descriptions, and relevant keywords, which play a significant role in determining how search engines rank your website.
In addition, Friday offers a comprehensive SEO settings menu that allows you to manage essential aspects such as Site SSL, URL redirects, site language, privacy settings, 404-page management, site domain settings, Google tools integration, Head HTML customization, and site backups to safeguard your content.
Final thoughts
Building a website using Friday is an effortless and rewarding experience. From signing up for an account to optimizing your website for search engines, Friday's intuitive platform and extensive features empower you to create stunning and fully functional websites tailored to your unique needs.
Whether you are a seasoned web developer or just starting out, Friday provides the tools and flexibility to bring your online vision to life.
Are you a pro? Subscribe to our newsletter
Sign up to the TechRadar Pro newsletter to get all the top news, opinion, features and guidance your business needs to succeed!
Ruby has been a freelance technology writer for over four years and has a passion for information technology and the Internet in its entirety. She has a wide range of specialities including web hosting, streaming (Firestick, Kodi, and APKs), VPN, information technology, and affiliate marketing. Ruby is a graduate of Bachelor of Science in Commerce from the University of the Philippines, and regularly codes in her free time.