Elevate your workspace this Black Friday with these incredible Fezibo deals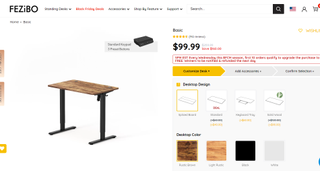 (Image credit: Fezibo)
In a world where sedentary lifestyles have become the norm, standing desks have emerged as a refreshing and effective way to combat the detrimental effects of prolonged sitting.
To help you get comfortable, our expert deal-hunters have been tracking down all the best Black Friday standing desk deals you can save money on right now.
The benefits of a sit-stand desk are many and varied, touching on almost every aspect of physical and mental health. By standing up and moving more often throughout the day, you can reduce the risk of back pain and other musculoskeletal disorders, improve your posture, increase your energy levels, boost your focus and productivity, manage your weight more effectively, and even lower your risk of heart disease.
But the best standing desks go beyond just physical health benefits. They can also improve your overall mood and mental well-being thanks to increased blood flow and oxygen to the brain. Standing while you work can help you feel more alert and engaged, leading to a more positive and productive workday.
And the best part? Standing desks are easily customizable to fit your unique needs and preferences. Whether you're looking for a sleek and modern design or a more rustic and natural aesthetic, there's a standing desk out there. So why not switch and experience the many benefits of a standing desk?
For more office furniture savings over the shopping season, visit our Black Friday deals hub where we're monitoring discounts on office furniture and more.
Today's best Fezibo standing desk deals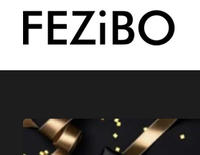 Fezibo coupon codes: Load up on the savings
Fezibo is offering various sales during November that come with special promo codes. You can get an extra 5% discount on your purchases throughout the month by using the code Welcome. Between November 24 and November 27, the discount jumps to 8%. You can get another $100 off on your purchase using the special coupon code BF100. If you spend $999 or more, you can save 10% using the code BF999. You can save 12% using the code BF199 on purchases worth $1,999 or more.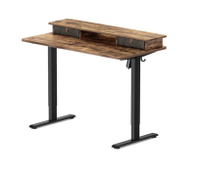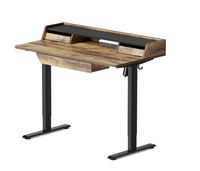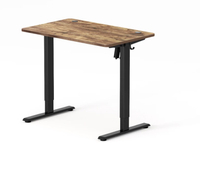 Basic standing table: was $259.99 now $94.99 with code welcome
To minimize the negative impact of sitting, buy yourself a standing desk. The basic standing desk from Fezibo is designed to reduce sitting time and promote a healthier, more active lifestyle. With its minimalist design and focus on comfort, the Fezibo standing desk is the ideal solution to combat the effects of oversetting. You won't believe the flash sale price, made even sweeter with one of the promo codes above.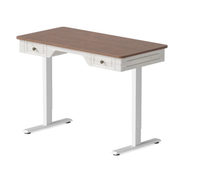 Gone With The Wind Standing Desk: What a discount!
The Gone with the Wind standing desk is a perfect combination of classic elegance and modern design. Its conceptual design adds an artful touch to any room, making it a great addition to any interior décor. Besides, it provides a reliable workstation for you.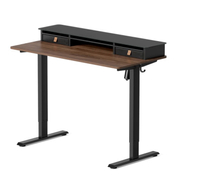 Why Fezibo?
Fezibo is a company that provides ergonomic furniture that promotes health and productivity. Their product line includes a wide range of standing desks, ergonomic chairs, and accessories that support a healthy work environment.
The company recognizes the importance of ergonomics in the workplace and strives to make it more accessible to everyone, regardless of their budget. Their products are known for their affordability and high-quality construction, making them an excellent choice for those looking to improve their work environment.
Fezibo standing desks, in particular, have gained popularity among home office workers and professionals. These desks allow users to easily switch between standing and sitting positions, promoting better circulation and reducing the risk of health problems arising from extended periods of sitting.
Are you a pro? Subscribe to our newsletter
Sign up to the TechRadar Pro newsletter to get all the top news, opinion, features and guidance your business needs to succeed!
Bryan M. Wolfe is a staff writer at TechRadar, iMore, and wherever Future can use him. Though his passion is Apple-based products, he doesn't have a problem using Windows and Android. Bryan's a single father of a 15-year-old daughter and a puppy, Isabelle. Thanks for reading!