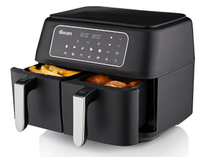 (opens in new tab)
Swan Duo Digital 9L Basket Air Fryer | £149.99 at Swan (opens in new tab)
Sign up to be notified when available. Be one of the first to get your hands on this soon-to-launch air fryer with full digital touchscreen controls, and 10 one-touch pre-set functions. The trays are non-stick and dishwasher safe, as are the drawers.
I have something in my possession that others can't yet get their hands on – and I'm not shy to talk about it. I first caught sight of the newest Swan air fryer on the brand's website before Christmas, after which it appeared on AO.com over Christmas. To say I was feeling excited is an understatement; there was also a sense of relief that a new air fryer was about to hit a market where demand has been overwhelming.
During the Black Friday, Cyber Monday and holiday sales, stock of the best air fryers was literally appearing and disappearing overnight. If one had been hoping to pick up an air fryer to give as a gift in the holiday season or, indeed, to snag a bargain they'd been waiting for the entire year, they were pretty much finding themselves out of luck.
Even though the new Swan Duo Digital 9L Basket Air Fryer vanished from AO.com within a couple of days of first appearing, it was still available on the Swan website. This meant that anyone still looking for an air fryer had a chance to pick one up.
Air fryers have become increasingly popular in recent time. They take up far less space than a conventional oven, and they can cook fries in half the time. In addition, the cooking process requires very little oil, so food items cooked in this way will be far healthier as a result. Air fryers are super versatile, too, capable of cooking pretty much anything (apart from these 5 foods to avoid putting in the air fryer). I've baked cakes, crisped poppadoms and cooked many fish and chip dinners in an air fryer. Preferably in a model that offers a separate basket, adjustable preset programs and, ideally, a viewing window.
I'm super lucky to have had the opportunity to call in the Swan Duo Digital 9L Basket Air Fryer for a review. TechRadar is the first to receive a unit for review – and, without giving too much away, I can just tell that it's going to cause a frenzy.
The Swan Duo Digital 9L Basket Air Fryer is the brand's first ever dual-basket air fryer. It offers a total capacity of 8 litres across both baskets (4 litres in each), and since it's a dual model, you can cook two different food types – at different durations and temperatures – at the same time. I have found that this takes some getting used to; the temperature and time is set using the same button. Nevertheless, we're a couple of weeks into using it now and all is good.

The Swan offers a choice of 10 presets via its digital display, including Frozen Fish, Chips, Bacon, Baking and Toasting. However, if you want your chips crispier or your brownies more gooey, for example, then you can adjust the temperature by 5ºC and the time by one minute.
Sadly, the Swan Duo Digital 9L Basket Air Fryer doesn't feature a viewing window, although the air fryer can detect when a drawer is open, pausing the timer so you can resume cooking after closing.
If you want to know more about this Swan air fryer then you'll have to wait a little longer for our full review. If you're super-hyped about it and want to get your hands on it as soon as stocks land later this month, then you can sign up to be notified (opens in new tab) when it becomes available.