Netflix counts for over 20% of UK download traffic
Though still not as much as BitTorrent across the rest of Europe.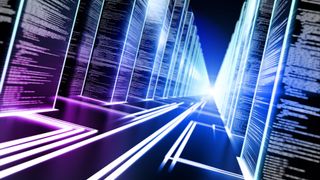 According to a new report by Sandvine, Netflix's share of internet download traffic has shown another period of growth. In terms of peak downstream traffic Netflix now has a 4.82% share across the whole of Europe.
Those numbers seem rather impressive from a continent-wide standpoint - especially considering it's not actually available in every European country - but focussing on the UK specifically really shows the penetration Netflix has.
Across both the UK and Ireland the streaming service is running at over 20% of the network traffic. Right now that all puts its ranking as the sixth largest source of download traffic across the continent.
YouTube is still the daddy though, owning just shy of a 25% share, but Netflix is zeroing in on BitTorrent too. With the peer-to-peer download service sitting at 6% - and filesharing as a whole making up 7.47% of the total download traffic - the streaming giant is well on the way to surpassing it, especially with more and more countries getting their own localised versions.
Top tech
"The continued expansion makes it a realistic possibility that Netflix will be among the top three applications on European networks in 2016," says the Sandvine Global Internet Phenomena report.
Netflix has pursued a course of trying to limit piracy levels in the countries it specifically operates in, such as tailoring its pricing in piracy-heavy regions like Australia. If it can beat BitTorrent on a Europe-wide basis that will be an impressive leather in its cap.
And that could also help demonstrate to content creators just how powerful something like Netflix is in combating piracy.
Twitchy
But the TV streaming service is not the only app to make headline news from the latest report - Twitch has broken into the top ten list for applications on the downstream.
Europe is the first region to see the game streaming service get a mention in the top ten lists and shows just how much traction watching other people playing and talking about games has.
Get daily insight, inspiration and deals in your inbox
Get the hottest deals available in your inbox plus news, reviews, opinion, analysis and more from the TechRadar team.