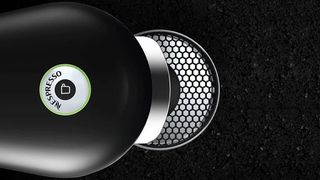 There's nothing quite like the smell of freshly brewed coffee in the morning - rich, warm and utterly intoxicating, you only need to look at the long morning coffee shop queues to understand its power.
Sadly, these long queues only make it likely that you'll be late for work and the lack of a guarantee that your cup will be as good as you want it to be makes the risk hard to take. So, more often than not, you find yourself forced to forego your small morning luxury to sadly sip a mug of instant at your desk.
Thankfully, with Nespresso's new Vertuo coffee machine you'll never have to sacrifice quality for convenience ever again.
The virtues of Vertuo
Available to purchase at Curry's PC World, this single machine makes it possible to enjoy a wide variety of freshly brewed coffees with the touch of a single button.
Whether you're kicking your day off with an authentic espresso or you've got the time to linger over something larger, the Vertuo system has something for you with four different cup sizes and 20 different blends.
Simply insert the capsule that's your preferred blend and size into your Vertuo or Vertuo Plus and you'll be able to choose from a large 414ml full brew Alto, a 230ml Mug, a 150ml Gran Lungo or a 40ml Espresso. No matter what size of coffee you prefer, you can be sure of a perfect cup each and every time within minutes.
This guaranteed convenience and quality is all thanks to the Vertuo's new patented Centrifusion™ extraction technology, developed by Nespresso's very own coffee experts.
Once you've inserted your capsule, simply close the lever, activate the machine and your selected capsule will spin up to 7000 rotations per minute, blending ground coffee with water to produce full-bodied coffee with the perfect rich and silky crema - the ultimate sign of quality coffee.
One of the best things about the Nespresso Vertuo machine range is that it doesn't ask you to fiddle with any complicated settings before your first coffee of the day.
Its intelligent extraction system is able to read the barcode that's on each capsule and adjust its brewing parameters to suit the specific blend and size. This means all you have to do for perfect coffee is press a single button.
Luxury made easy
For even more convenience, you can also opt for the Vertuo Plus machine. With the same intelligent brewing technology as the Vertuo, this machine has the added benefit of stylish chrome detailing, electric opening and closing, and a larger rotating water tank that will fit neatly anywhere in your kitchen.
Head on over to Currys PC World to meet your very own Vertuo. To get you off to a great start, each machine comes with a complimentary welcome set which includes a range of 12 Nespresso Vertuo capsules with unique aroma profiles.
Once you've tasted a few different blends and settled on your favourites, you can order more capsules, receive personalised advice and obtain any technical support or repair for your machine through the Nespresso mobile app, website, phone line or in one of the Nespresso Boutiques.
A lot of things can go wrong in a morning but with Nespresso's Vertuo and Vertuo Plus, you can make sure that all-important cup of coffee isn't one of them.
Sign up for Black Friday email alerts!
Get the hottest deals available in your inbox plus news, reviews, opinion, analysis and more from the TechRadar team.