Samsung at CES 2022 press conference: as it happened
Samsung unveiled its 2022 plans for sustainability and a road map for some of its products
Samsung's CES 2022 keynote address has come and gone. It started at 6:30PM PT / 9:30PM ET - and finished almost exactly one hour later.
If you didn't catch the keynote while it was happening, don't worry, you didn't miss much. Samsung used its 2022 CES keynote to talk about sustainability, its plans to improve smart home product interoperability and a new portable projector.
There was no big unveiling of the long-rumored QD-OLED TV we've heard so much about, nor did they mention the new Galaxy S21 FE. That's totally fine as we already have a full review, but the whole event was a little boring without those key points.
You can check out the video below to watch the whole presentation yourself, or you can skim the announcements as they happened using our live coverage.
All the big Samsung CES news so far
Refresh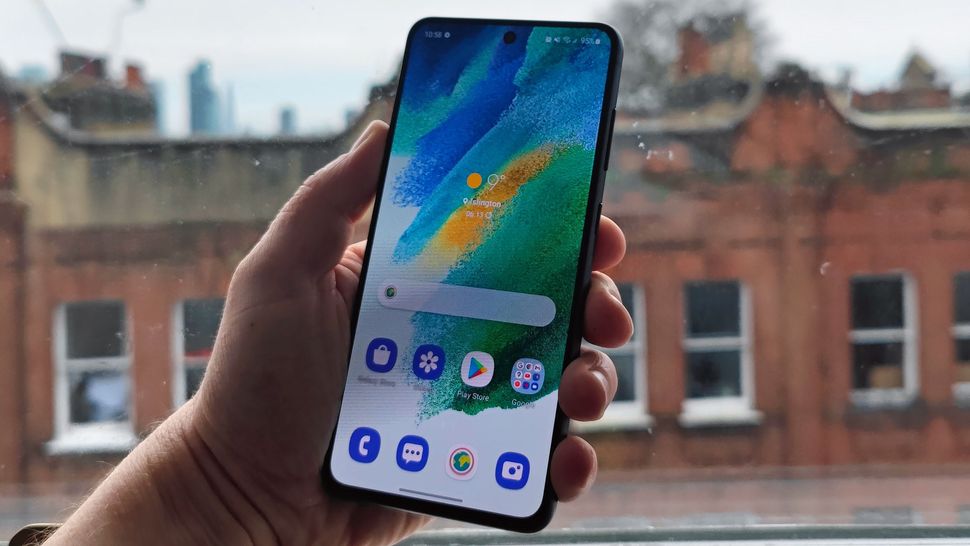 Before we talk about the new stuff that's coming, there's always that lovely thing where we've had a lot of time with a shiny new thing - and in this case, we've reviewed the Samsung Galaxy S21 FE before it gets talked about on stage.
Spoiler alert: we're not in love with it, but then again it is based on 11-month old technology. It's for the fans, hence Fan Edition = FE, but it still sparkles in some ways too.
Just a shame it's so expensive...
What can we expect in a few hours? Well, the main thing is that this is going to be a press event still, albeit one that's also streamed virtually.
With so many brands pulling out, Samsung maintaining a 'limited' presence is quite important - so for the few that are still attending CES in person, this is a big deal for them.
What will we see at the conference later?
One thing that looks likely is Samsung will take on Sony by launching a QD-OLED screen - a TV with the power of OLED with the control and precision of quantum dot, to make things look more impressive than ever.
I do love it when these brands release the same thing and then both pretend they thought of it first - a similar thing happened with 200Hz TVs (I think) back in IFA 2008.
Back then, I asked how they could both have the world's first 200Hz TV... and one of the reps said 'well... it depends which door you come through...'.
It looks certain we'll see Samsung do the same today as it was 'leaked' as an innovation on the CES' own website, so let's see what emerges there.
What else could we be seeing from Samsung? Well, how about new MicroLED TVs, picking up where The Wall left off from a couple of years ago.
At the highest end of the range is the new MicroLED TV model that Samsung says uses '25 million micrometer-sized LEDs to perfectly control the screen's backlight'. It'll be available later this year in 110-, 101- and 89-inches for more money than most of us can afford.
There will also be new The Frame TVs, QLED upgrades that many of us will be able to afford and also... and NFT store built in to some TVs.
No, us neither.
Here's what Samsung needs to do to 'win' CES 2022
Everyone who attends CES 2022 without catching Covid is a winner in our books, but there is a desire for most companies to walk away with a few trophies to add to their collections back at HQ. That includes Samsung.
At this point, Samsung is striking from the back when it comes to its TVs. Yes, it's the world's top TV seller by volume, but so far it hasn't presented a new compelling option for TV buyers in 2022. The miniLED QLEDs are going to be bright and beautiful, but most folks are still outfitting their home cinemas with OLED screens.
To beat LG Display's OLEDs, Samsung needs to implement them in their own designs - i.e. the QD-OLED we've heard so much about. A screen with a higher peak brightness, better color saturation and off-axis viewing angles could be Samsung's way to win over the OLED faithful looking to purchase their next TV and CES judges looking to hand out awards later this week.
On the audio front, Samsung is really looking to own the soundbar space. In the past, the company's California-based audio lab has given us some phenomenal pieces of equipment like the HW-Q950A and HW-Q950T soundbars, and that trend should continue with this year's flagship model.
If it can hype those two products, Samsung should walk away with two big awards from the mostly AV-focused event, and can potentially scoop up another two from its smart home and mobile products.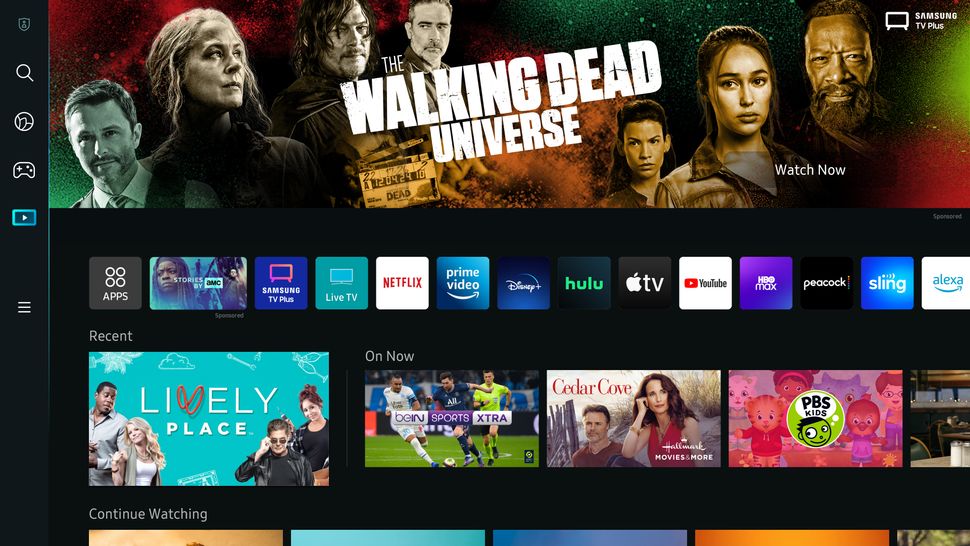 Expect to hear a lot about Samsung's new Neo Quantum Processor tonight. It's going to make its way into nearly every top QLED with mini-LED TV in Samsung's lineup, and it's the brains driving those systems to be brighter than ever before.
One of the new features that sound intriguing to us is the Object Depth Enhancer feature that will better separate objects from the foreground and background. That should give pictures more 'pop' when you look at them, and with the extra brightness and color from QLED really have a next-gen look to them.
We'll also hear more about Samsung's New Home Screen UI that is making the rounds in the news cycle for its inclusion of an NFT storefront as well as a section for cloud game-streaming services (GeForce Now, Stadia and Utomik).
It's unlikely we'll hear any more about Samsung's cloud gaming service it teased during last year's Samsung Developer Conference, but gamers will get to hear a bit more about the improvements coming to the Samsung Game Bar and the upgrade to 4K/144Hz support for certain GPUs.
We're just three hours out from Samsung's big press conference now. Any predictions before the big show? Hit us up on Twitter @TechRadar!
Our prediction for tonight? Aliens. I mean, what else could Samsung be teasing in this YouTube trailer?
Meet the host for tonight's keynote
Coming up we've got Jong-Hee (JH) Han, Vice Chairman, CEO and Head of Samsung Electronics' DX (Device eXperience) Division. Before getting the CEO role, Han was Executive Vice President and Head of R&D at Visual Display Business at Samsung Electronics Co., Ltd. So he knows his TVs.
HERE WE GO! Samsung's CES 2022 keynote is about to start!
Gary Shapiro, President of the Consumer Technology Association, has taken the stage to introduce Samsung's keynote speaker.
There's the big 'S' word of the night: sustainability. JH is riffing about how it's Samsung's responsibility to preserve the planet while making life better for its customers. "It's up to all of us." (The mantra of tonight, apparently.)
So how's it going to happen? No idea. JH is still talking but not really saying anything.
Manufacturing and packaging are a part of it. 700,000 tons of emissions have been reduced over the last decade, somehow. So that's cool.
OK, Samsung is going to use 30x more recycled materials than previous years. Phew. There's some real commitment amongst all the talk.
Conserve. Reuse. Promote? The last part is JH's way of asking users to repurpose the boxes that appliances come in for makeshift furniture. Interesting strategy.
We're making our way to the TV stuff now. JH is talking about the new eco-remote that charges via RF devices and solar power.
Read the full story here: Samsung's amazing new remote uses your Wi-Fi to charge
Samsung has collected more than 5,000,000 tons of eWaste over the years! Woah, that's big. Maybe they should've opened with that fact...
Short video on what Samsung is doing on the product side to fight climate change. Here are the highlights:
1. Devices go into standby mode to reduce consumption.
2. The eco remote doesn't use disposable batteries
3. SmartThings devices can track electricity usage
4. The chips inside portable electronics reduce electricity usage.
5. Washers have sensors in them to use the appropriate amount of water.
Samsung's engineers are developing a washer that can filter out micro-plastics that shed from clothes. No ETA on it, but Patagonia CEO says it's in the works.
A new form-factor portable projector? Meet The Freestyle!
Samsung is showing off a new portable projector called The Freestyle. The screen can reach up to 100 inches in size and doesn't need an outlet.
The whole device weighs less than 2lbs (under 1Kg), so it should be easy enough to take with you on the go, and its auto-leveling features and adjustable stand should mean you won't struggle to set up a cinema wherever you are.
On top of that, this all-in-one device comes with a built-in 360-degree sound system - so there'll be no need to carry around additional speakers.
New Samsung Gaming Hub unveiled
As we mentioned the other day, Samsung is releasing a new gaming hub available on Samsung TVs and monitors in 2022. The hub combines a number of cloud systems in one place, meaning you won't need a console to play some of your favorite games.
The Bespoke line of appliances is expanding
Last year Samsung unveiled the Bespoke Refrigerator, now it's bringing the same color faceplates to every appliance in the lineup. There's a new Bespoke Washer and Dryer, meaning you have more options that traditional black / white / steel colorways.
#YouMake Customization Hub
Samsung is rolling out a customization hub on its website that will allow you change the colors of your products similar, it seems, to Microsoft's Xbox Design Lab.
The experience rolls out later this month and it looks like it can customize a number of Samsung devices from TVs and monitors, to smart watches and phones.
Samsung is talking up its SmartThings system (again). The company will partner with some other big names in the home appliance world to set a universal standard in Matter.
We've heard some of this talk before, but not much has come out of it yet.
That last segment was a bit of a snoozer. Han's coming back to the stage to wrap it up.
We took a weird turn here. JH is talking about kids creating tomorrow's technology. A fun talking point, but not sure this was totally necessary...
There it is, folks! The end of Samsung's press conference.
Huh. So no news on the QD-OLED. No mention of TV lineups outside of a few features. Just one big focus on sustainability, a few facts to support that talking point, and an announcement of a portable projector.
Not sure this is what we were expecting...