Nvidia at CES 2023: RTX 4070 Ti and RTX 4000 laptop GPUs revealed - as it happened
Nvidia takes to the stage
Nvidia is at CES 2023, and all eyes were on the GPU maker at its keynote event, which is now over.
Last year wasn't the best for Nvidia - while it launched some new GPUs, such as the RTX 3090 Ti, and next-gen RTX 4090 and RTX 4080, it also had some stumbles. The 3090 Ti was considered a misfire, while Nvidia's initial plans to launch two RTX 4080 GPUs, one of which was revealed to be quite a bit less powerful, didn't go down well.
Nvidia ended up 'unlaunching' the lower-powered RTX 4080, and many expect it to show up, possibly today, with a new name: the RTX 4070 Ti.
So, CES 2023 is an important event for Nvidia to show it's still got what it takes to impress gamers. Did it manage it? Read on for everything it announced:
Refresh
OK, it's just about to start! You can watch along on YouTube.
Jeff Fisher is on now, and he's kicking off with 'gaming'! So that's good - bring on the GPUs!
Jeff talks about 2022 being a difficult year - yep not wrong there. I think he means it was tough for us all, not just Nvidia, however.
He's talking about Ada Lovelace architecture now, which popped up last year with the RTX 4080 and RTX 4090. Jeff says that each GPU comes bundled with a super computer. These are good GPUs, but that might be pushing it a bit...
Now talking about DLSS 3. Fair play, I do think it's good tech. Now 50 DLSS 3-compatible games either released or about to be released.
That's a lot less than the 250 DLSS games available right now, but Nvidia assures us that DLSS 3 support is growing faster than any other Nvidia tech.
Got some exclusive new footage of Witch Fire, an upcoming game that will support DLSS 3. Looks... eh ok. Like a mix of Bloodborne and Doom Eternal.
Some more games are shown including Warhaven, which again isn't that exciting. Mix of Assassin's Creed and Elden Ring this time.
Oh more games. Come on! Show us the hardware!
Throne and Liberty was also shown. And now Atomic Heart. Seems like a very games-heavy showcase so far - something we'd normally see at something like E3 (RIP).
Atomic Heart does at least look cool, and offers some great graphics. Some of the other games were pretty underwhelming in the graphics department, which doesn't really sell new GPUs.
Now talking about GeForce Now, the game streaming service. I genuinely love GeForce Now, and the RTX 4080 Superpods will offer five times the power of the Xbox Series X, according to Nvidia! And with Nvidia Reflex, the latency should be half of what console gamers see.
RTX 3080 Membership is now dead - and now is called Ultimate, starting in Q1 2023 and will be $19.99 a month - the same as when it was the RTX 3080 tier. Nice! Also RTX 3080 members will get upgraded to Ultimate.
Faster than 3090 Ti apparently! That's pretty crazy and is almost half the power.
Available January 5 for $799.
We are now talking about laptops.
RTX 4000 series mobile GPUs announced!
Max-Q is getting a shoutout. Gaming laptops in 2023 will come with Lovelace GPUs, with DLSS 3 added to Max-Q to keep power low, for longer battery lives and quieter fans.
14-inch laptops will be able to handle creative projects.
Then, there's also gaming, with twice the power of PS5, but half the size (and eight times the price).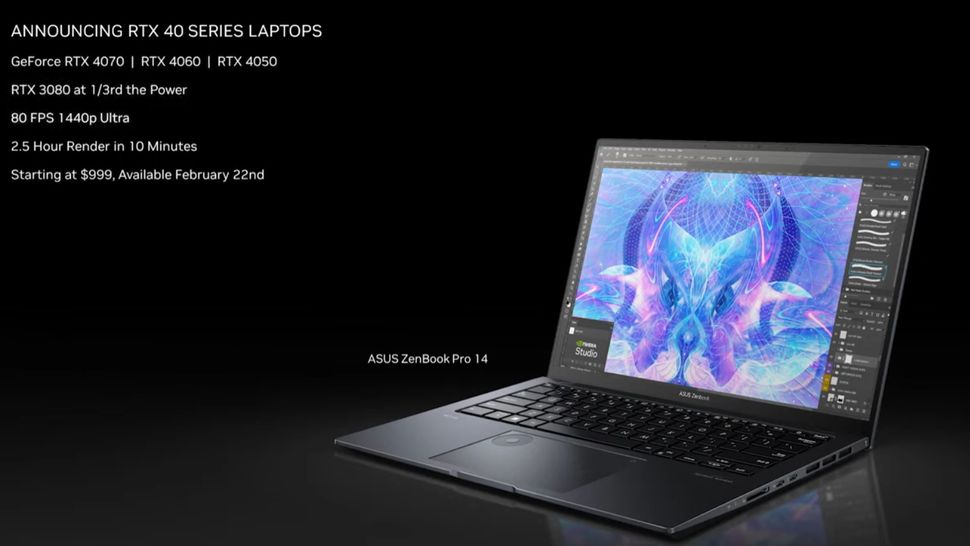 There will be RTX 4070, RTX 4060 and RTX 4050 mobile GPUs, offering up to 80FPS at 1440p at Ultra.
This will be for mid- to high-range laptops starting at $999, and will be available from February 22.
Don't think high-end gamers have been left out! This is Nvidia, after all!
Flagship RTX 40 series laptops will also be coming, and these will come with RTX 4090 and RTX 4080 mobile GPUs.
These will be powerful laptops for 4K gaming, but they will also be expensive, starting at $1,999 but I expect most will sell for a lot more. Will be available from February 8.
See the deets above for what we know so far.
That's the gaming section over. Now we are onto AI, creative tools and THE OMNIVERSE.
Does anyone really care about THE OMNIVERSE? I don't. Stop trying to make THE OMNIVERSE a thing, Nvidia.
For all the details about the RTX 4070 Ti, check out our news story about the launch.
While I am not a digital creative, I can definitely see how Ada Lovelace tech can make 3D art look better and less resource-intensive.
Nvidia is now talking about robots. Don't make Skynet don't make Skynet don't make Skynet...
...Nvidia will probably make Skynet.
With Nvidia now talking about robots, I'll wind this live blog up. There was some good reveals. It's nice to see a sub $1,000 RTX 4000 series GPU, and I'm looking forward to seeing how well the RTX 4070 Ti performs.
Nvidia's claim that it performs better than the RTX 3090 Ti is certainly a big one - that was an incredibly expensive GPU that launched less than a year ago.
Personally, I think the RTX 4000 series laptop GPUs were the most exciting reveal. If Nvidia can harness the power of Lovelace GPUs into portable gaming laptops, that would be incredibly impressive. For some people, it may even mean there's no need to get a desktop PC anymore.
I'm not there yet, but the idea of an RTX 4090-powered laptop that's a fraction of the size of my gaming PC is definitely cool.
It's also the first time we've seen an x90 class GPU in a laptop - last gen it topped out at an RTX 3080 Ti. Could this mean gaming laptops are once again worth considering for PC gamers that want the absolute best gaming performance?
Of course, I'll never be able to afford an RTX 4090-equipped laptop, and I'm guessing most people won't.
So, the RTX 4050 and 4060 mobile GPUs are really interesting. With DLSS 3, we could see some really impressive affordable gaming laptops.
Of course, there's no desktop RTX 4050, 4060 or 4070 GPUs - could this suggest those desktop GPUs are coming?
Back at the keynote, Nvidia has announced that GeForce Now is coming to some electric cars, so people can stream games to their vehicles. Not while driving, obviously.
Still, I'm not too sold on the benefits of playing a game in your car. Handhelds like the Steam Deck (or even a smartphone) exist, so if I desperately want to play something while I'm out and about, I can already do that.
Seems like we're wrapping up now. Thanks Nvidia! I liked the bit about GPUs. The rest... not so much.
Thanks for reading along!