Update: The Huawei Watch 2 just got a huge discount on Amazon, which may suggest we'll soon see the third watch from the company. Huawei is planning a show at MWC 2018, so it may be we see the new wearable launch on February 25.
Huawei is one of the biggest names in Android Wear, thanks to its impressive Huawei Watch and feature-packed but flawed Huawei Watch 2.
We don't yet know when or even if a Huawei Watch 3 will arrive, but there's a chance it's coming soon, and we have a wish-list for what we want to see.
Before that though, here's everything we've heard or suspect about when the Huawei Watch 3 might launch, and what it might feature.
Cut to the chase
What is it? The next smartwatch from Huawei
When is it out? Possibly early-mid 2018, perhaps even MWC 2018
What will it cost? Likely upwards of £330 ($300, AU$450)
Huawei Watch 3 release date and price
The Huawei Watch 2 was announced at MWC 2017 and went on sale in April 2017, so there's a chance we'll see the Huawei Watch 3 at MWC 2018, where the company is hosting a conference on February 25.
The company isn't planning to announce its next flagship phone - the Huawei P20 - until an event on March 27, so it may be the wearable is delayed to go alongside that announcement.
Or there's the third option that we may not see it anytime soon. Little has been heard about it and there was well over a year between the Huawei Watch and Huawei Watch 2.
Plus, not much has changed in terms of Android Wear hardware and software since the launch of the Huawei Watch 2. We're still on Android Wear 2, which the Watch 2 was one of the first to use, and the Snapdragon Wear 2100 chipset is still the chip of choice for wearables, so Huawei might wait until the next big change in the space to launch a new wearable.
Whenever the Huawei Watch 3 does launch it will probably be a high-end, expensive device. There aren't any price rumors yet, but the Huawei Watch 2 started at £329 ($299, AU$450) when it first arrived, so the Watch 3 might have a similar price tag.
Huawei Watch 3 news and rumors
There's very little in the way of Huawei Watch 3 news and rumors so far. In fact, all we've really come across is some Huawei patents.
The most recent of these describes a watch with sensors that can recognize gestures made on the back of your hand, so you could for example make the shape of a letter and have it appear on the screen, allowing you to more easily write things using your smartwatch.
Additional gestures could include a double tap or a long press, so you could potentially fully interact with the watch without touching it.
We've also seen a patent which describes a smartwatch with touch-sensitive bezels.
The patent shows a bezel divided into eight sections, each of which could be tapped to do something on the watch.
But you could also touch multiple sections at the same time to perform an even wider variety of actions, and these actions could go beyond just launching apps, allowing you to also zoom in or out and scroll through menus for example.
It's a potentially more useful – if also more complicated – alternative to the rotating bezel the likes of the Samsung Gear S3 has.
It would be a handy addition, given that the Huawei Watch 2 is notably light on control methods, but this being a patent there's no guarantee anything will ever happen with it, let alone that it will be used for the Huawei Watch 3 specifically.
What we want to see
Huawei has been quiet about the Watch 3 so far, but we're not going to be quiet about what we want from it. The following seven things could make it a big improvement from the Huawei Watch 2.
1. A stylish design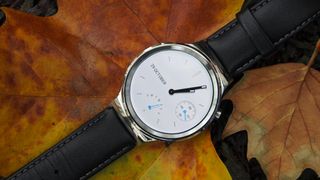 The original Huawei Watch had an attractive design, the Huawei Watch 2… not so much. It traded a smart metal finish for a sportier, chunkier one, with big bezels and a plastic build.
It's not actively ugly, and the sporty design suits its sportier innards, plus there's also a Huawei Watch 2 Classic with a look that is more stylish, but that comes with a higher price tag and isn't available with LTE.
For the Huawei Watch 3 we want the standard version of the watch to have a slim, stylish look, without sacrificing features in the process. We wouldn't complain if a plastic version is offered too at a lower price, but it should have the same specs.
2. Powerful performance
Despite being a top-end watch when it launched and still being up there with the more powerful smartwatches on paper, the Huawei Watch 2 proved a little sluggish in practice, which is not what we want when we're dropping hundreds on a wearable.
So for the Huawei Watch 3 we want a performance boost, whether through more RAM, a faster chipset or just software optimizations. Apps should open instantly and interacting with the watch should be smooth.
3. A rotating crown
The Huawei Watch 2 has two buttons as well as a touchscreen, but it doesn't have a rotating bezel or crown. This isn't overly surprising, as few Android Wear devices do, but these are handy ways to add an additional input method to the watch without really taking up any more space.
They let you scroll through menus without obscuring the tiny screen, which is a nice feature to have, and one that some major rivals – such as the Apple Watch 3 – sport.
4. A larger screen
Despite having a chunkier build than the original Huawei Watch, the Huawei Watch 2 actually has a smaller screen of just 1.2 inches.
It's fairly sharp and bright but it feels cramped, especially when trying to use an on-screen keyboard, so we'd like to see a larger screen of around 1.4 inches on the Huawei Watch 3.
5. A slicker charger
The Huawei Watch 2 employs a fiddly, inelegant charging solution, requiring you to line up a cradle with pogo pins on the back of the watch.
It's not a huge issue but it could be so much simpler, and we want it to be for the Huawei Watch 3. A simple wireless charger that you plop the watch straight onto would do just fine.
6. Support for standard straps
While the Huawei Watch 2 uses the standard 20mm strap size, its design means you can still only attach straps designed specifically for it.
This seems like a real missed opportunity to give buyers a near endless selection of strap options, so for the Huawei Watch 3 we want a design that allows for any and all standard straps (in whatever size Huawei chooses) to be used with it.
7. Longer life
The Huawei Watch 2 actually lasts a reasonably long time by smartwatch standards, with up to around two days of life if you're not using a SIM card, but that plummets to only just over a day if you do use a SIM and even at two days you'll be charging it at least a few times a week.
Space for a larger battery is understandably limited, but if Huawei can do anything to stretch the Watch 3's life further we'd appreciate it.