You probably don't need us to tell you just how important it is to download antivirus software for your computer and mobile devices in 2018. But where we can help is to tell you what the best antivirus is right now, having tested and reviewed the latest packages from the biggest names in cyber security.
Hackers are always coming up with new ways to gain access to your PC and other internet enabled devices (with your mobile phone and tablet included). Luckily the best antivirus companies are constantly updating their security software packages. We're already starting to see their 2019 packages come to market, with user experience tweaks and the latest protection against phishing scams, ransomware and all other types of viruses and malware.
Right now, we think that Bitdefender Antivirus Plus 2019 is the best antivirus that your money can buy (or head here for UK pricing). It combines watertight antivirus tools with an array of other excellent security features and is super easy to use, too. You can read more about what it offers below, together with Norton AntiVirus and Webroot SecureAnywhere that complete our top three.
You want to make sure you get a complete suite of security tools that the best antivirus software can provide. If you're looking for all-round protection against the latest cyber threats, then investing in the best antivirus download is the best solution you can hope for in 2018 - and we also have the best business antivirus plans if you're looking from a company perspective. That doesn't mean you have to start spending big money either, as our guide also gives you the best available prices for your PC's protection.
Rock-solid and reliable protection
Accurate
Password manager
Cheap subscription
Can be resource-hungry
In a world packed with free security software, Bitdefender Antivirus Plus 2019's annual fee may look expensive, but there's plenty of bang for your buck. Plus, we've secured a discount for TechRadar readers so you can be sure that the prices you see on this page won't be lower anywhere else.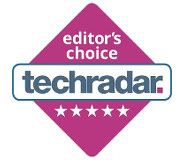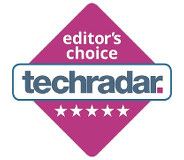 Take a look at any rankings of big independent antivirus testers and Bitdefender's premium security products always rise to the top.
It tends to be reliable and accurate in its virus vanquishing, featuring web filtering to blocks access to malicious sites, a secure browser that keeps your online banking ans shopping transactions safe, and there's a password manager which auto-completes credit card details in web forms. It also scores high for its excellent anti-phishing module, which alerts you to malicious links in your search engine results and blocks access to dangerous sites.
New for the 2019 version of Antivirus Plus are multi-layer ransomeware protection the learns the behaviour of such threats to keep you safe as well as the ability to scan all your linked devices via the Bitdefender Central mobile app.
There are one or two issues – it grabs more resources than average, and might conflict with some programs – but Bitdefender Antivirus Plus 2019 is still a likeable package which offers excellent detection rates, great performance, and more than enough bonus features to justify the price.
Bitdefender Internet Security 2019 builds on AVP 2019 and triples the number of devices covered plus offers anti-spam, firewall, parental advisor and file encryption features.
For a little bit more you can purchase the Total Security 2019 edition. It adds all of the above and covers up to five PCs, Macs, Android and iOS devices.
US
UK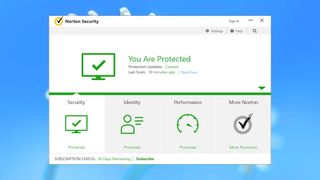 Great value protection that won't slow you down
Blocks even brand new malware
Low impact on system resources
Browser extension extras can be unreliable
Norton AntiVirus Basic is a top quality malware hunter which can automatically protect your PC all on its own - that's a given. But one of the main reasons we've boosted it to number two in our best antivirus software rankings is because it's also one of the very best value paid-for security software solutions on the market in 2018. You can get it at a rock bottom price.
Norton offers plenty of tweaks, options and settings for those who need them, as well as features like a handy URL blocker that keeps you away from malicious websites. If that misses something, an excellent file reputation service recognises suspect downloads immediately. And if malware still finds a way through, intelligent behaviour monitoring kills it at the first sign of trouble.
If you're a more hands-on type, you can easily run scans on demand. Maybe set up and save custom scans to check just the areas you need. Even schedule them to run at a particular time, but only if your system is idle, and it's not running on battery power.
There can be problems with some of the browser extensions. The bundled Norton Identity Safe is a capable password manager when it's running properly, but we've found the Chrome version sometimes stops working for no apparent reason. We've seen plenty of reviewers reporting similar problems, so there does seem to be a real issue here.
Still, you don't have to use Identity Safe at all, and Norton AntiVirus Basic's main functions deliver on all fronts: it's easy to use, has the configuration options experts need, comes highly rated by the testing labs, and is carefully designed to have the least possible impact on your system performance.
US Prices:
UK Prices: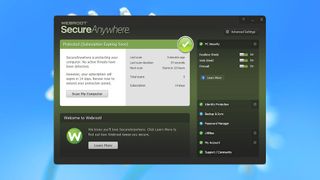 The most lightweight antivirus around
Extremely light on system resources
Lightning fast
No testing data from the top labs
Just about every antivirus tool claims to be 'lightweight', but Webroot SecureAnywhere AntiVirus is the only one to really deliver on this front. Installation takes seconds, the program files barely grab 2MB of your hard drive, RAM footprint is tiny, and there are no bulky signature updates to tie up your bandwidth.
There's no compromise on features, though. Along with the core antivirus protection, there's smart behaviour monitoring, accurate real-time antiphishing, a firewall and network connection monitor, enhanced anti-ransomware, and other interesting extras.
It's not easy to compare Webroot's accuracy with the competition, as the big testing labs rarely evaluate the company's products. But when they are reviewed, they generally score well, and our own tests show solid and reliable protection.
There's a lot to like about SecureAnywhere AntiVirus, and Webroot's 70-day 100% money-back guarantee suggests it's confident in the product, too. If you're tired of overly complicated and bloated antivirus engines, Webroot must be on your shortlist.
US Prices:
UK Prices: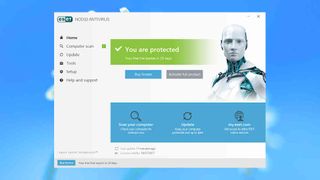 Expert-level antivirus for the more experienced user
Highly configurable
Device access control
Relatively expensive
Not for beginners
If you judge an antivirus on the length of its feature list, ESET NOD32 Antivirus 2018 Edition might be a disappointment. There's no firewall, password manager, file shredder, vulnerability scanner or any of the bundled extras you'll often find elsewhere.
This doesn't mean the package is short on power, it's just more focused on the antivirus fundamentals. ESET NOD32 Antivirus 2018 Edition comes with real-time malware protection, an anti-ransomware layer, exploit protection, URL filtering to block malicious websites, and modules to prevent attacks using PowerShell and malicious scripts.
A Device Control module limits the risk of infection from other devices by controlling access to USB sticks, external hard drives, optical storage media, even devices connecting by Bluetooth and FireWire. It's an unusual extra, but could make a difference if others are regularly plugging devices into your PC.
ESET NOD32 Antivirus 2018 Edition isn't aimed at beginners. The interface is clumsy sometimes, some features are very advanced, and even the Help isn't always exactly helpful.
Experienced users will appreciate ESET's power and configurability, though. Above-average protection does a good job of keeping you safe, and a lightweight design ensures the package won't slow you down.
One of the new features in the 2018 Edition is the UEFI Scanner which protects you from threats that attack your PC before Windows has even started.
ESET Internet Security builds on NOD 32 and triples the number of devices covered plus offers firewall, botnet protection, webcam protection, antispam and more.
Alternatively, you can purchase the ESET Smart Security Premium edition for not much more. It adds all of the above as well as password management and secure data.
US
UK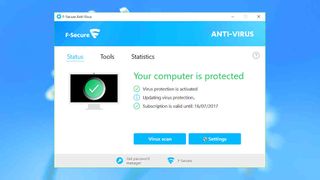 Very user-friendly
Good value
Prone to false positives
F-Secure Antivirus SAFE is a great collection of antivirus software tools, and while it's a bit more expensive than some of the other antivirus software on this best of list, the amount of features you get makes the cost worthwhile.
With F-Secure Antivirus SAFE, you get the brilliant antivirus software from F-Secure, along with banking protection for safe online shopping, family safety tools and a device finder that lets you track your lost Android or iOS device, and if needs be remotely lock or delete it as well.
The package typically receives maximum marks for protection from AV-Test, and generally scores highly with AV-Comparatives, too. They also say it can generate significantly more false positives than most of the competition, but how that affects you will vary depending on how you use your computer.
The interface is a major plus. It's extremely easy to use, lightweight, and for the most part you can just leave the app alone to look after your PC. The program has minimal effect on your system performance, and if you do need to intervene then you can generally solve any issues in a couple of clicks.
In 2018, F-Secure Anti-Virus SAFE remains an appealing package: fast, lightweight, and able to run alongside many other security tools without conflict.
US Prices:
UK Prices: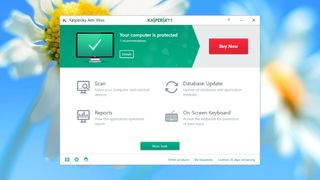 Trustworthy security for beginners and experts alike
One of the best performing security packages
Supremely easy to use
Kaspersky's full suites are better value
Kaspersky Anti-Virus 2018 is a stripped-back security package which focuses on the core security essentials: web filtering blocks dangerous URLs, an accurate antivirus engine detects and removes threats, smart monitoring technologies track and reverse malicious actions, and that's about it.
Fortunately, what you do get works well. Very, very well. We've consistently found Kaspersky to be amongst the best at blocking malware, and removing it from an infected system, plus it's regularly top-rated at sites like AV-Comparatives.
The program is easy to use, too. A well-designed interface has just the right number of buttons and options – not too basic, but not complicated or intimidating, either – and there are plenty of on-screen instructions to explain how everything works. Even a beginner will be at home right away.
If you just need accurate, reliable and consistent malware protection, Kaspersky Anti-Virus 2018 will serve you well.
US Prices:
UK Prices: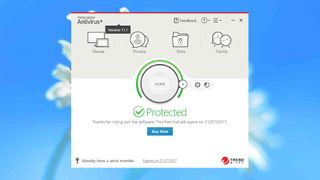 Affordable pricing
Might slow you down
Higher than average false positives
Trend Micro Antivirus+ Security is a capable antivirus package that's simple to use with above average antispam and an effective 'Folder Shield' module to block ransomware.
How good is it? The top testing labs all rate it highly for protection, although there's some disagreement on the details. In particular, AV-Comparatives says it gives a high number of false positives, which could be a real nuisance. But AV-Test reports high levels of accuracy and no issues with false positives at all.
If there's a problem here, it's likely to be performance impact. PassMark's March 2017 Performance report assessed 15 security products on various performance-related benchmarks, and Trend Micro came bottom of the list.
Our experiences with the product are a little more favourable: protection levels appear similar to Bitdefender, false positives are only marginally higher, and it doesn't slow down our system noticeably more than anything else.
We'd recommending running the trial for its full 30 days before you buy, then, to see if you notice any problems. But if you're unaffected, its high levels of detection and excellent bonus features make Trend Micro a good choice.
US Prices:
UK Prices: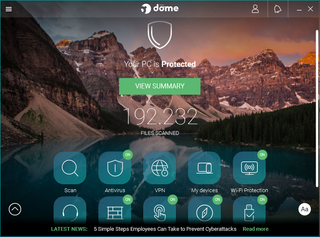 A user-friendly and very well-featured antivirus solution
Lots of features
Easy to use
Limited firewall
Real-time malware detection, speedy cloud-based scanning, URL filtering to block malicious websites: Panda Antivirus Pro has all the goodies you'd expect from the best antivirus software.
That's just the start. A simple two-way firewall helps to keep your system secure. An application control system can define exactly what runs on your PC, stopping even some brand new and undiscovered malware. A virtual keyboard helps you enter confidential data without it being intercepted by keyloggers. There's even a tool to build a bootable USB rescue disc, ready to remove even the most stubborn threats.
Some of these bonus features are relatively basic. The Panda firewall does its job and can make you more secure, for instance, but it doesn't compete with the standalone firewall competition. Experienced network users will probably want more.
The simplicity does at least keep everything very easy to use. Options are organised in a straightforward Windows 10-like interface, with all the main modules just a click or two away. Even the firewall doesn't need to know anything more than your current network location: Home, Work or Public Place.
There's not a lot of Panda test results from the independent labs around right now, but the figures we've seen show the company delivers above average protection, and overall Panda Antivirus Pro does a good job of keeping malware at bay.
US Prices:
UK Prices:


You may also be interested in...


What's the difference between free and paid-for antivirus?
With so many free antivirus products out there, you may be wondering what's the point of paying for protection. Just about every single major vendor out there offers a free version of its service, promising to protect you from all the cyberthreats out there.
By releasing a free version of their software, developers gain access to more devices from which they can collect data from and therefore improve their knowledge and security platforms. It also might tempt more users to upgrade. Therefore it's not in their interest to reduce the amount of protection provided by the free version.
However paying for a premium service means you get more features, such as spam filters, parental controls, system scans and advanced firewalls. This makes them more suitable for power users, those who want a bit of extra security and anyone who wants their system to run as smoothly as possible.
It also means you avoid annoying pop-ups that try and tempt you to upgrade to the full version - and it doesn't even cost that much per year for the best antivirus software that we've highlighted above.


Best Business Antivirus
Each entry in this list has been carefully chosen for its business features, such as remote installation and central management. The best business antivirus software will have enterprise-level protection against threats, but that doesn't mean they have to cost a lot of money, either. The price per installation can sometimes be cheaper than even our recommended best antivirus packages.