Sponsored
A starter's manual for Android Auto
Your guide to turning your car into a versatile smart device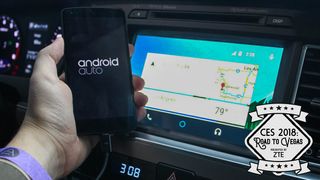 The main purpose of Android Auto, an adaptation of your Android device's screen that brings apps and notifications to your dashboard, is really all about driving safer. How? We all know it's illegal in most states to use your mobile handset while on the road, but regardless of all the warnings, folks still do it.
That's where services such as Android Auto come in handy - it allows you to resume your usual driving habits without risking a fatal collision.
That's why we're going to divulge everything there is to know about Android Auto. This includes a rundown of which cars support Android Auto, along with a closer look at a selection of apps available on Google's vehicle-based platform.
Ready to hit the road? Let's gear up for your next road trip with our ultimate guide to Android Auto.
What is Android Auto?
As the name implies, Android Auto is a version of Google's widely used smartphone operating system that is specifically tailored to automobiles.
Like the smartphone or tablet you're used to using, Android Auto uses a combination of apps to make your driving experience better to some degree -
whether that's by providing you turn-by-turn navigation, or simple access to your Google Play Music library while you're on the road. That said, Android Auto apps are typically stripped of their interactivity to some degree.
But while they're a bit less functional than their mobile counterparts, their lack of power make it possible for commands to take no longer than a couple of seconds to carry out. This level of brevity is intended to keep the driver's eyes on the road, just as existing in-dash car stereos and navigation systems have done for well over a decade.
Unlike your car stereo, however, Android Auto provides access to over 40 apps – most of which you're probably using on your phone already. These include Skype, Waze, Amazon Music, iHeart Radio, TuneIn and Stitcher. Google Voice works with Android Auto as well, so if you have a question, all you have to do is press the voice button in your car or say, "OK Google."
If your goal is to dilute your phone's interface into one that's frankly more uniform and digestible while you're driving, Android Auto will do the trick.
Is my car compatible with Android Auto?
Though nearly every carmaker supports Android Auto now, don't expect to easily upgrade your legacy vehicle to the OS – unless you own a 2016 Hyundai.
Sure, you could replace your in-dash stereo or navigation system with one that supports Android Auto – in fact, JVC, Alpine and other brands currently boast Android Auto support – however they also require space for a double DIN device on the dashboard, and most cars only have a single DIN slot.
Unfortunately, for right now, your best bet to take advantage of the convenience features offered by Android Auto is to take a trip to your local car dealership.
Why? Well, as confusing as this may sound, Android Auto isn't meant to replace your current dashboard setup, nor would it work in conjunction with what you have right now: You can't use Android Auto to enable/disable cruise control, tamper with the air conditioning or even toggle between radio stations. As a matter of fact, the only real example of inter-compatibility we could find was that streaming audio playback mutes during audible navigation signals.
Can a car use both Android Auto and Apple CarPlay?
Because Android Auto and Apple CarPlay are – at the core of it all – apps wielded by the hardy components of your smartphone, most carmakers pride themselves on supporting both. In that case, if you aren't fully committed to the Android ecosystem, you can take solace in the fact that the iOS-centric alternative is a few button-presses away.
Even so, there are only a few models from most car manufacturers that have both Android Auto and Apple CarPlay in their dashboards. Worse yet, Toyota still doesn't support either one. This isn't a measly oversight either. (Toyota, unlike much of its competition, is set on evolving its own interface for the sake of diversifying a market that needs much more than Apple and Google to survive.)
The good news is that the smart car revolution is only just starting. If your favorite make and model hasn't been upgraded to work with either Android Auto or CarPlay, it's just a matter of time until they catch up with the rest of the pack.
Read: Best road trip gear: all of the tech needed for your next adventure
Brought to you in association with ZTE - follow along as our intrepid editors Matt Swider and Nick Pino road trip across the US to CES 2018. They're testing out the latest tech along the way, and you can keep track of their journey on The Road to the Show 2018 liveblog. Plus, we've got even more great tips on how to plan your next adventure.
Sign up to receive daily breaking news, reviews, opinion, analysis, deals and more from the world of tech.
Gabe has been writing about video games and technology since he was 16 years old. Currently serving as a Contributing Editor & Producer for TechRadar, where he keeps articles fresh and up to date on the reg, you may recognize his byline from Digital Trends, TechSpot and Kotaku UK. He can't tell if his adoration of Sonic the Hedgehog is genuine or ironic anymore.