Two-minute review
The Xbox Series S is a next-gen console that takes a radically different approach — instead of offering the very best, it offers a careful curation of compromises that allow it to significantly undercut the competition while offering next-gen goodness.
It achieves this by getting rid of the Blu-Ray drive and opting for an all-digital format to install and play games. If that isn't a deal-breaker for you, the Series S is an affordable and compact entry-point to console gaming. The other compromise is the targeted 1440p resolution instead of native 4K. More than that, the biggest issue in our testing was the limited storage which is really easy to run out of.
The good stuff, however, is really good. You'll never feel as if the machine is incapable or not powerful enough with smoother frame rates, higher resolution and faster load times.
To get the most out of your Xbox Series S, you must get the Xbox Game Pass subscription to get a ton of games digitally at a reasonable price. If that's something you won't mind and have the internet connection to support that, then the choice is much simpler.
vs Xbox Series X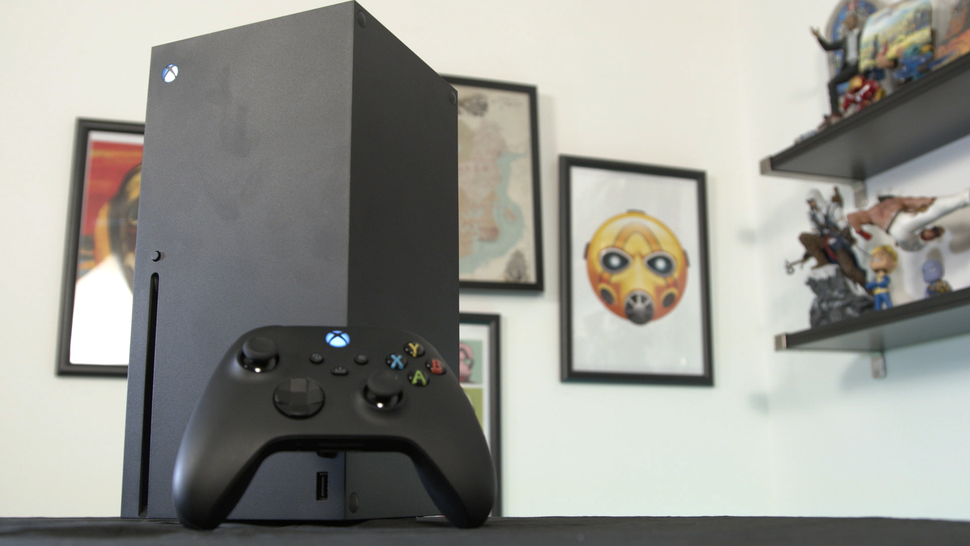 The Xbox Series X utilizes its powerful specs to significantly reduce load times and increase overall game performance and visual fidelity. But, while features such as Quick Resume, Smart Delivery and backwards compatibility give it that extra boost, it's hard to deny that it's lacking in key areas, notably significant UI improvements and captivating exclusive launch titles.

Read our Xbox Series X review
But before you go ahead with your purchase, be sure to take a long look at all the things you'll have to settle for. If you're already a part of Microsoft's gaming ecosystem and have amassed a collection of Xbox One games, the lack of a disc drive will out you off. Secondly, while the storage system is pretty fast, it's really easy to fill the 350GB or so of available space on the SSD. Be prepared to bid farewell to downloading games at a whim.
The other factor that may deter people from buying Microsoft's more affordable Xbox is the fact that outputs at 1440p for gaming. This lower resolution is a firm favourite in the PC gaming space due to the superior image quality it provides over 1080p, and lower amount of graphical grunt it requires against 4K, which has allowed Microsoft to create a lower-spec machine that still boasts next-gen features. Though, even if you don't own a high resolution or high refresh rate TV today, are you sure you won't upgrade to one in the near future?
If you own an Xbox One X the drop to 1440p from native 4K can be noticeable, and the Xbox Series X is the console for you if you're after the outright best image quality possible. That said, don't think of the Xbox Series S as a step back. Looking at the internals of the system, it separates itself from the One X with its vastly more powerful CPU, and more technically capable GPU, courtesy of AMD's RDNA 2 architecture which enables cutting-edge features like ray tracing.
If you're an Xbox One owner looking for an upgrade, the Series S is a great option, if you can accept what it's been designed to achieve. As mentioned earlier, beware of all of its shortcomings and match them with your usage pattern. For the right kind of consumer, it's a no-brainer, but for the rest, the corners cut might be a little too deep. If your choice of games is exclusive to the PS5, then the decision is a lot more straightforward.
Xbox Series S price in India and availability
Launched in India late last year, the Xbox Series S is priced at Rs 34,990, making it the cheapest of the current crop of next-gen consoles. The Xbox Series X is priced at Rs 49,990, which is the same as the PS5. However, stocks for the latter are really difficult to come by, which might just compel you to visit Microsoft's camp.
Keep in mind however that, without a disc drive, you won't be able to buy used games or trade games with your friends: you're dependent on the Xbox Store for any purchases, which means you won't always get the best deal.
We'd recommend getting the Xbox Game Pass, which starts at Rs 489 a month for access to a growing library of 100+ games and additional discounts. Game Pass Ultimate, at Rs 699 a month, offers additional in-game content, partner offers, multiplayer gaming as well as EA Play subscription.
Design
Looks great when placed horizontally or vertically
Can comfortably fit into any setup
The console and controller look great in white
Image 1 of 1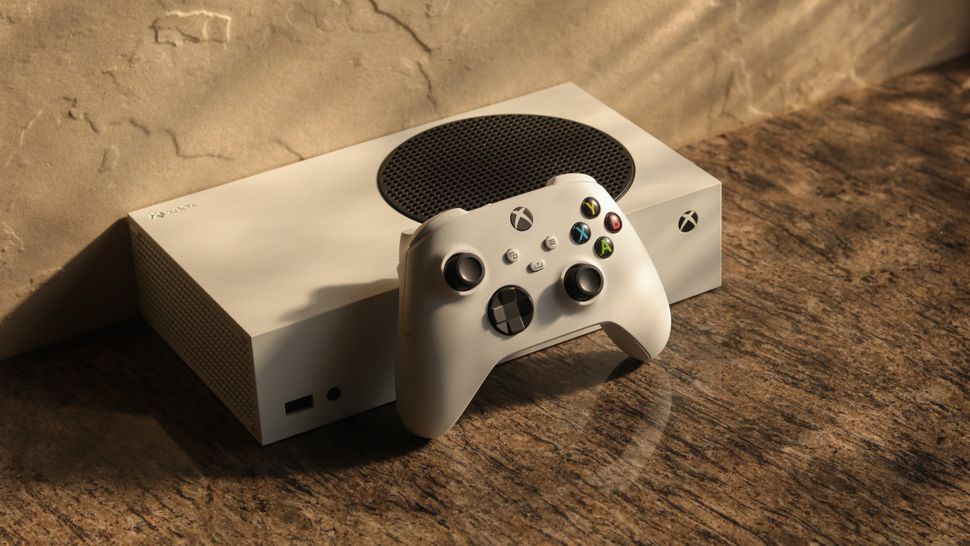 While the hardware powering the Xbox Series S is brand-new, the design of the Xbox Series S is a little reminiscent of the (now discontinued) Xbox One S All-Digital Edition.
Regardless, we think it has a pretty iconic and recognisable look with a large black fan vent on the top that breaks the swath of white which encases the rest of the console. It's the smallest Xbox that Microsoft has ever made, with a clean, understated and functional design.
The plain white front has a single USB port and the Xbox logo that doubles as the power button. On the back are an HDMI 2.1 output, two USB 3.2 ports, an Ethernet port, a storage expansion slot and an AC input. Not that the included cable is an High Speed HDMI, but the console takes care of upscaling so you might not notice the limitation.
It's ridiculously compact for how powerful it is, coming in at just around 2kg and measuring 6.5 x 15.1 x 27.5cm. It will easily fit into most TV cabinets, a feat that the PS5 can only dream about. It's also light enough to carry around on a vacation or a friend's place.
Some may find the design a little too boring or repetitive, but we feel it's fine to have some continuity, especially in products which are advertised as a family of devices instead of a whole new line. It correctly balances minimalism and character and even won TechRadar India's 'Best Design Product of the year' award.
Performance
Upscaled 4K looks great, and native 1440p is a nice compromise
Offers smooth and fluid 120fps gameplay
Image 1 of 2
Image 2 of 2
Xbox Series S specs
CPU: 8-core 3.6GHz (3.4GHz with SMT) custom AMD 7nm
GPU: 4 teraflops at 1.565GHz
RAM: 10GB GDDR6
Frame rate: Up to 120fps
Resolution: 1440p with 4K upscaling
Optical: No disk drive
Storage: 512GB NVMe SSD
Usable storage space: 364GB
Thankfully, the Xbox Series S doesn't skimp out on the performance. While it targets 1440p gaming, upscaled 4K, as well as high frame rate 1080p, is also supported.
Its GPU, while not as powerful as the one in the Xbox Series X, can upscale games to 4K (in a similar way to the Xbox One S) and still run games at 120fps at 1440p, but you'll need an HDMI 2.1-compliant TV if you want to keep the resolution at 1440p. It's also capable of ray tracing, and loads games faster than ever thanks to Microsoft's Xbox Velocity Architecture. Combined with the 10GB of GDDR6 memory and built-in SSD, and you've got all the makings of a powerful console.
If your TV has a 1080p resolution, the Xbox will use a technique called supersampling to render games at a higher resolution and then downscale them to match the panel. The resultant image has a noticeable improvement in clarity and anti-aliasing, getting rid of pixelation or jagged edges.
We expect most folks to connect it with a 4K TV. At that time, the Xbox Series S uses upscaling to convert a non-native 4K stream into a 4K one, which is some consolation if you're not pixel-peeping.
It's worth noting that the Xbox Series S can render some games in native 4K if a developer chooses to enable that option, but it's done on a game-by-game basis and isn't something you're going to see on every game on the system. Don't bank too much on it.
If you're one of the few users who have a TV that supports 120fps, then you're in for a treat. Using an HDMI 2.1 connection, you can play games at a decent 1440p resolution at the higher frame rate, which we think is the best sweet spot. It's worth noting that very few games currently support 120fps output, such as The Falconeer and Gears 5's multiplayer. Call of Duty Black Ops: Cold War, Halo Infinite multiplayer are confirmed to get that support in the future.
The console also supports HDR to render more colours, higher peak brightness and better contrast levels. We tested it with an SDR panel first, and then with an HDR one, and the difference was night and day.
Even if upgrading your TV is not an option, you're sure to notice the benefits of the new SSD and Microsoft's Xbox Velocity Architecture — a multi-step solution that combines the Series S's custom NVMe SSD, hardware-accelerated decompression blocks, a brand-new DirectStorage API layer and Sampler Feedback Streaming (SFS). In simpler words, it optimizes the storge at both hardware and software levels to load the data into the memory more efficiently and quickly, resulting in shorter load times.
The biggest compromise that we felt immediately was the 512GB of storage. With many of the next-gen games crossing the 100GB mark, we got a low storage warning on the second day itself. And before you argue saying that half a TB might be enough for you, let us remind that about 150GB is occupied by the operating system itself, leaving you with only about 364GB of usable storage. For reference, that is only about three of four high-quality games.
The other problem that will haunt Xbox Series S owners in India is its reliance on Wi-Fi. Not only will you need it to download games spanning hundreds of GBs (which was an overnight affair in our case), you'll also need it to be constantly connected for updates. For instance, there was a time when we fired up ours after a week and all games had new updates without which they couldn't be played. Downloading close to 80GB of data in the middle of a workday meant my lunch break gaming session could start only by dinner time.
The company will be selling storage expansion drives in partnership with Seagate, but the Indian availability is still questionable and the price is likely to put it Xbox Series X territory anyway.
You'll really have to think about this, not just for today, but for five years down the road.
Controller
Triggers are shorter, controller is easier to grip thanks to new textured finish
Share button is a welcome addition, and the 360-degree D-pad feels great
Still uses AA batteries, unfortunately
Image 1 of 2
Image 2 of 2
As with the console itself, Microsoft has focussed on a bunch of small and meaningful refinements that make the controller better. It's now more comfortable and easier to use than ever before due to subtle changes in the controller's ergonomics.
The overall dimensions have been tweaked ever so slightly on all axes that people with most hand sizes will be able to use it comfortably. The textured matte finish on the handles, triggers and bumpers is also a good touch to feel more reassuring during intense sessions.
On the same lines, the shoulder triggers have also been shortened to make them more accommodating for smaller hands. They also get their own rumble motors for haptic feedback, but it's nowhere close to the PS5's controller, whose adaptive triggers can change resistance on the fly.
Our favourite change on the Xbox Series S controller is the new D-pad which now supports a full 360-degree movement that feels great on the thumb. Each direction clicks with a satisfying sound and tactile feedback, and its smooth finish makes pulling off half-circle sweeps in fighting games a real pleasure.
There's also a new Share button which does exactly what you'd expect – it captures and shares moments in your game for posting in your Xbox Feed or on social media. One click takes a snapshot, while holding the button down longer captures a 15-second video (you can adjust the duration in the Capture settings). It's better than the one on its predecessor but it will still take some getting used to.
Other stuff is vintage Xbox, with the asymmetrical positioning of the two analogue sticks, and the four face buttons on the right (A, B, X, Y). It also retains the 3.5mm jack for headphones and a USB Type-C port for charging. The Xbox logo is also the pairing button to connect it to the console.
A surprising shortcoming was the battery life on the controller. It runs off two AA batteries instead of something rechargeable. With moderate use, our controller was dead in less than two weeks. If you think you'll be a heavy user, it might be a worthy investment to get something like rechargeable AA batteries. This might be the least "next-gen" part of the whole experience.
Features
User interface feels a bit overcrowded and, in some places, slow
Quick Resume feels really cutting-edge
Smart Delivery ensures you get the best possible version of a game
Image 1 of 1
Setting up the Xbox Series S proved to be a streamlined process, thanks in no small part to the new-and-improved Xbox app for Android and iOS.
You'll need to download the app from the App Store or Google Play Store, and log in to your Microsoft account. Once you're logged in, power-on the console and type in the code you see in the app, which appears on your TV screen – this pulls in all your data without you having to type it all in. You'll still need to enter a few additional details via the console, like your Wi-Fi name and password, but then you're off to the races after waiting for a small update to land.
If you've used an Xbox recently, the home screen will seem familiar. For everyone else, there will be a slight learning curve as the UI has too much going on at the same time.
Moreover, the new UI still presents some of the same problems we've noticed in the past with Xbox One's interface: some images on the screen take a few seconds to load as content is pulled from the internet, and it's generally a bit too busy for most tastes, with far more information on the screen than you actually need at one time.
There are some truly innovative features too, such as Smart Delivery, which ensures you'll always get the best possible version of a game when you download it, or if it's upgraded in the future. It also brings backwards and forwards compatibility between your old Xbox One / One X / One S and new Xbox Series S, while also carrying the save game data along.
Jumping between multiple games at a time is now possible thanks to Quick Resume, a new feature that allows the Xbox Series S to hold multiple game states in the memory at one time, so you can jump back and forth between games without having to reload them.
The number of games supported and the efficacy obviously varies, with titles with ever-changing worlds giving it a hard time. It's a handy, time-saving feature that's only possible thanks to the console's SSD, and game states are preserved even if the console is completely powered down.
The console also shines as a multimedia device, supporting most of the mainstream apps such as Netflix, Apple TV Plus, Disney Plus, Prime Video and more. Thanks to the powerful hardware, it not only supports 4K HDR playback but also Dolby Vision and Dolby Atmos; though, you might have to subscribe to higher-tier plans for that.
Game library
Scarce launch lineup with few exclusives
Backwards compatibility with three generations of Xbox consoles
Xbox Game Pass is a great way to instantly build up your library
The biggest reason why you might not want to get the new Xbox Series S is its game library. With the delay of Halo Infinite, there aren't many exciting first-party exclusives at launch.
Instead of releasing new experiences on day one, Microsoft has pushed for optimizations for its existing arsenal of games like Gears 5, Forza Horizon 4, and Ori and the Will of the Wisps, and Sea of Thieves, to either increase their base resolution or frame rates, or to offer greater visual fidelity. You can access the entire list of optimized games under 'My Games & App' > 'Games' > and then select 'Group by console type'.
If you've been in the Xbox ecosystem for years, the Xbox Series S will be appealing because it supports four generations of titles, stretching all the way back to the original Xbox. The caveat here is that, because the Xbox Series S doesn't have a disc drive, you'll need digital versions of those older games in order to play them – and for that reason alone, Xbox Game Pass is great.
On it, you'll find over 100 games available to download on the Xbox Series S, with a mix of new first-party titles and some indie gems from the Xbox 360 era. While it won't make up for the lack of exclusives at launch, it does enable you to pad out your library, and gives you a chance to see some of the best previous-gen games in a new light. You also get access to all of Microsoft's first-party games the day they release, helping you save a lot in the long term.
Verdict
Image 1 of 1
Buy it if...
You want to experience next-gen gaming on a budget
For original Xbox One owners, the Xbox Series S is an easy recommendation. It offers native 1440p gaming with up to 120 frames per second support. It's not the best console on the market, of course, but it's a massive upgrade over its predecessors, without demanding a premium.
You plan on relying on Xbox Game Pass subscription
Since digital downloads will be your only option, adding the Xbox Game Pass and Xbox Live Gold to your purchase will give you access to quite a few titles and new launches at a reasonable price.
You're tired of sitting through long loading screens
The marquee features of the Xbox Series S are the SSD and Microsoft's Xbox Velocity Architecture. Being able to jump between games with Quick Resume means you won't have to waste time waiting for games to boot up, while the SSD ensures that load times are half of what you're used to seeing on the previous generation.
Image 1 of 1
Don't buy it...
You prefer to have a library of games installed
While the SSD is incredibly fast, it's really easy to fill it up with a handful of games. The 364GB of onboard storage means you'll have to often delete games and keep an eye on the remaining storage before starting a new one.
You don't have a reliable Wi-Fi connection
While the Xbox Series S makes sense for early cloud-gaming adopters, in markets like India, it's not that simple. With many games crossing the 100GB mark, unless you have a speedy connection, be prepared for overnight downloads and updates.
You can increase your budget by a bit
The Series S is a good entry point into next-gen gaming but that's about it. If you are after an uncompromised gaming experience with features such as 4K and 120fps output, as well as a healthier selection of games, the PlayStation 5 is the better choice.