Xbox One vs PS4: the controllers
Both controllers are well-made and comfortable.
Which is better is a matter of personal preference.
When you're comparing controllers between the PS4 and Xbox One, you should consider size, comfort, and battery life – but, even beyond these aspects, personal preference is going to go a long way.
The good news is that both conform to your hands better versus the less ergonomic Xbox 360 and PS3 versions.
Microsoft, even further from just improving on the Xbox 360 controller for the Xbox One's basic controller, released the Xbox Elite Wireless controller back in 2015. This gamepad, directed towards pro gamers, includes four back pedals, two settings for the left and right shoulder buttons, swappable analog sticks and a new and improved D-pad. All of these amazing features come at a premium though, costing $149 or £119.
There's also a newer version of the pro gamepad available with the Xbox Elite Wireless Series 2 controller, which improves greatly on its predecessor but will cost you £159 or $179.
Sony's DualShock 4 also improves on the previous generation. The handles of the PS4 controller are a lot easier to grip and are more comfortable when playing for extended periods. Plus, the analog sticks now have a nice divot, making precise movements a lot easier.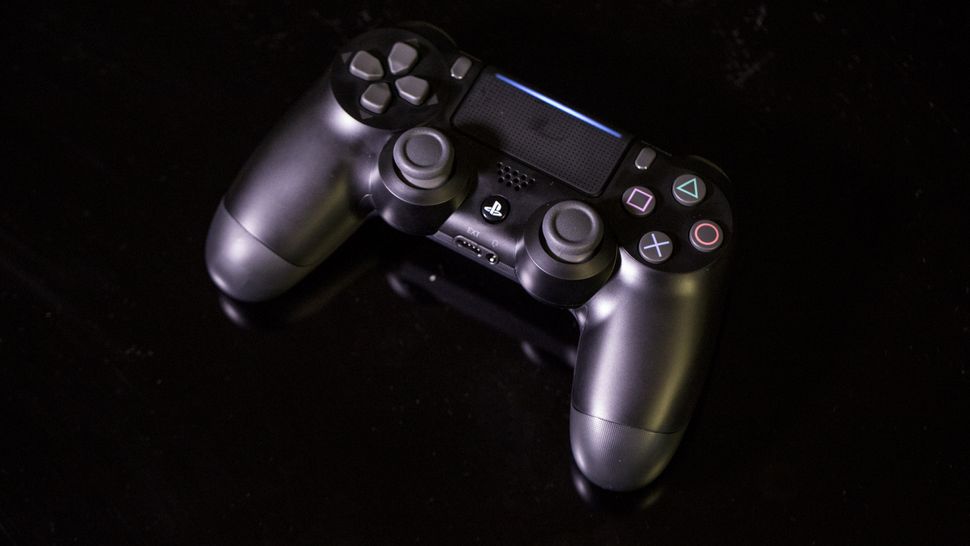 With the newer DualShock 4 that's come out alongside the slimline PS4, the controller has seen a further improvement with the addition of a wired connectivity mode, which eliminates the input lag associated with Bluetooth connections.
The PS4 controller's front touchpad and mono speaker are a unique way to interact with games, and developers are starting to find ways to adopt this technology into their control schemes.
Which controller is better? There's a lot of satisfaction with the PS4 gamepad, but that may have more to do with people's surprise at how much more comfortable the DualShock 4 is compared to the DualShock 3 – that wow factor may eventually wear away. It also comes with a rechargeable battery pack, rather than relying on AA batteries, as the Xbox One controllers do.
The Xbox One vs PS4 controller comparison ends up being a matter of taste. Some gamers are accustomed to Sony's parallel dual analog sticks, while plenty of others opt for offset analog sticks that have been part of the Xbox universe since the beginning.
Xbox One Kinect vs PS4 Camera
Kinect was promising but is no longer produced.
Meanwhile PlayStation Camera has become an essential accessory if you're looking to use a PlayStation VR headset.
Back when the PS4 and the Xbox One launched, their respective cameras were hailed as being one of the most important aspects of the machines. However, in the years that followed, both Microsoft's Kinect and Sony's PS4 Camera have fallen out of favor and popularity.
The latter has gained a new lease on life as an essential part of the PlayStation VR ecosystem, but outside of this remains almost entirely unused.
That's a shame because, at one point, the new Kinect technology looked very promising, tracking up to six skeletons at once and processing 2GB of data per second. It could even pick up heart rates, facial expressions and 25 joints, thumbs included.
The camera's 60% wider field of vision compared to the Xbox 360 Kinect remedied the annoying "stand 6 feet away" error messages we experienced last time around.
Xbox One Kinect was certainly powerful, it just needed more games. Right now, there are few reasons to keep the 1080p camera plugged in, especially since the whole platform has been shuttered.
The PlayStation camera doesn't have as much to offer at this point either, but it's hard to find in stock. Formerly called the PlayStation Eye, it features two 1,280 x 800-pixel cameras in a body that's slimmer than the Kinect.
The included robot mini-game The Playroom has been updated since the console launch, but little else besides the Just Dance series requires the device.
You will, however, need a PlayStation camera if you want to use a PlayStation VR, since the headset uses the camera to know where your head is. With the PSVR, the camera has fast-changed from an optional accessory to an essential piece of kit. - though you'll find it comes bundled in with a PSVR starter pack.