The Garmin Fenix 7 Pro remains an outdoor watch powerhouse and whether you're a hiker or want the best sports tracking, training and analysis features Garmin has to offer, this watch isn't going to let you down. If you already have a Fenix 7 however, you can get a lot of those features for less and save that extra money for your next big adventure.
Pros
+

Packed with sports tracking modes

+

A slightly clearer screen than Fenix 7

+

Added flashlight for 7 Pro and 7S Pro
Cons
-

New software features coming to Fenix 7

-

Some minor heart rate accuracy improvements

-

Still a pricey investment
Why you can trust TechRadar We spend hours testing every product or service we review, so you can be sure you're buying the best. Find out more about how we test.
Garmin Fenix 7 Pro: One-minute review
The Garmin Fenix 7 Pro is a new version of the Fenix 7, which launched in early 2022. This isn't the first time Garmin has launched a Pro version of its feature-packed watch aimed at lovers of the great outdoors and is likely to fill the void before we see the Fenix 8.
For the Fenix 7 Pro, the headline news is that one of the best Garmin watches is seeking to improve things even further in the display and heart rate tracking departments and now wants to help you better understand how well-equipped you are at tackling hills and endurance events.
The Fenix 7 was an impressive watch and it's more of the same with the Pro, offering a rich array of sports profiles, metrics, training and analysis insights and the kind of battery life that can keep you away from a charger for weeks.
The problem that the Pro has is that many of the big software features have headed to the older Fenix 7 series, making the Pro version more of a sell for older Fenix owners and those that really want the newest outdoor features that Garmin has to offer.
Garmin Fenix 7 Pro: Specifications
Swipe to scroll horizontally
Garmin Fenix 7 Pro: Specifications

| | |
| --- | --- |
| Component | Garmin Fenix 7 Pro (47mm) |
| Dimensions | 47 x 47 x 14.5 mm |
| Weight | 78g |
| Display | 1.3-inch 260 x 260 MIP touchscreen |
| Case/Bezel | Polymer and stainless steel |
| GPS | GPS, GLONASS, Galileo, Multi-Frequency |
| Battery | 22 days, 73 hours GPS, solar |
| Connection | Bluetooth, ANT+ and Wi-Fi |
| Water-resistant | Up to 100m |
Garmin Fenix 7 Pro: Price and availability
$799 in the US
£749.99 in the UK
$1,349 in Australia
The Garmin Fenix 7 Pro is available to buy now directly from Garmin and from a host of other retailers including Amazon. It has a current RRP of £749.99 in the UK, $799 in the US and $1,349 in Australia.
Garmin Fenix 7 Pro: Design and screen
New, clearer screen
Same rugged form factor
New flashlight added
The Fenix 7 Pro like the standard 7 is all about being a watch that's built for some serious rough and tumble, so unlike Garmin's Forerunner watches such as the Garmin Forerunner 265, you can expect a thicker case design, more tougher metal and generally a stronger level of protection against water.
Like the 7, the 7 Pro comes in three case sizes. I had the 47mm version, which is very similar to the 47mm Fenix 7 in terms of how it feels to wear and what you can expect in terms of weight and the space it soaks up on your wrist.
It's a polymer case with steel around the back and a bezel built from stainless steel, which helps this watch to weigh in at 79g. Garmin pairs that with 22mm QuickFit straps, so you're just a simple button press away from removing it and putting on a new one. As a package, it's waterproof up to 100 metres making it safe for pool and open water swimming time.
Front and centre is a 1.3-inch, 260 x 260 resolution transflective memory-in-pixel display, which Garmin says is an improved one on the display included on the non-Pro 7. I'd say it's a touch clearer, but there's not a massive amount in it. It's still a display technology that offers good visibility indoors, outside and the responsiveness of the touchscreen support is as good as you'll find on a sports watch right now. It's never going to be as bright as the Epix' series AMOLED display, but is excellent for battery conservation.
On top of that screen lies Garmin's PowerGlass, which does mean you get solar charging powers here to boost the already big battery numbers Garmin promises, as long as you're spending enough time out in the sun to enjoy the benefits.
The 47mm and 42mm Fenix 7 Pro now also grab the LED flashlight from the Fenix 7X, so you now have an extra source of light that can be enabled from the quick settings and can be configured to light up when you're in tracking mode and is actually a useful extra to have if you don't want to grab your smartphone.
Garmin uses the same charging cable to power it up as the one provided with the Fenix 7 and as a package you're getting a lovely, well-built watch that doesn't weigh too heavy or too light and has a screen that's big enough to make sure you can absorb your real-time stats and view onboard maps.
Garmin Fenix 7 Pro: Features
New weather overlays for maps
Endurance and Hill Scores now added
Heart rate sensor promises improved workout HR accuracy
The Fenix 7 Pro is a watch for the outdoors and doesn't disappoint with the level of features on offer here for those who like to spend more time outside than inside.
Along with core running, golfing (there's a reason Garmin fills out a lot of our best golf watches entries), swimming and cycling modes, there are the usual outdoor profiles aplenty covering everything from hiking to surfing, skiing and you're getting activity-specific metrics for most of those profiles as well.
On the navigation front, you've got preloaded topographic maps, road and trail maps and ski resort maps, with touchscreen support to navigate around those maps. Garmin has enhanced that mapping mode with Relief Shading to offer more detailed maps, the ability to see a split of your metrics and map on one screen and view weather information like temperature, although that isn't available during the tracking mode screen. Up Ahead also offers trail runners and cyclists the location of Points of Interest nearby.
Along with the rich training analysis and metrics you already get on the Fenix 7, Garmin has introduced new Endurance Scores and Hill Scores metrics to help you better understand whether you have put in the right amount of training to handle a hilly route or really go long in training or an endurance event. It analyses hilly workout history and VO2 Max estimates to score your endurance and ability to tackle hills and make it easy to understand whether it's good or bad.
Many of the Fenix 7 Pro's training and analysis features are driven by good heart rate data and Garmin has sought to improve things on that front with a new optical heart rate sensor onboard and new algorithms to deliver improved accuracy, particularly when you're exercising.
You do still have the ability to pair up external sensors and while the accuracy during workouts has been solid overall, I don't think you should be ditching that dedicated heart rate monitor just yet.
Garmin Fenix 7 Pro: Performance
Great multi-band mode
Endurance and Hill Scores are nicely presented
Same great battery life
All of the good traits from the Fenix 7 are retained for the Pro. Garmin's great multi-frequency positioning GNSS mode, which improves tracking accuracy in return for sucking up more battery life than other GPS modes, performs really well and Garmin's mapping support remains the best you'll find on a watch right now. The mix of touchscreen and button interaction makes it easy to navigate the now more detailed presentation of those maps as well.
The new Endurance and Hill scores are interesting additions to the already rich array of metrics Garmin offers, but how reliable and useful they are going to be for most Fenix 7 Pro users is certainly up for debate. You need a few weeks of data to kick things off and while there's some useful advice offered around those scores they weren't scores that drastically changed the experience of using the 7 Pro over the regular 7. Plus, those features are coming to the older Fenix as well.
Something that thankfully hasn't changed with the new hardware and software features on board is the kind of battery life you'll enjoy on the Fenix 7 Pro. Garmin promises the same numbers with up to 22 days in smartwatch mode, which can be boosted by solar charging. If you're planning to spend multiple days out on your feet, you can sacrifice the best GPS accuracy and opt for the Expedition mode to get you 40 days of watch time and potentially more again if you can expose the watch to enough sunlight to boost battery.
If you want to use the Fenix 7 Pro as a smartwatch, it has the same features as the baseline Fenix 7. The notification support is the strongest of those smartwatch features and you do have good music player and controls features as well. You do have Garmin Pay and access to Garmin's Connect IQ Store, though don't expect to pile on loads of big-name apps here. Some changes have been made to the user interface, mainly in the workout mode, but if you were hoping for more smartwatch skills than before, that's not the case here.
Ultimately, this is a watch that can last for weeks, even with regular use of workout tracking, mapping and smartwatch features. Make use of the onboard power manager features and turning off features you don't use and that will make things go further.
Garmin Fenix 7 Pro: Should I buy?
Swipe to scroll horizontally
Scorecard

| | | |
| --- | --- | --- |
| Category | Comment | Score |
| Design | A Fenix 7 Solar with the same rough-and-tumble aesthetic, now with added flashlight. | 5/5 |
| Features | A huge array of features, although some maps changes, heart rate monitor, and a couple of new metrics are the only new stuff. | 4.5/5 |
| Performance | Great battery life, power and it's useful in the field, although the new features don't radically change the experience. | 4.5/5 |
| Verdict | One of the best Garmin watches ever, but with a slight lack of innovation | 4.5/5 |
Buy it if...
You want a smaller Fenix with a flashlight
The Fenix 7 Pro brings its flashlight down from its bigger 7X watch for those that prefer that extra hit of light from a smaller case design.
You want a feature-rich outdoor watch
If you want a rich array of tracking modes, metrics and the best mapping on a sports watch, that's what the Fenix 7 Pro will give you.
You want weeks of battery life
The Garmin Fenix 7 Pro might have added more features but it still ensures that you can wear it for a few weeks at least before it needs charging again.
Don't buy it if...
You already own a high-end Garmin
Outside of the flashlight and new heart rate sensors, the new software features are rolling back to other models.
You're not fussed about a rugged design
A lot of the features included on the Fenix 7 Pro can be found in the cheaper Forerunner 965 including displaying maps on a more colourful AMOLED screen.
You like a light sports watch
While definitely lighter than a lot of similarly priced outdoor watches, if you're looking for something that sits slim on your wrist, there's better suited Garmin watches out there for you.
Also consider
Swipe to scroll horizontally
Garmin Fenix 7 Pro: Specifications

| | | | |
| --- | --- | --- | --- |
| Component | Garmin Fenix 7 Pro (47mm) | Garmin Forerunner 265 | Coros Apex 2 Pro |
| Dimensions | 47 x 47 x 14.5 mm | 46.1 x 46.1 x 12.9 mm | 46.5 x 33 x 14 mm |
| Weight | 78g | 47g | 53g |
| Display | 1.3-inch 260 x 260 MIP touchscreen | 416 x 416 px AMOLED, Corning Gorilla Glass | 1.3-inch 260 x 260 px MIP screen |
| Case/Bezel | Polymer and stainless steel | Fibre-reinforced polymer | Titanium alloy bezel |
| GPS | GPS, GLONASS, Galileo, Multi-Frequency | GPS, GLONASS, GALILEO, SATIQ | Multi-band GPS |
| Battery | 22 days, 73 hours GPS, solar | 13 days (20 hours GPS) | 30 days, 75 hours GPS |
| Connection | Bluetooth, ANT+ and Wi-Fi | Bluetooth, ANT+, Wi-Fi | Bluetooth, ANT+, Wi-Fi |
| Water-resistant | Up to 100m | Yes, 5ATM | Yes, 5ATM |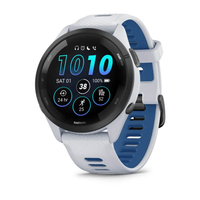 Garmin Forerunner 265
A cheaper AMOLED running watch with lots of GPS credentials.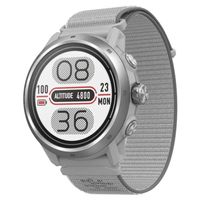 Coros Apex 2 Pro
Need an even longer battery? Coros Apex 2 Pro will fit the bill, with excellent GPS and adventure credentials.
Michael is a freelance journalist who has covered consumer technology for over a decade and specializes in wearable and fitness tech. Previously editor of Wareable, he also co-ran the features and reviews sections of T3, and has a long list of bylines in the world of consumer tech sites.
With a focus on fitness trackers, headphones, running wearables, phones, and tablet, he has written for numerous publications including Wired UK, GQ, Men's Fitness, BBC Science Focus, Metro and Stuff, and has appeared on the BBC Travel Show. Michael is a keen swimmer, a runner with a number of marathons under his belt, and is also the co-founder of YouTube channel The Run Testers.