How my Garmin watch helped me get over a terrible week of sleep
My Garmin watch's sleep metrics actually came in handy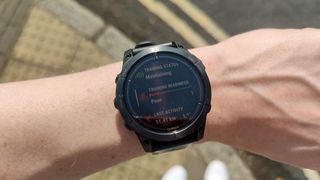 (Image credit: Future / Matt Evans)
Just like everyone who loves to exercise outdoors, I really like summer – but it comes with its own challenges. It's too damn hot to exercise outdoors for long periods, for instance, unless you get up to beat the heat. But it's the heat at night - which stops me from sleeping - combined with my seasonal allergies that really puts a dampener on my training.
I suffer from hay fever (a seasonal pollen allergy, for those not in the UK), which means I wake up sneezing, or with a blocked nose, unable to breathe. I'm not normally a snorer, but the constant runny nose and chesty cough mean my throat sounds (and feels) like a chainsaw. Fortunately, an underused feature on my best Garmin watch has helped me work my training around this particular problem.
The issue with disturbed sleep on a regular basis is that without the right balance of light sleep, deep sleep, and rapid eye movement, or REM, you're at risk of not getting enough restorative sleep, and over several nights in a row, bad sleep can be pretty debilitating. You won't focus or concentrate as well at work, your memory will decrease, as well as other cognitive performance issues. According to research, long-term insomnia increases the risk of heart disease, impairs cognitive performance, and generally makes you more prone to early death.
You can monitor how much sleep you're getting with a fitness watch, or one of the best sleep trackers like an Oura ring if you want to get an accurate picture of your night's rest. However, one of the biggest problems with sleep monitoring technology as it stands is that there's not a huge amount you can do to improve specific areas of your sleep, like getting more deep sleep or REM. You simply have to go to bed earlier, cut unhealthy habits, reduce your blue light exposure and try to get more sleep in general, hoping the problem sorts itself out.
After my fifth night of bad sleep in a row, in which I was waking up multiple times in a night and getting some truly terrible sleep scores, I decided to ignore my Garmin Epix's advice – which was telling me to take it easy and to perform a 22-minute jog – and head out for a longer 12km tempo run on a sunny Saturday morning. At the time of writing, the UK is in the dying throes of a heatwave, and last week it was at its zenith.
My run was challenging – I felt better for having done it, and it's always good to head out to the river and clear my head, but it was a slow, ponderous, strength-sapping run in high temperatures. It took what energy was left right out of me. The Sleep Foundation states poor sleep leads to reduced athletic performance, quicker exhaustion, and increased risk of injury. At the end of the run, my Garmin updated my Training Readiness Score to just 1/100. Only once have I seen my Training Readiness Score at 1/100 before, and that was after I had completed a marathon. That's how cooked my body was.
In order to dig myself out of this hole, I began doing what my Garmin watch was telling me to do. Digging into the sleep app, it told me "you may tire more easily today. You got a lot of intense exercise yesterday, and it impacted your sleep quality. Try to eat well, get plenty of rest, and perform very strenuous activities sparingly." So that's what I did. Very basic advice from Garmin: again, the problem with sleep tech is that lots of things can account for bad sleep that apps won't pick up on, like my allergies.
However, in Garmin Connect's Sleep Score page, it also linked to this Mayo Clinic article with more sleep advice. I did my best to follow it to the letter, eating an hour earlier than usual, ensuring the bedroom was as cool as I could get it (despite having all the windows closed to deal with the pollen) and doing a five-minute guided meditation before bed to relax my mind. I said no to wine with Sunday dinner, as alcohol is known to disrupt sleep.
Sure enough, after three or four days, I was back in the gym and on the roads, with a Sleep Score in the eighties.
This is what Garmin's Training Readiness Score, Sleep Score and its Morning Report widgets are for. Monitoring REM and deep sleep is a way to tell us if we need to take it easy, or if it's time to go hard. When I was training for my marathon, I used my Training Readiness Score to test out the conditions that allowed for optimal readiness, and I replicated those conditions in the days before the race.
Afterwards, I let it all slide – so when life threw a curveball at me that shattered my sleep, I wasn't prepared to deal with it until I was already burned out.
If you see your sleep and recovery metrics drop on a smartwatch, you'll feel better if you make a few adjustments to your routine, where you can, to get yourself back on track. Don't do what I did and wait until you already felt terrible: for a quick sleep-fix hit, check out a 15-minute rule to help you sleep
Sign up for Black Friday email alerts!
Get the hottest deals available in your inbox plus news, reviews, opinion, analysis and more from the TechRadar team.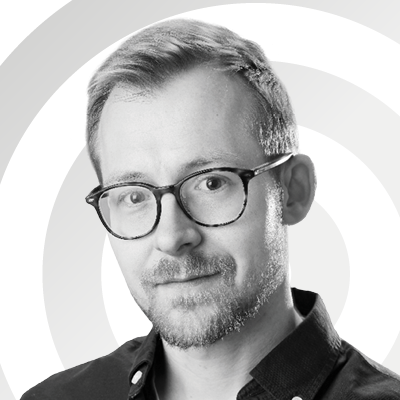 Fitness, Wellness, and Wearables Editor
Matt is TechRadar's expert on all things fitness, wellness and wearable tech. A former staffer at Men's Health, he holds a Master's Degree in journalism from Cardiff and has written for brands like Runner's World, Women's Health, Men's Fitness, LiveScience and Fit&Well on everything fitness tech, exercise, nutrition and mental wellbeing.
Matt's a keen runner, ex-kickboxer, not averse to the odd yoga flow, and insists everyone should stretch every morning. When he's not training or writing about health and fitness, he can be found reading doorstop-thick fantasy books with lots of fictional maps in them.