What do YouTubers use to edit videos?
Features
Contributions from
last updated
Discover what YouTubers use to edit videos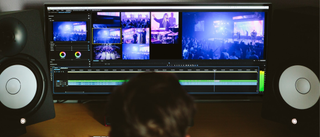 (Image credit: Unsplash / Avel Chuklanov)
Ask a YouTuber which is the best video editing software and you're likely to get a whole host of different answers. The truth is, there's no one video editor favored by absolutely every content creator on the platform.
It all depends on the type of content you're producing for your own channel. If you're just cutting together a series of cool clips, then almost every video editor will do that - that is, after all, what they're made for. If you opt for live-stream style piece-to-camera videos, then using the best screen recorders (or even free screen recorders) are a great shout. And for more extravagant projects, you'll likely need powerful, professional-grade tools.
Skill-level and budget are also a factor. Top movie-making video editors like Premiere Pro and Final Cut are massively popular, but they also have steeper learning curves and premium price-tags. So, free video editing software may be ideal when working to a budget. The best video editing apps are perfect for trimming content on the go. And the best video editing software for beginners is great if you're just starting out or creating simple videos.
To help you make your channel a must-sub, we've tested out the video editing tools favored by YouTubers, comparing their features, strengths, and weaknesses.
For more advice, check out our guides How to learn video editing and How to create a YouTube channel.
Adobe Premiere Pro
Adobe Premiere Pro has been the standard for Hollywood filmmakers for years and is trusted by many of the world's most famous YouTubers. Premiere Pro has a vast number of capabilities that, after some practice, can help editors produce stunning video content.
It's fully integrated in the Adobe ecosystem and projects can be shared to Adobe After Effects for the addition of complex visual elements. Don't be scared by Premiere Pro's complexity. When opened, a useful tutorial appears to get new users up to speed.
For those looking for something more basic, Adobe has a roster of accessible editing software to choose from.
Adobe Premiere Elements, for example, is a reduced version of Premiere Pro which offers fewer features but a shallower learning curve at a more affordable price tag.
The similarly stripped-back Adobe Premiere Rush is another inexpensive program that is specifically designed for social media videos. Pitched as Adobe's offering for younger, online creators, it handily allows for mobile editing and on-the-go cloud sharing.
Read our full Adobe Premiere Pro review
Apple iMovie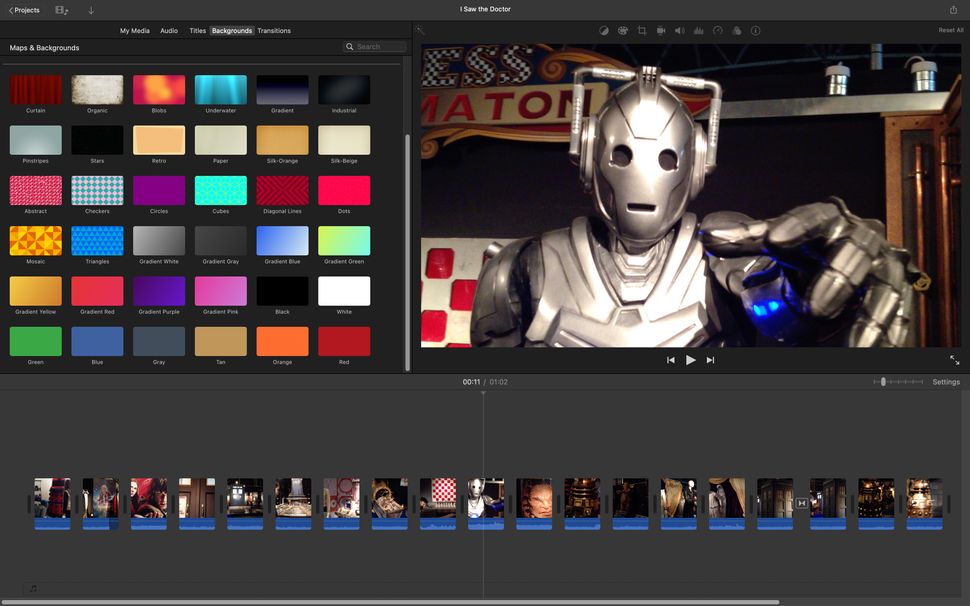 Apple iMovie comes free with all Apple devices, so it has long been the first port-of-call for those new to video editing, and many well-known YouTubers still use the program.
Its reputation for being basic is arguably unfair. It has a strong array of editing capabilities, built-in transitions, and titles. Properly utilized, these can produce impressive results.
Apple has also ensured the program is easy to use, and most of the interface is intuitive after a couple of hours.
For example, on the newest update, there are only two options when iMovie is launched: create new, or select a previous project. In the editing suite itself there is a satisfyingly small array of buttons, but new ones will appear as and when they are needed — click the palette icon and a large array of color sliders pop up.
iMovie might not be the best choice for those with more complex needs — you will struggle to implement special effects, for example. But for many YouTubers it still provides enough versatility to produce a short video of good quality.
It also has a lot in common with Final Cut Pro - a paid-for, professional video editing software - to make for an easy transition.
Read our full Apple iMovie review
Apple Final Cut Pro
Apple Final Cut Pro is one of the most popular editing tools available in 2020. Packed with features, it has been used on blockbuster films and is able to handle the most complex of editing briefs.
The premium price tag includes an abundance of samples, VFX, and titles that can achieve almost any desired outcome, but the software allows you to import your own if needed.
It shares its basic three-panel layout with iMovie: clip selector, editor, and timeline. The latter is also handily "magnetic," allowing clips to seamlessly fit around each other, so it's easy to see why it's popular with so many YouTubers.
Like all higher-end video editors, sufficient processing power and disk space are required for it to work at its maximum, especially if you are editing in 4K. Indeed, it's always worth researching thoroughly what specifications a program needs before you purchase it.
Read our full Apple Final Cut Pro review
Camtasia
Camtasia is billed as an all-in-one screen recorder and video editor. If you're delivering piece-to-camera content and don't need too much in the way of fancy effects or numerous edits, it's a great tool to use.
The tool, developed by TechSmith, is incredibly simple to set up and use, and we found recording to be flawless when we tested it out. It also gives you absolute control over what parts of your screen are being recorded.
The video editing aspect is just as good, giving other non-linear editors a serious run for their money. It comes equipped with a library of effects, animations, and transitions, and the interface is nicely laid out for maximum efficiency.
However, like most premium recording and editing software, it has a price-tag attached - although there are no subscriptions here; just a one-off purchase. If it's just out of budget, there are tons of free screen recorders that deliver similar results, although your mileage may vary when it comes to editing your footage.
Read our full Camtasia review
DaVinci Resolve
DaVinci Resolve, from Blackmagic Design, is easily one of the best video editors out there - and not just because it's completely free to use. It's also cross-platform video editor that works on Windows, Mac, Linux and, shortly coming to iPad, too.
Packed within, you'll find a powerful node-based special effects system, plenty of color correction and pro-level audio editing tools. So, it's a highly powerful video editing tool used not just by top YouTubers, but across the film industry, including big-name Hollywood movies.
On the flip side, this means it has a pretty steep learning curve. If you've never edited videos for YouTube before, you may not want to start here - it can feel a bit overwhelming. It's not an insurmountable challenge to master the software. But to really make the most of the tool, you'll need to spend some time familiarizing yourself with it.
There is an optional upgrade for a one-off fee - it adds even more advanced features to the toolkit - but it's not required unless you're getting serious about your YouTube videos.
Read our full DaVinci Resolve review
Video editors for YouTube: Alternatives
There's little doubt that Final Cut Pro and Adobe Premiere Pro are the preeminent video editing software choices for pro YouTubers. Some of the most famous videos on the net have been created with them. However, a couple of other programs deserve consideration.
Lightworks, for example, is available on Windows, Mac, and Linux for free, and supports non-linear editing (helping to preserve your source footage) and multitrack video. We've compared the big differences in our guide Adobe Premiere Pro vs Lightworks.
CyberLink PowerDirector is a great choice thanks to its relaxed user interface - and it's suitable for beginners and experienced editors alike. It's absolutely bursting with useful tools for cutting professional videos and easily rivals more expensive video editors on the market. Available for a one-off fee or via subscription, it's well worth checking out to see how well it performs for you.
Blender, the open-source 3D modeling and rendering software has long been revered for its versatility. It is also, perhaps surprisingly, an effective video editor. It has a selection of simple features and a limited 32-track timeline for media, making it a good tool for those aiming to create basic videos for free.
However, with the content on YouTube ever increasing in quality, video makers using programs like Blender will probably be in the minority.
Conclusion
There are many fantastic video editing software options out there, and YouTubers use a wide variety of solutions to make videos.
Approved by filmmakers, Adobe Premiere Pro and Apple's Final Cut Pro stand out from the crowd, but strong results can certainly be achieved without a huge outlay. See our guide Adobe Premiere Pro vs Apple Final Cut Pro to figure out which one will suit you best.
For some productions, free options like Lightworks or DaVinci Resolve could be the best choice. With every customer in the market — from fledgeling vloggers to established filmmakers — being so well served, the incredible volume of content uploaded to YouTube each day is easy to understand.
When deciding which video editor to use for your YouTube channel, it all comes down to what content you want to produce - and which one fits your unique creative workflow.
Are you a pro? Subscribe to our newsletter
Sign up to the TechRadar Pro newsletter to get all the top news, opinion, features and guidance your business needs to succeed!
I am a London-based writer with work in many national titles, trade publications and magazines. I have extensive in-house and agency copywriting experience across many industries, specialising in tech, entertainment, and current and consumer affairs. I am passionate about the work of Heung-Min Son.