PSVR 2, Sony's current-generation virtual reality headset, has been off to a rocky start. It's been on store shelves for little over a month, but already the writing's on the wall: Sony needs to do its headset some favors if it wants to shift more units.
As great as PSVR 2 is, it's not really living up to its fullest potential yet. The game library appears largely uninspiring, packed with ports of VR games you can get on other, cheaper headsets like Meta Quest 2. And what few exclusive games there are, like Horizon: Call of the Mountain, come in at full price.
Given the astronomical cost of one, getting the headset for your PS5 and two, actually purchasing games for the thing, it can leave one's bank account feeling gut-punched and winded. Sony would do well to offset some of that cost with its excellent PS Plus subscription service. So why doesn't it?
The benefits of PS Plus
In recent months, I think the PS Plus service has really come into its own. We've seen massive games like Horizon: Forbidden West and Uncharted: Legacy of Thieves Collection come to Sony's digital library recently. So it's clear that the hardware manufacturer is growing more comfortable with hosting some of the best PS5 games in its Game Catalog. And with anticipated upcoming games like Tchia arriving on launch day, PS Plus is starting to shape into a confident Xbox Game Pass rival.
If I was Sony, I'd be very interested in continuing to host games on the service that you cannot get anywhere else. At least for the cost of a monthly subscription. The best PSVR 2 games are ripe for this, I feel. Much like its Xbox Series X|S rival, PS Plus is an excellent tool for game discovery. If I'm a fresh PSVR 2 owner, I'd be extremely keen to download and play entirely new experiences at no extra cost.
VR typically lends itself well to smaller, more novel experiences. Be it Star Wars: Tales from the Galaxy's Edge authentic blaster-based immersion, Superhot VR's frantic dipping and diving or Tetris Effect's immaculate vibes, the VR gaming space is nothing if not full of surprises.
That feeling of discoverability would play so well into PS Plus' Game Catalog. You could even have a separate VR Catalog, tailor-made to showcase a variety of fun and innovative games playable only on a VR headset. And it works both ways: you ship more PSVR 2 units, getting more and more people comfortable with the VR space, and boost PS Plus subscription numbers in turn.
Cold feet?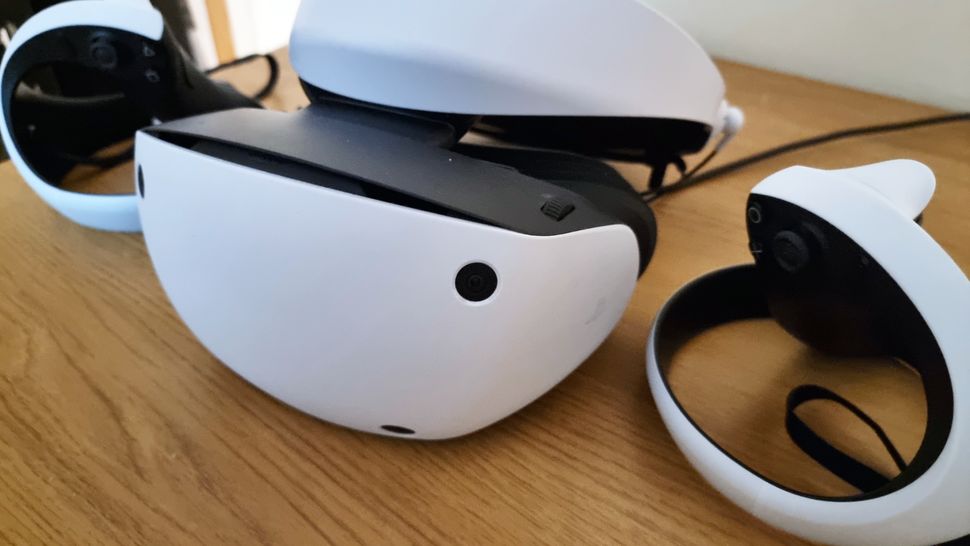 So that begs the question: why is Sony passing on something that it could greatly benefit from? There's the argument that VR is still a niche space. And by including PSVR 2 games on PS Plus, you may only be appealing to a subset of a subset, when there's always bigger fish to fry, more heads to turn with the marquee Game Catalog selection.
But I'm not quite on board with this. As it stands, PSVR 2 is the only game in town when it comes to console-based VR. And Sony clearly wants its headset to be more than a niche product enjoyed by a fortunate few. Sony's CFO, Hiroki Totoki, has expressed optimism at PSVR 2 outselling its predecessor, the PlayStation VR.
Right now, that's not looking particularly achievable, with the report that PSVR 2 is underperforming. If true, I'd say there's no better time than now for Sony to better incentivize its player base to opt into VR. A price cut would help, obviously, but even if PSVR 2 has its retail price slashed significantly, that only solves half the problem. You still want players to be able to experience most of what the headset has to offer.
And I think that's why PS Plus is crucial to PSVR 2's long-term success. The majority of its games, at present, are available on competing headsets. So what if we could try some of these relatively bite-sized experiences, like Puzzling Places, Kayak VR and Townsmen VR, without paying a penny extra? This feeds into PS Plus's discoverability factor, and wouldn't require players to spend hundreds more on a handful of titles.
Sony will likely stick to its guns on the high price of PSVR 2, which is all the more reason it could stand to offer at least some of the headset's library on PS Plus. Perhaps it's an ace the company has up its sleeve, waiting for the opportune moment to boost PS Plus's Game Catalog with a swathe of new games. If we're not getting a price cut, I think this is the least Sony can do to make PSVR 2 all the more appealing to a wider audience.