Buying a printer that is not costly to run is not as simple as it used to be thanks to the bewildering array of options on offer. I looked at dozens of printers from the major manufacturers and retailers to find out which ones are the cheapest to run and/or own.
This is particularly important for anyone who wants to print more than just a few pages: from freelancers to small businesses, from remote workers to gig operators and everyone in between.
In this guide, we will look at the printers with the lowest initial cost and the lowest printing cost for a wide range of use cases: home, office, large format etc.
In a hurry? Here's what you need to know
Why you can trust TechRadar We spend hours testing every product or service we review, so you can be sure you're buying the best. Find out more about how we test.
Swipe to scroll horizontally
Cheapest printer to run vs Cheapest printer to own: What's the difference
It is important at this stage to differentiate between the two. A printer might be cheap to buy but not cheap to run: like the razor blade, where the cost of the consumable is significantly higher than the initial cost of purchase, replacement toner or ink cartridges (commonly known as consumables) is often higher than the cost of the printer itself. That has given rise to an entire class of products: refills, compatible cartridges and so on. Lately though, manufacturers have come up with new alternatives like ink subscriptions, approved refills or printers with tanks that aim to reduce the cost of printing. All this is neatly summarized in the table below.
Swipe to scroll horizontally
| Header Cell - Column 0 | Traditional printers | Ink subscriptions | Approved Refills | Big tanks | 3rd party Cartridges |
| --- | --- | --- | --- | --- | --- |
| Initial cost | ★★★★★ | ★★★ | ★★★ | ★★ | ★★★★★ |
| Running cost | ★ | ★★ | ★★ | ★★★★★ | ★★★★ |
| Recurrent payment | No | Yes | No | No | No |
| Voids warranty | No | No | No | No | Yes |
| Guaranteed quality | Yes | Yes | yes | yes | No |
| Maintenance | ★★★★ | ★★★★ | ★★ | ★★★ | ★★★★ |
The manufacturers I considered for this buying guide are Epson, Brother, HP and Canon.
Brands I didn't consider include Kyocera, Oki, Lexmark and Xerox because they target enterprise primarily. I looked at their cheapest printer and their cheapest printer to run (based on the manufacturer data and retail price of the cartridges). Just remember that prices of printers and consumables change all the time depending on seasonality and stock availability. To mitigate this caveat, here are the direct links to the printer pages on the main retail sites for the latest prices.
---
I chose the Canon PIXMA G2260 all in one printer. Right now, it has a special promo price of $109.99, down from $199.99 at Amazon, almost half the price. That is an excellent deal and is the cheapest tank printer on the market with a big caveat though; it is not wireless, which means that you will have to connect it to your computer via USB; as such there's no smart features; you can't print from a mobile device and there's definitely no app. If you can live with this compromise, then this may well be the only printer you will need.
Out of the box, you can print 6,000 mono pages and 7,700 color pages, yielding the cheapest cost per page for a printer purchased outright. Replacement ink for black costs $17.99 ($0.003 per page) and 12.99 for the color ones ($0.002 per page). My purchase advice still holds for monochrome printing.
So while it costs you $110 for your first set, subsequently, it will cost you far less. Printing 100,000 mono pages during its lifetime will cost you only $260 in ink costs (13 bottles). Do that with the Xerox B230, a standard entry level laser printer, and you're looking at around $3,500 (17 toners and nine imaging units) based on the manufacturer's specifications. Oh and Canon also gave two ink bottles worth $35.98 for free.
We have not reviewed it but Rtings had tested back in February 2021 and found that it was slow, images were grainy, it doesn't do double-sided printing and doesn't support printing from a USB thumb drive or a memory card. In addition, its monthly print cycle (the number of pages it can print in a calendar month) is unknown.
On the plus side, there's a scanner (albeit without an automatic document feeder), its photo printing quality and color accuracy are decent, it is extremely compact for an all-in-one tank printer and you can bump the warranty to four years. Not bad for a $110 tank printer; buy it as stocks last as we don't think that Canon will offer it for much longer because of the lack of wireless connectivity.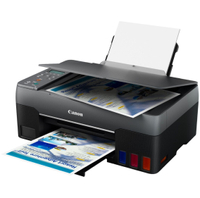 Canon G3260 is the cheapest wireless printer to run
Another one from Canon, the G3260 solves the biggest issue of the G2260 by adding wireless connectivity (as well as app support for). Amazon Buy sells it for $177.60, a saving of $22 with the added benefit from getting a 4-year Amazon product replacement warranty for a mere $29.99. The rest of the pros and cons remain consistent, the G3260 is a minor upgrade from the G2260.
Brother's MFCJ5340DW is the cheapest A3 printer to run when paired with the company's EZ Print subscription monthly print plans. The printer itself sells for $249.99 with the best value ink print plan costing a mere $0.04 per page ($15.99 for 400 pages, the highest plan), which is exceptional value for money especially as you can print A3 pages. Not only that, you get free extended limited warranty for as long as you stay enrolled on the EZ Print subscription. You can roll over up to 800 pages and you will be charged $1 for every 15 extra pages you print.
As for the printer itself, it is massive, not a surprise given the fact that it handles A3 media. It does two-sided printing (up to legal) but only one-side scanning and oddly enough doesn't do A3 scanning; Only up to A4. We reviewed its predecessor, the J5330DW and found that it's reasonably fast on office documents but much slower on photos. The J5340DW also features dual-band wireless, Wi-Fi direct, an Ethernet cable and even works with Alexa.
Right now though, I'd buy the MFCJ6555DW which is a bit more expensive ($279.98 after a $50 instant rebate) but scans up to 11-inch x 17-inch (though still without matching ADF capabilities), is a tad faster, does duplex to ledger size and has enough ink bundled for 3600 prints (presumably A4) which makes it a better deal than the 5340DW in my eyes. Brother calls it INKvestment and says the bundled ink is equivalent to one year. My take on it? Use it and switch to the subscription afterwards.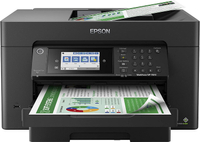 Epson WorkForce Pro WF-7820 is the cheapest A3 printer
Epson has the cheapest A3 (or ledger) wide-format printer on the market with the WorkForce Pro WF-7820 seeing a hefty 29% price cut down to $213.80, from $299.99, at Amazon. Like most other printers in this price range, it offers duplex printing by default and scans up to A3 on both sides. Just bear in mind that it is bulky, as are all A3 all-in-one printers and there isn't an EcoTank equivalent, which means that the cost of printing, especially if you print a whole A3 page at a time, will be prohibitively expensive in the long run. Shame as well, about the warranty (only one year included) and the lack of extended warranty plan beyond an extra year; Canon offers up to four years in comparison.
The Canon Pixma TS202 is the cheapest printer right now at just $40.97 with the option to buy a four-year warranty for $8.99. This is a single-function printer (you can't scan or copy) and it is a wired product (no wireless, no mobile app) which may explain why it is being discounted. It has a very small footprint, great if your office desk isn't big enough and there is no USB cable (remember, that's a square type, not the cheap Type-A or Type-C model).
I couldn't find how many pages can be printed using the included ink cartridges; note that these are starter ink packs and the color ink cartridges are tricolor which means you will have to dump the cartridge any color is empty. Our advice? Spend a bit more money on something else. This is a classic case of a printer that has too many corners cut with a clear path to expensive consumables.
---
What I have learned
At least one major printer manufacturer has dropped laser printers altogether. Epson has stopped selling laser printers and when it comes to cost of running, inkjet printers are the clear winners regardless of whether you are looking at the cheapest cost per page or the cost of the printer alone.
We have to trust the vendors for the rated quantities. According to Epson, "actual ink yields will vary considerably for reasons including images printed, print settings, temperature and humidity. Yields may be lower when printing infrequently as Ink will be used for printing and printer maintenance". The takeaway is to print often, even if it is one page every week. A clogged printhead will not only impact print quality but may reduce the lifespan of your printer. Think about taking a maintenance pack to avoid any potential issues; Canon's CarePAK plus protects against accidental damage and costs $39.99 for four years.