(Update: We're at the GooglePixel 3 event, and the tech giant has just unveiled the Google Home Hub, its first-party smart display. For all the breaking news head to our Google Home Hub release date, news, and features article, which will be updated in real time.)
Right now, the Google Home Mini is the cheapest way to buy into Google's smart home ecosystem while still having full use of its pioneering Assistant at under $50 (£49 / AU$79), and it has enjoyed largely positive reviews – except for the sound quality, which seems to have suffered as a result of the smart speakers' small stature.
(Update: At the moment it doesn't look like we're getting a new Google Home Mini any time soon, as there has so far been no mention of it at the Google Pixel event. However, we'll keep updating this article as we get more information - head to our live blog for real time updates.)
Although it's unclear whether the Google Pixel event on October 9 will see the launch of a new Google Home Mini, there are a few things we'd like to see in the Google Home Mini 2 should we be lucky enough to see a new model:
More powerful sound performance
The main issue we found with the original Google Home Mini is that the sound wasn't the most powerful, which meant it wasn't particularly suitable as a standalone speaker, and was more suited to being a desk buddy.
Google could rectify this by adding some separate tweeters to add clarity to the treble frequencies, making the overall sound a little crisper, plus enabling a fuller, 360-degree soundstage, which we'll look at in more detail next.
Better bass
The Google Home Mini performs fairly well in terms of treble frequencies, with vocals and hi-hats coming through with clarity and sparkle; however, this is to the detriment of the rest of the sound from the gadget.
Although we don't expect the bass to be super-thumpy given the form factor, we would like to see a little more force in the mid-low frequencies in the Google Home Mini 2.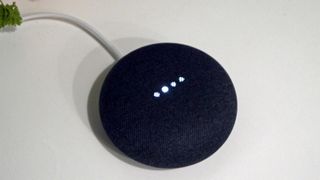 True 360-degree soundstage
Despite being pitched as having a 360-degree soundstage, we found that the Google Mini fell flat in this regard – once again, if at least two separate tweeters were added to the speaker, the sound would feel far fuller, much like its big brother, the Google Home Max.
This is because treble frequencies usually come across as more directional than low-mid frequencies, giving the impression of stereo sound.
Portability
Given the Google Home Mini's small size, the lack of portability seems to be quite the oversight from Google, as the Mini has to be plugged in to work.
Right now, the Mini is unable to hold a charge, although some companies have developed battery stands that enable you to take the smart speaker out and about - we'd love to see the Google Home Mini 2 either with an internal battery, or for Google to bring out their own battery stand.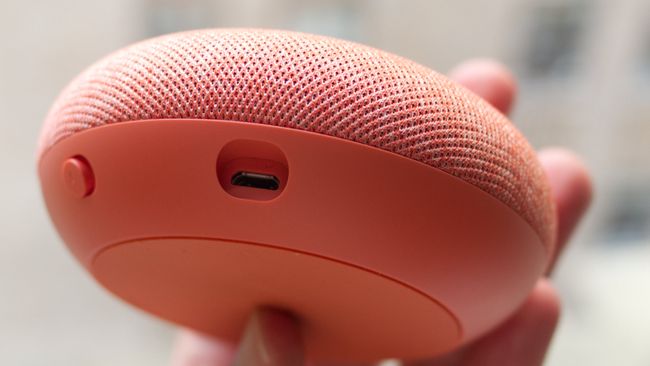 Easier Bluetooth pairing
Although it is possible to pair the Google Home Mini with your smartphone or laptop via Bluetooth, we found that this feature wasn't exactly built with user-friendliness in mind, as the feature is hidden rather well within the Google Home app.
For any updated version of the Google Home Mini, we'd like to see Bluetooth pairing take more of a center stage within the app - after all, we imagine a lot of users still like scrolling through Spotify or Youtube manually to find their music as opposed to using the inbuilt Google Assistant.
Google Home Mini 2 news and rumors
So far we've not heard much in the way of rumors for the Google Home Mini 2, and while it initially looked like we were certain to get an update on the original Google Home Mini on October 9, it now looks less likely now that Google has announced the new Google Home Hub.
In an effort to beat the leakers, Google recently announced the Google Home Mini is now available in a brand new color: a fresh mint green shade.
Whether this is a sign that we won't be getting a new Google Home Mini at the Pixel 3 event remains to be seen, but we will be covering all the action on the day, so stick with TechRadar for updates.