Move over, . The BlackBerry KeyOne is the latest smartphone comeback story of 2017, even if the company behind it is really China's TCL Communications.
It's touted as the most secure Android phone, pre-loaded with smart, enterprise-level mobile software and, at last, delivers an old-school physical keyboard within a modern enough design.
This is the reinvented BlackBerry for everyone wholly determined to reclaim a tactile keyboard and BlackBerry Messenger. It works great for typing once you get used to the keyboard again.
'CrackBerry' addicts have something to look forward to here. But it's a workaholic. BlackBerry KeyOne is all business in the front and back, less of a multimedia party anywhere in between.
The screen is bright and colorful, but its 3:2 aspect ratio leaves you with black bars on all 16:9 video and small-looking movies. The audio comes out one bottom-firing speaker. It's like this phone clocks out at 5pm sharp when it comes to the fun stuff.
BlackBerry KeyOne is clearly an Android phone that has productivity users in mind. It's one of the best at helping you manage tasks, even if it doesn't have the latest chipset. It works as an entertainment device, too, but it's not the best at it.
Does this new BlackBerry phone have enough of an enterprise advantage to lure you back from your on-screen, makebelieve keyboard? Let's get down to business and put it to the test.
Price and release date
£499 in the UK at Selfridges and Carphone Warehouse
$549 in the US unlocked on May 31 and on-contract via Sprint later this summer
The BlackBerry KeyOne price is somewhere in between Wall Street and Main Street, costing $549 (£499, AU$729). It's cheaper than an or the Samsung Galaxy S8.
What it lacks in top-of-the-line internal chip specs it tries to make up for with unique features like sophisticated software and its physical keyboard. It's a trade-off that makes it slightly cheaper.
There are two versions of the BlackBerry KeyOne in the US: an unlocked version that's GSM and CDMA capable across the networks, and a summer-bound CDMA model for Sprint.
If you're lucky enough to be in or around London, England, you can get your hands on a BlackBerry KeyOne right now - with prestigious store Selfridges securing world exclusive availability until May 5.
After May 5, you'll be able to purchase the KeyOne throughout the UK at Carphone Warehouse, with more retailers and carriers coming on board through the month.
The BlackBerry KeyOne US release date is a longer wait. The unlocked model is scheduled for May 31, with the same on-sale date in Canada, too.
Keyboard
BlackBerry's signature keys return, spurning the new all-screen trend
Makes for a more precise, but slow typing experience
Neat tricks: 52 key shortcuts, trackpad-like movement and suggested word-flicking gestures
The Blackberry KeyOne is all about its physical keyboard in a world dominated by touchscreen iPhones and Androids. It's the exact opposite of the Galaxy S8 and all-screen trend.
BlackBerry's signature keyboard is a welcomed change if you miss the tactile feedback of a real smartphone keyboard. It's a throwback to a time before throwback Thursday was 'a thing.'
It's a throwback to everyone's old Monday through Friday daily driver with 35-chicklet-style keys, and each one it properly backlit. There's no need for an on-screen keyboard to hog your display.
It does take several hours of typing to re-learn how use it. At first, it's problematic. B shares a key with ! and caused us to say "How's your day goingB" with quickly apologize. "Sorry, mom."
We found ourselves making fewer mistakes going back to a BlackBerry, but overall slower at typing. While we sped up our characters-per-minute output over time, we were never faster versus typing on an on-screen keyboard. Just more accurate and less autocorrect dependent.
There are several new twists to make life easier. It has 52 customizable shortcuts, so every long and short press gets you somewhere faster. Hold down on the 'I' key while on the home screen and you instantly get to Instagram.
Blackberry KeyOne has three-word suggestions across the bottom of the touchscreen as part of its contextual next word prediction engine. It's smart, but could use punctuation predictions.
Also, don't expect helpful emoji predictions like you would on . That's too fun for a BlackBerry. Emojis are buried two menus deep.
You can, however, select a suggested word without ever lifting your thumbs from the keyboard. Just slide up on the keys and it'll almost flick the word right onto the screen.
This word-flicking gesture works most of the time in one upward motion and feels slightly faster than tapping one of the on-screen choices. At times, we'd accidentally hit one of the capacitive buttons – home, back or recent – which sit in between the screen and keyboard.
The entire keyboard also acts as a trackpad, so you can scroll through menus and web pages as you lightly pet the keys. You, again, don't need to put your fingers on the screen.
Flicking suggested words onto the screen and scrolling with the keyboard makes the screen feel slightly bigger, though we did run into instances where we tried to begin typing a text and were suddenly scrolling up our message history.
Phone design
Two-tone sophisticated look: black soft touch back and silver accents
Biometric fingerprint scanner is hidden inside the space bar
Ironically named connivence key is more annoying than it is helpful
Strangely, no dual-SIM option for international business travelers
The BlackBerry KeyOne has an air of sophistication to it, even as it blends the old and the new technology. It looks like a productivity tool carried by the workforce elite.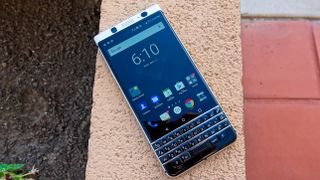 Its screen-and-keyboard combo is outlined in a silver anodized aluminum frame and backed by a black, soft grip textured rear cover. This stylish, two-toned look is has real character.
No, the rubberized back isn't really leather, but it gives off that impression. The anodized aluminum frame is scratch-resistant and stood up to some completely on purpose minor abuse.
The most clever thing about this new BlackBerry design is that it hides the fingerprint sensor inside the small space bar at the bottom of the phone. It's an odd shape for a biometric scanner.
The good news is that the blended fingerprint sensor works really well here with a near 0% fail rate. It's also easy to access on the front and it can wake the phone from a screen-off state.
BlackBerry KeyOne likes to mix things up when it comes to the its buttons and headphone jack. The power is on the left side, the volume rocker is on the right and the 3.5mm jack is at the top. It's like this grown-up smartphone is secretly a kid still playing opposite day.
There's another button – the convenience button – that throws one more shortcut into design. It can be mapped to anything you want, unlike Samsung's draconian Bixby button that does little.
We mapped the convenience button to launch the camera app, but found it more annoying than helpful due to its easy-to-mispress location. "Oh, the camera is open... again."
During calls, it functions as a mute button, which we found useful. It's easy to remember this button exists during active calls, not when you're first picking up your smartphone from a table. "Again, with the camera opening?!"
KeyOne is the second BlackBerry to use USB-C (after last year's ) and this new, reversible USB standard is a helpful change, as it uses Quick Charge 3.0 for faster charging. Your old collection of monodirectional BlackBerry mini and micro USB cables are now useless.
There are two changes we would have liked to see in an otherwise great update the BlackBerry design. The mono speaker on the bottom frame helps no one, on-the-go entertainment seekers and business speakerphone devotees alike.
We're also surprised the BlackBerry KeyOne doesn't have a dual nano SIM tray when many unlocked phones out of China now have options for using either a second SIM or microSD card. This just has the latter expandable storage option, not dual-SIM to the chagrin of jet-setting international business travelers.
Screen
4.5-inch Full HD screen feels like a 5.5-inch screen due to bigger width and your thumbs staying put on the keyboard
The bright display looks great, but its 3:2 aspect ratio forces 16:9 video to feel small by placing black bars at the top and bottom
This is not a multimedia showstopper, it's a workhorse
The BlackBerry KeyOne display shares the front face of the phone with the keyboard, so it can't compare to an trendy new all-screen Android phone. You just can have everything in life.
What it does is give you a bright, but misshapen 4.5-inch Full HD screen. One third of the real estate taken up by non-screen parts (keyboard, capacitive buttons and a front-facing camera).
It feels like a 5.5-inch display thanks to its familiar 3-inch width, and we wouldn't want it much longer. Anything taller would make this already 180g phone feel top-heavy when holding the very bottom of the keyboard.
We end up with a screen that's bright, colorful and gives you more usable space thanks to the the keyboard and trackpad-like scrolling. But not every app adjusts to a 1,620 x 1,080 resolution.
You're going to run into problems with the 3:2 aspect ratio on a daily basis. All 16:9 video feels extra small with top and bottom black bars. Snapchats and Instagram Stories are also cut off.
The good news is that most scrollable productivity apps and interactive games adapt to the size. It's just movies and fixed-length photo apps that give the BlackBerry KeyOne trouble.
You'll find split-screen multitasking thanks to Android 7.1 Nougat, but it's a bit cramped. There are a few sacrifices if you want a keyboard on a smartphone in the modern day.