uTorrent was once a lightweight, open source alternative to BitTorrent's official software. Its speed and streamlined interface made it the tool of choice for music, movie, and game fans worldwide, but after its acquisition by BitTorrent in 2016, its popularity waned.
Soon after the buyout, uTorrent became closed-source, preventing users from modifying its code to create their own variations, and contributing to its development. Advertisements also began to appear in its once-simple interface, giving former fans a further reason to look elsewhere.
At first blush, there seems to be a vast array of free alternatives to uTorrent, but in reality many of them are riddled with malware and rife with security issues. That's why we've done the hard work for you and compiled a definitive list of the best, fastest, and most secure options available, complete with their respective pros and cons.
Lightweight and full of features, with none of uTorrent's bloat or ads
For anyone looking for an alternative to uTorrent that looks similar but lacks the bloat, qBittorrent has a lot to offer. This lightweight client manages to pack quite a punch without devouring system resources.
Like all good clients, it supports both torrent files and magnet links, and the installer is pleasingly free from unwanted adware or other extras. Despite its close resemblance to uTorrent, qBittorrent doesn't feature any ads, leaving you free to get on with managing torrents without distractions.
There are some nice touches like the ability to shut down or hibernate your computer once downloads are complete, the ability to create torrents, and an integrated RSS reader to help you keep up with your favourite sites. There's also a torrent search engine available (if you don't mind installing Python), and all the essential controls (prioritising, pausing etc) can be accessed through either the main toolbar or via tabs on the multi-pane interface.
Its shallow learning curve, clean installer, lack of ads, and array of features make qBittorrent the best free alternative to uTorrent.
Review and where to download: qBittorrent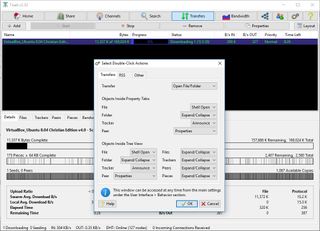 Another lightweight uTorrent replacement, with anonymous chat channels
Tixati's design is rather an acquired taste – it's something of a hideous rainbow explosion to start with – but there are personalization options to tame it.
As well as all of the standard torrenting features such as throttling, encryption and bandwidth management, there is also a social aspect to Tixati. Channels (decentralized and anonymous) can be used to chat with seeds and peers, which could prove handy if you're struggling to grab the last few megabytes of a file and want to ask for more seeds or faster uploads.
Tixati is very light on system resources meaning it is lightning fast, and the encryption and security features included should help to calm the fears of anyone who is slightly anxious about torrenting.
Download here: Tixati
Some settings are tricky to find, but it's easy to use once you know its quirks
Transmission was originally only available for Mac and Linux, but the Windows version is starting to gain traction too.
In the past, Transmission has experienced issues with security and malware, but these have now been resolved and the software can be evaluated for what it is: a decent torrent client. It's worth noting that it's presented as 'early preview' software, so it's still very much a work in progress.
Transmission isn't going to win any beauty pageants – little effort has been taken to make the interface attractive or appealing. That said, it still manages to get the job done. It's slightly unfortunate that the program will be off-putting to many people simply because many options are slightly hidden. Adjusting settings for individual torrents, for instance, requires you to double-click the entry for the torrent as there is no secondary pane to allow for easy editing.
Transmission isn't for everyone, but it's worth a look when you're moving on from uTorrent.
Download here: Transmission
An excellent cross-platform uTorrent replacement, with plugin support
You're spoilt for choice when it comes to the platforms supported by Deluge. As well as Windows and Mac editions, there are also version available for all the major Linux distros – you can even download the source code if you feel like getting your hands dirty.
Windows users will find that the program looks more limited than the other options here, and that first impression is correct – as a client it only really has the basics covered. Thankfully, Deluge support plugins and there are dozens available (official and third-party) to download free. This means that despite its apparent simplicity, Deluge is actually the most customizable torrent client out there; you can pick and mix the features you want and ignore the rest. If you don't want RSS support, for instance, there's no need to add it. Deluge also supports remote access, and offers convenient extensions for all the popular browsers.
Review and where to download: Deluge
The official client has the basics covered, but like uTorrent, it's ad-heavy
BitTorrent is the original, but not necessarily the best, torrent client. You might have very high hopes for BitTorrent Inc's official software, and while it's perfectly adequate, it's not much more than that.
If you're just looking for a tool to get the job done and you don't want to place your trust in third party tools, it might well be worth investigating. Things get off to a good start as the client is available for Windows, Mac and Android. All are free but ad-supported, and there are 'Pro' versions available if you prefer an ad-free experience. You also have to watch out for bundled adware during the installation.
BitTorrent offers support for torrents, magnet links, as well as torrent search engine files. If you've used uTorrent, you know what to expect; this software is largely identical, but there's the added bonus of being able to create torrents.
Review and where to download: BitTorrent