After years of the processor market being dominated by Intel, it looks like AMD is back in the game with the launch of its new AMD Ryzen range of processors.
If you're excited about upgrading your machine, then you've come to the right place, as we've scoured the internet in the US to find the best deals for Ryzen processors.
Of course, with a new CPU comes new motherboards as well, so we'll also feature the best deals on Ryzen-compatible AM4 motherboards in the US to help you build your new (or upgraded) PC, as well as Ryzen CPU and motherboard bundles, and pre-built Ryzen PCs.
AMD has designed its Ryzen CPUs to bring powerful, octa-core performance for an affordable price – compared to Intel's relatively pricey chips. For instance, the AMD Ryzen 7 1800x offers comparable performance to Intel's Core i7-6900K chip for nearly half as much scratch.
Pre-orders have begun for the Ryzen processors, and they will start to go on sale on March 2. Still, it's never too early to bag yourself a bargain, and to make sure you're not disappointed if these processors sell out fast.
The best AMD Ryzen deals in March 2017
AMD Ryzen 7 1700 65W 8 Core 3.7GHz: This 8-core processor comes with a base clock of 3GHz and a turbo clock of 3.7GHz, as well as an unclocked multiplier for manual overlocking and AMD's Wraith Spire cooler for only $329 from Amazon
AMD Ryzen 7 1700 65W 8-Core 3.7GHz: NewEgg isalso offering the very same Ryzen 7 1700 CPU deal for pre-order. It also comes with the Wraith Spire CPU cooler with red LEDs for the same $329 on NewEgg
AMD Ryzen 7 1700X 95W 8-Core 3.8GHz: This 'X' version of the Ryzen 7 1700 comes with automatic XFR overclocking, which based on the CPU cooler you use, will automatically overclock the CPU so that you get the maximum performance out of it. This CPU is sold without a cooler, so you'll need to make sure you buy one separately. It's going for only $399 on NewEgg
AMD Ryzen 7 1800X 95W 4.0GHz: AMD's flagship Ryzen CPU, the Ryzen 7 1800X is an absolute beast, and has already broken overclocking world records. Best of all, the price is still pretty reasonable considering the pure power you are getting here. Get it for just $499 on Amazon
The best AMD Ryzen AM4 motherboard deals in March 2017
MSI X370 Xpower Gaming Titanium AMD X370 (Socket AM4) DDR4 ATX Motherboard: If you're building a PC for gaming, then this Ryzen-compatible motherboard is a great choice for supporting multiple GPUs, DDR4 RAM and loads more – like some funky "Mystic Light" effects. Just $299 on Amazon
ASRock "Fatal1ty" X370 Gaming K4 AMD X370 (Socket AM4) DDR4 ATX Motherboard: This is a fine gaming motherboard for Ryzen builders looking to save a little, allowing for multiple graphics cards as well as watercooling for overclocking your Ryzen CPU when it launches March 7. Not too for just $144.99 on NewEgg
MSI B350M Gaming Pro AMD B350 (Socket AM4) DDR4 Micro ATX Motherboard: This is probably the cheapest AMD Ryzen motherboard you can buy at the moment, and ideal for smaller builds to boot. That doesn't mean it lacks features though, supporting up to 64GB DDR4 RAM in two slots and six USB 3.1 ports for only $79 from NewEgg
The best AMD Ryzen processor and motherboard bundle deals in March 2017
AMD Ryzen 7 1700X Processor & Asus Prime X370-PRO motherboard: You can save some money by buying CPU and motherboard bundles. For example, this deal sees you saving $20 compared to the price of the CPU and motherboard if bought separately. You get the fantastic AMD Ryzen 7 1700X CPU and the Asus Prime X370-PRO motherboard with RGB lighting– perfect for building enthusiasts. Get it for just $559 on Amazon
In the US, Amazon appears to hold the best – and one of the few – online bundles for AMD Ryzen processors, with this offer standing for both of the other two Ryzen chips in the lineup:
The best AMD Ryzen PC deals in March 2017
iBUYPOWER NE3101EA – AMD Ryzen 1700 @ 3GHz: This pre-built gaming PC comes with the Ryzen 1700 CPU, clocked to 3GHz, 8GB of DDR4 memory, a 1TB hard drive (HDD), a 120GB solid-state drive (SSD), an AMD Radeon RX 480 and Windows 10 Home 64-bit. That's all inside a badass-looking chassis for just $1,099 on NewEgg
CybertronPC Rhodium RXM7201A – AMD Ryzen 7 1700X @ 3.4GHz: This gaming PC is slightly harder on the wallet, because it's markedly more powerful. You get the AMD Ryzen 1700X processor, 16GB of DDR4 RAM, a Radeon RX 480, a 120GB SSD, a 2TB HDD – all in Windows 10 Home. You can have this rig, all wrapped in a white and blue LED-lit chassis for only $1,264.99 on Amazon
CyberpowerPC SLC8520A Gamer Supreme – AMD Ryzen 7 1800X @ 3.6GHz: Naturally, this is a mighty pricey bundle, but the cheapest we could find with AMD's most top-end card. Rounding out the gorgeously-wrapped, orange LED-lit package are 16GB of DDR4 memory, an Nvidia GTX 1070, a 2TB HDD, a 120GB SSD and Windows 10. All of that can be had for just $1,799 on Amazon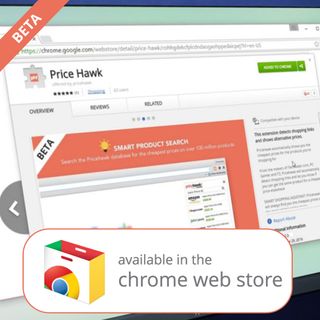 Try our new Google Chrome add-on and never pay more than the cheapest prices ever again!
Pricehawk is a Chrome extension that will automatically find you the cheapest deals for the tech and games items you're shopping for online. It'll also let you know if there are voucher codes you can use to save even more money!
Visit Pricehawk: in the Google Chrome Store