The OnePlus 3T is official. But while technically it is a new phone, even calling the 3T an incremental upgrade feels like a step too far.
OnePlus even admits that this is just a variant of the same phone we saw launched earlier this year.
It sports the same screen, design and fingerprint scanner as the standard OnePlus 3, but adds in some newer components and carries a slightly higher price tag.
As for the name, OnePlus co-founder Carl Pei says the 'T' is open to interpretation, while also noting that T is the next letter after S in the alphabet.
Confused? Well fear not, as we have everything you need to know about the new OnePlus 3T.
Cut to the chase
What is it? A slightly upgraded OnePlus 3
When is it out? US: November 22 | Europe: November 28
What will it cost? Starts at £399, $439 (around AU$580)
OnePlus 3T specs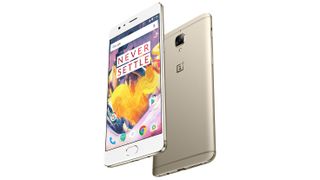 Weight: 158g
Dimensions: 152.7 x 74.7 x 7.35mm
OS: Android 6.0.1
Screen size: 5.5-inch
Resolution: 1920 x 1080
CPU: Snapdragon 821
RAM: 6GB
Storage: 64/128GB
Battery: 3,400mAh
Rear camera: 16MP
Front camera: 16MP
OnePlus 3T release date
US: November 22
Europe: November 28
The OnePlus 3T will be available to buy in the US from November 22, although those in Europe will have to wait a little longer.
The OnePlus 3T release date for Europe is set for November 28. In the UK you'll be able to pre-order the OnePlus 3T from O2 on November 17.
TechRadar's take
OnePlus may have just got the 3T out in time for Christmas, but with delivery delays blighting past launches for the firm you can't necessarily trust that it'll arrive in time to go under the tree.
OnePlus 3T price
64GB: $439, £399 (around AU$580)
128GB: $479, £439 (around AU$630)
The OnePlus 3T is available in two storage sizes: 64GB and 128GB.
The 64GB model will set you back $439 (£399, around AU$580), which is $40 (£70) more than the OnePlus 3.
Meanwhile the 128GB variant – a storage size which isn't available for the OnePlus 3 – comes in at $479 (£439, around AU$630).
In the UK you'll be able to grab the OnePlus 3T on contract from O2. Prices start at £31 per month for the 64GB model, and £33 per month for the 128GB variant.
TechRadar's take
At an additional $40 (£40) for the 128GB model we'd definitely go for the larger storage size here. In comparison, Apple charges $100 (£100) to leap from 32GB to 128GB.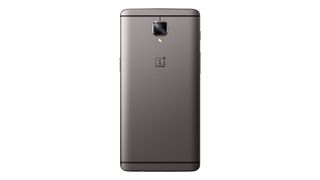 OnePlus 3T display
5.5-inch full HD AMOLED display
Several rumors ahead of the OnePlus 3T launch suggested the new phone would ditch the AMOLED display in favor of an LCD panel, with the latter being cheaper and easier to come by, resulting in faster production.
Thing is, that hasn't happened, with founder Carl Pei tweeting the continued AMOLED love ahead of the 3T announcement.
OnePlus will be staying with Optic AMOLED displays for the foreseeable future.October 13, 2016
The OnePlus 3T screen is one of the features which has stayed the same, with a 5.5-inch Optic AMOLED panel adorning the front of the phone, with the same full HD resolution.
TechRadar's take
We were hoping OnePlus would bump resolution to QHD with the increased price tag on the 3T – but the full HD AMOLED panel from the OnePlus 3 is still a decent offering.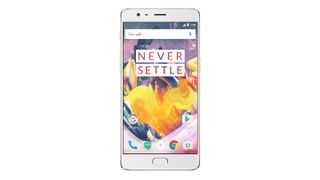 OnePlus 3T design
Same size, weight and metal unibody as OnePlus 3
New gunmetal color
Physically, the OnePlus 3T is identical to the OnePlus 3. It has the same size metal unibody, with a rear camera bump and a front-facing fingerprint scanner-come-home key.
The weight remains at a manageable 158g, and the body measures 152.7 x 74.7 x 7.35mm.
There's a new color option though, with gunmetal gray joining soft gold as the two options for the OnePlus 3T. It's worth noting that the 128GB version will only be available in gunmetal gray.
TechRadar's take
It's a look we rated highly on the OnePlus 3, and while we'd have liked to have seen a little design tweak with the 3T it's still a premium-looking and premium-feeling handset.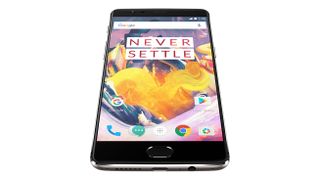 OnePlus 3T power
Snapdragon 821 and 6GB of RAM
The OnePlus 3 rocked up with some serious power – a Snapdragon 820 processor and 6GB of RAM – but the Chinese firm has seen fit to cram even more into the OnePlus 3T.
The new OnePlus phone comes with the punchier Snapdragon 821 chip, with the same 6GB of RAM. More power than you can shake a stick at, that's for sure.
OnePlus says the 3T is much faster when it comes to launching games and apps – claiming that it'll give the Galaxy S7 Edge and iPhone 7 Plus a run for their money.
TechRadar's take
The OnePlus 3T should be quicker when it comes to loading intensive apps and games, and when multi-tasking – although the OnePlus 3 wasn't exactly a slouch.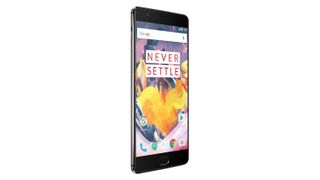 OnePlus 3T battery
Bigger, 3,400mAh battery
Dash Charge enabled for fast top-ups
The OnePlus 3T has a bigger battery (up 13%) than the 3, with a 3,400mAh power pack squeezed into the same size body, up from 3,000mAh.
That, coupled with a more efficient processor, should mean better battery life for the phone, and we're hoping it will see out a full day of moderate-to-heavy usage with some juice left in the tank.
The 3T is also Dash Charge-enabled, allowing you to quickly top up your phone if you're running low.
TechRadar's take
We're excited to see how much improvement the new bigger battery in the 3T gives us – fingers crossed! Look out for our full OnePlus 3T review to see how it performs.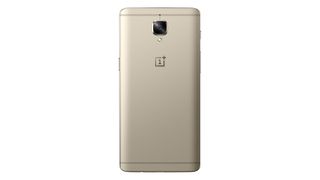 OnePlus 3 camera
The OnePlus 3T still sports a 16MP rear-facing camera, but the front camera has been bumped from 8MP to 16MP too.
OnePlus has upgraded the rear camera covering to Sapphire glass for better protection, as a number of users found the glass on their OnePlus 3 broke rather too easily.
Stabilization has also been improved for video recording on the rear camera, with the introduction of EIS 2.0.
TechRadar's take
Overall camera performance is likely to be on a par with the OnePlus 3, so don't expect any great improvements here – unless, of course, you're firing up the front-facing camera for some serious Facebook Live and Snapchat action.
OnePlus 3T operating system
Android 6.0.1 Marshmallow out the box
Android 7 by the end of the year
The OnePlus 3T runs Android 6.0.1 Marshmallow out of the box, which isn't quite the newest software offering from Google.
Android 7 Nougat is on its way, with a community beta set to arrive in November, and a final build due to roll out to both OnePlus 3 and 3T owners from December 2016.
It's not stock Android though, as OnePlus puts its own Oxygen OS interface over the top, providing greater customization options and additional features.
TechRadar's take
While it's a shame the OnePlus 3T doesn't launch with Android 7, it's good to see the firm being proactive with its update cycle, and users won't have long to wait to get the latest offering.
Is it worth upgrading?
If you own a OnePlus 3, the OnePlus 3T is unlikely to be worth the upgrade.
The OnePlus 3 is such a great device that it features in our best phone rankings, alongside big-name handsets like the iPhone 7 and Samsung Galaxy S7.
But if you were planning to upgrade to the OnePlus 3, well you'll have to opt for the OnePlus 3T as it's going to be the only 3 available – the firm isn't going to produce any more of its predecessor.