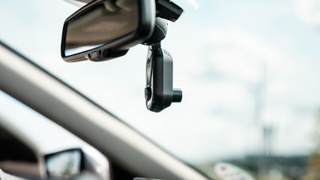 (Image credit: Nextbase)
Our car got written off quite recently and, while there were thankfully no injuries, the incident was very stressful. Someone rear-ended us at around 30-40mph while our car was stopped at traffic lights. It tore the rear driver's side wheel off our car and did the same thing to the front wheel of the car being driven by the person who hit us.
We've got no idea what they were doing because we didn't have a rear-facing dash cam fitted. In retrospect, I really wish we'd made the time to fit one. We did, however, have a front-facing model in the car and it captured the whole thing including being pushed right across the two-lane urban carriageway until the car was almost touching the kerb.
It all happened so fast and, once you've got over the initial shock it's still easy to forget capturing obvious things, like taking pictures or recording what is said. That's why having a dash cam makes an awful lot of sense. Even more so if you've got the new Nextbase iQ model, because it's a new breed of 'smart' dash cam that does all of the work for you, compiling all of that invaluable data and pushing it to the cloud for safe keeping.
Luckily, after the crash, we had the good sense to remove the media card from our older dash cam, which contained the footage of the accident. But what if we'd been hospitalized and couldn't retrieve it? Even getting to our car after it had been towed to a pound in order to remove personal effects turned out to be problematical. So it's scarily easy to be parted from your evidence, and that is definitely not a good thing.
I therefore think it's a great idea to have a cloud-based dash cam that can be worked remotely using an app. It offers much more reassurance. We're still waiting the outcome of the insurance findings, but you would hope with the footage we submitted – supplemented by the shocked audio captured in our car, would prove conclusive.
A smart dash cam does it all
Since then, I've taken owning a dash cam a lot more seriously than I used to. Talking to a group of motoring journalists recently, there seemed to be mixed feelings about owning one. As they quite rightly pointed out, a dash cam might be great at catching events that affect you but aren't your fault. Equally though, they can incriminate you, the driver too if you're in the wrong. A fair point, I guess.
That's where the new Nextbase iQ Smart Dash Cam might make people who aren't convinced about these things even more nervous. The latest model from the British company does it all, from scanning the road ahead and capturing events through to offering up a view of the cabin of your car and its occupants too. Spend a little more and you can also add on the rear-facing camera and connect everything up, so you've got a one-stop safety and security solution.
Being this well covered when it comes to being in your car – along with when you're not thanks to remote vehicle monitoring by the iQ seems like a great idea on the whole.
A connected dash cam is easy to use
Getting setup and ready to go is straightforward enough, too. Nextbase has launched the iQ app and that's available as of now. All you need to do is download it and work your way through the steps. After launching it you simply work through the various screens before pressing continue. Initially it advises not to fix the iQ dash cam to your screen for simplifying the setup procedure.
You'll need to find your ODB port in the car too, which will be slightly different if you're used to plugging a dash cam into the 12-volt power supply in your car. The ODB port is generally found under the dash, usually on the driver's side of the car but if you're stuck Nextbase advises checking your owner's manual.
Once located, you plug the connector from the dash cam into this port, which only goes in one way. This gives your dash cam its power and the design of the unit means this is effectively an 'always on' solution, hence the constant remote monitoring it offers.
If you're not keen on doing this, Nextbase also includes a hardwiring kit inside the box allowing you – or a trained professional, the option of creating a more permanent connection. This route is perhaps less ideal if you have more than one vehicle and plan to transfer the iQ from one car to the other.
In order to gain access to remote Live View, you need to have one of the Nextbase subscription packages - you get two months free if paying annually. This is worth doing if you want to benefit from the extra features including event notifications, Smart Sense Parking Security and Witness mode. There's the convenience of cloud storage and also the ability to carry out remote downloads.
The app itself is nicely laid out, with Live View, History and More tabs along the bottom that let you access core features. Up at the top there are Events, Library and Downloads tabs that are self-explanatory. One of the most appealing aspects of the Nextbase iQ is that it seems future-proof too, thanks to over-the-air-updates that will help keep it relevant over time.
Nextbase says that it will be offering at least three new features towards the end of the year. First up is Guardian Mode, which notifies you when a family member or friend is using your vehicle, or if it's travelled beyond agreed boundaries when left with a mechanic. You'll even be able to add restrictions to things like speed and heavy braking.
Voice Control is the next feature that looks interesting in that you'll be able to place calls, control smart home devices and get directions, all directly via the Nextbase iQ. Topping it all off is another key feature in the shape of Roadwatch AI, which tracks the speed and trajectory of other vehicles around you. There's not much else out there currently that comes close to the Nextbase iQ in terms of specification muscle.
While completing my Nextbase iQ review I found that setting the camera up and using the app, along with its extensive list of features was generally very straightforward. Video and audio quality is excellent, as you'd expect from this brand, and the way you can view clips, share them and generally get help when you need it is all very impressive. One of the best aspects, at least in my own personal experience, is that a lot of the help and assistance is done by the camera and app automatically.
Based on our experience having the aforementioned accident, you're not always thinking clearly after a crash. So to have the benefit of a smart camera doing its thing in the background is well worth the outlay. It's one less thing to worry about and, if you're unlucky enough to have an accident or car-related incident, that provides a great deal of reassurance, even if that service comes with a subscription cost.
You might also like
Get daily insight, inspiration and deals in your inbox
Get the hottest deals available in your inbox plus news, reviews, opinion, analysis and more from the TechRadar team.
Rob Clymo has been a tech journalist for more years than he can actually remember, having started out in the wacky world of print magazines before discovering the power of the internet. Since he's been all-digital he has run the Innovation channel during a few years at Microsoft as well as turning out regular news, reviews, features and other content for the likes of TechRadar, TechRadar Pro, Tom's Guide, Fit&Well, Gizmodo, Shortlist, Automotive Interiors World, Automotive Testing Technology International, Future of Transportation and Electric & Hybrid Vehicle Technology International. In the rare moments he's not working he's usually out and about on one of numerous e-bikes in his collection.