The Sony Xperia Z3 is a phone that's had me going back and forth in terms of a verdict. On the one hand it's very similar to the Xperia Z2 - but then again, the design and brighter screen are really great upgrades.
The innards are similar, yet there are some performance issues that worry me which I didn't notice on the Z2. The overall package is better on paper, but there are some interesting elements that I think Sony still need to address.
We liked
The Sony Xperia Z3, like its predecessors, is a premium phone. Put it on the table and people will be impressed with the way it looks. It's a lot like the Sony Bravia TVs of a decade ago: they were expensive but man, people knew you'd bought a premium product.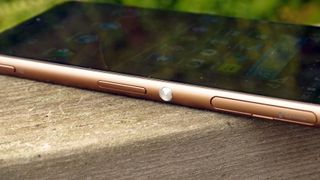 The Xperia Z3 takes that mantle well and adds in a good number of changes to make it a premium phone. Whether it's the great screen performance, the upgraded ergonomics or the attention to detail (nylon corners to protect against drops) it's clear this is Sony's most consumer-friendly smartphone yet.
Play with the camera, learn its ways and it will reward you. Spend some time getting decent movies on the phone and you'll love the impressive screen quality and good front facing speakers. Enjoy the long, long battery life and robust nature of this, the most water resistant of all top end phones.
Remote Play also works very well with the Xperia Z3, and if you already own a PlayStation 4, then the ability to stream games to the handset could be a real selling point.
We disliked
There's something up with this phone still, littered throughout the software. There were a few gremlins in the user interface (the notifications bar not falling all the way down) that left a nasty taste in my mouth.
For example with 4K recording - it still overheats the phone and shuts down your movie capture without warning. If someone like Apple had released a phone with 4K as its big headline and then that didn't work, it would be castigated far more than just bending a bit.
I like a lot about this phone, but there are some slower bits and rough edges that grate with its premium look.
Verdict
Like the Sony Xperia Z2, I don't know why the Z3 doesn't impress me hugely. On paper it's got all the right bits: 3GB of RAM, MHL 3.0, extended battery, high power camera etc.
Yet the sum of those parts doesn't wow me in the way it should. Who needs 3GB of RAM when the performance under the finger isn't insanely brilliant? Who really connects up their phone to their TV, when in reality I'd rather have a better sensor on this handset that didn't rely on megapixels but on genuinely improved low-light performance?
Then there's the issue that this phone will likely be outdated by the Sony Xperia Z4 in a couple of months time - what will that bring that will render the Z3 an older phone that doesn't have the latest, shiniest feature?
The Sony Xperia Z3 is a very good smartphone. It's got an upgraded design and the brighter screen is genuinely a boon for something at this level.
The Remote Play element has impressed as well, with the speed and lack of latency in play something I really enjoyed. I'd almost say this is a 4.5 star phone for those that own a PS4, such was the use of the new feature.
But there are too many slight issues that roughen what should be a perfectly polished user experience. I'm almost livid the camera isn't scampering away as best in class... it's good, better than most, but given the effort Sony has put in, this should be better, and the interface is just too cluttered with all the lenses.
The slight lag under the finger when whizzing in between apps is irritating. Nothing major, but it feels 'fuzzy' where other top end phones snap to attention. And why are most of the best features hidden beneath a thousand menus?
Were this the only upgrade Sony showed this year to its flagship line, I'd have recommended it wholeheartedly - even without the great screen brightness and design evolution, there's plenty of cool stuff that's got Sony's attention to detail all over it.
But this isn't enough of an upgrade for me to tell you to choose it over the still-new and now-cheaper predecessor - right now this isn't a phone that can be considered best on the market.