ASICS Gel Nimbus 25: One minute review
The ASICS Gel Nimbus 25 is a squishy running shoe, and it's in good company: running shoes that go big on cushioning are all the rage right now. Nike, New Balance, Asics and Saucony all have max cushioned shoes in their collections that are designed to be the ones you lace up when you care mostly about comfort over shorter and longer distances.
The Gel-Nimbus line has been going for some time now and with the Gel-Nimbus 25, Asics has sought to make quite sizable changes to one its most-loved and best running shoes. I used the Nimbus 24 and thought it was pretty well suited for easy runs and longer distances and while the Nimbus 25 is clearly built differently to its predecessor, it's a shoe I've wanted to spend more time in for different reasons.
It doesn't quite have the same capacity to mix up the paces like you could on the 24, but what it does give you is something that feels lovely to slip your feet into, and delivers a level of cushioning that makes it enjoyable to run in and is one that feels like it can handle logging a fair amount of running time in.
Swipe to scroll horizontally
ASICS Gel-Nimbus 25

| | |
| --- | --- |
| Component | ASICS Gel-Nimbus 25 |
| Weight | 299g (Mens UK size 8) |
| Upper | Knit |
| Midsole | FF Blast Eco cushioning |
| Outsole | AHAR rubber |
| Heel-to-toe drop | 8mm |
ASICS Gel-Nimbus 25: Price and availability
$160 / £175 / AU$260
Competitively priced with other max-cushion shoes
The Asics Gel-Nimbus 25 only launched in January 2023 so hasn't seen a drop from its pretty steep $160 / £175 / AU$260 price.
While not expensive in carbon racing shoe terms, it's still not cheap, but it does sit well with the price of other max cushioned shoes like the Nike Invincible 3, Saucony Triumph 20 and the New Balance Fresh Foam X More v4.
ASICS Gel-Nimbus 25: Design
Knit upper
8mm heel-to-toe drop
FF Blast Eco cushioning
ASICS still aims this shoe at neutral runners, so those looking for something with more supportive elements to guide the foot in the right place will find better-suited shoes elsewhere.
The first thing you notice when slipping on the 25 is that you do really sink into it. ASICS has changed from a mesh upper to a knitted one that noticeably hugs even at the heel where the collar has a more stretchy feel to it this time. It definitely sits more snugly than the upper on the 24 but it does also feel that the change in materials means you lose some breathability when you up the mileage.
There's a change in heel-toe drop too, going from a 10mm to an 8mm one, though it doesn't feel like it drastically alters what it feels like to run in. What does have more of an influence is the addition of FF Blast Eco foam in the midsole, which sees ASICS slightly move away from the FF Blast+ and layer of Flytefoam used on the 24, offering 20% more foam.
Also in place is what Asics calls PureGel technology, which is primarily designed to help handle impact when your foot hits the ground and also shapes the sort of smooth ride you should get here.
It's a shoe that certainly feels true to size in fit and while the changes seem radical compared to the last Nimbus, they feel like changes that are largely for the positive.
ASICS Gel Nimbus 25: Performance
Smooth and stable ride
Really notice that plush cushioning
Outsole feels best suited to roads and pavements
The Gel-Nimbus 25 just feels like a really nice shoe to run in and that was a feeling I had every time I put it on. No, it doesn't have the most lively ride and it isn't as suited to running at a mixture of different speeds as the 24, but if you like a shoe to go long and easy in, it absolutely fits the bill.
The first key part of that is just how well the upper fits. Barring some small rubbing issues we had from the redesigned heel collar on one long run, this is a shoe that wraps nicely and does also offer an all-important good lockdown as well. That change in cushioning really changes what the new Nimbus feels like to run compared to the previous one. It's not super bouncy like the ZoomX foam on a Nike Invincible but it is plush, you sink into it and it does deliver a smooth and not-too-wild feeling underfoot.
Running at speed just doesn't seem to be in the Nimbus 25's repertoire, and that comes down to the overall weight of the shoe and generally offering a much flatter feel when you do try to increase the pace. You can find max cushioned shoes that can handle some quicker stuff, but the Nimbus 25 isn't one of them.
The outsole felt solid though and not drastically different from the last Nimbus. It has been eaten away from well over 50km of predominantly pavement running and while it could handle some lighter trail time and wetter conditions, drier roads and pavements are where it firmly belongs.
The Nimbus 25 is a different shoe to the Nimbus 24, but it's different in a good way and it might find more fans outside of loyal Nimbus users thanks to the level of comfort and plush cushioning it can deliver.
ASICS Gel-Nimbus 25: Buy it if…
You want a really comfortable running shoe
From the upper to the cushioning, this is a shoe that promises big comfort and absolutely delivers on that front.
You want a running shoe to run easy in
The Nimbus 25 works best at easy, slower paces and if that's your bag, then this is a shoe for you.
You are a neutral runner
This is a neutral running shoe and every bit built like one, though its stable and controlled ride should give it appeal.
ASICS Gel-Nimbus 25: Don't buy it if…
You want something to run quickly in
Unlike the Nimbus 24, the 25 has lost some of its versatility and has got a touch heavier as well
You want a bouncy ride
If you like a running shoe that offers a very excitable, energetic ride, then you might be better served elsewhere.
You loved the Nimbus 24
If you really liked the way the Nimbus 24 ran, then you might feel a bit indifferent to changes, which we do think make it a more appealing shoe.
Also consider
Swipe to scroll horizontally
Also consider

| | | | |
| --- | --- | --- | --- |
| Component | ASICS Gel-Nimbus 25 | ASICS Gel-Nimbus 24 | ASICS Novablast Tokyo |
| Weight | 299g (Mens UK size 8) | 290g (Mens UK size 9) | 275g (Mens UK size 9) |
| Upper | Knit | Mesh | Mesh |
| Midsole | FF Blast Eco cushioning | FF Blast & Flytefoam cushioning | FF Blast cushioning |
| Outsole | AHAR rubber | AHAR rubber | AHARPLUS rubber |
| Heel-to-toe drop | 8mm | 10mm | 10mm |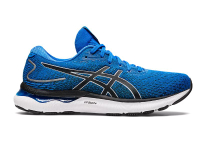 ASICS Gel-Nimbus 24
Last year's model, the ASICS Gel-Nimbus 24 carries many of its successor's same fantastic specs (with a few mm of extra heel drop, if you like an even thicker shoe) and can be found a lot cheaper.
Read our full ASICS Gel-Nimbus 24 review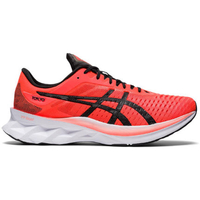 ASICS Novablast Tokyo
Thicker than a bowl of oatmeal, with AHARPLUS rubber and an extra-lurid colorway, the Novablast shares the Gel-Nimbus series' design philosophy.
Read our full ASICS Novablast Tokyo review
First reviewed: March 2023