30-second review
Unless you're really planning to splash the cash on an interlocking set of dumbbells, you'll be looking to pick up a pair of adjustable ones for your home workouts – and that's where this affordable set comes in.
The Amazon Basics adjustable dumbbells come with a range of plates to suit the needs of most fitness enthusiasts, although those lifting anywhere near the heavier end of the spectrum will soon find themselves running out. The kit is constructed solidly though, and the portable carrying case means that you'll easily be able to take your weights on the move if you so desire.
While the handles boast a textured grip that stops the dumbbells from becoming slippery as you work up a sweat, the metal handles are somewhat on the thin side. This will undoubtedly be a bonus to those with smaller hands, but those of you with larger mitts may find the grip somewhat uncomfortably narrow.
On the whole, the Amazon Basics adjustable dumbbells are a serviceable bit of kit. You can probably find a similar set cheaper if you live outside the US, but they're reasonably priced if you're buying in the States.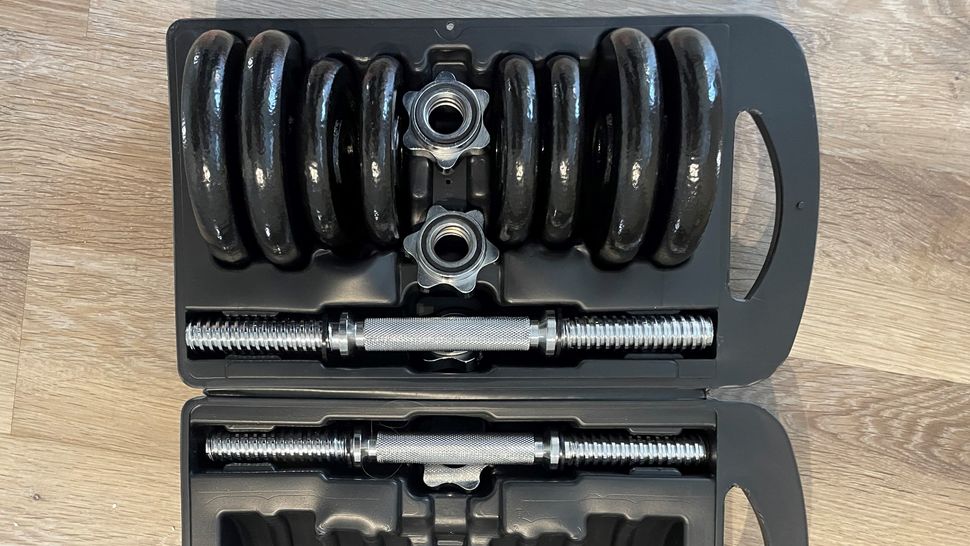 Price and availability
The Amazon Basics Adjustable Weight Set is priced at $57.78 in the US and £73.98 in the UK. That makes it moderately priced if you're based in America, but on the expensive side if you're in the UK. At the time of writing, the set is unavailable in Australia.
Presumably the higher fees are related to import costs, but if you're in the UK, we'd recommend looking elsewhere for adjustable dumbbells.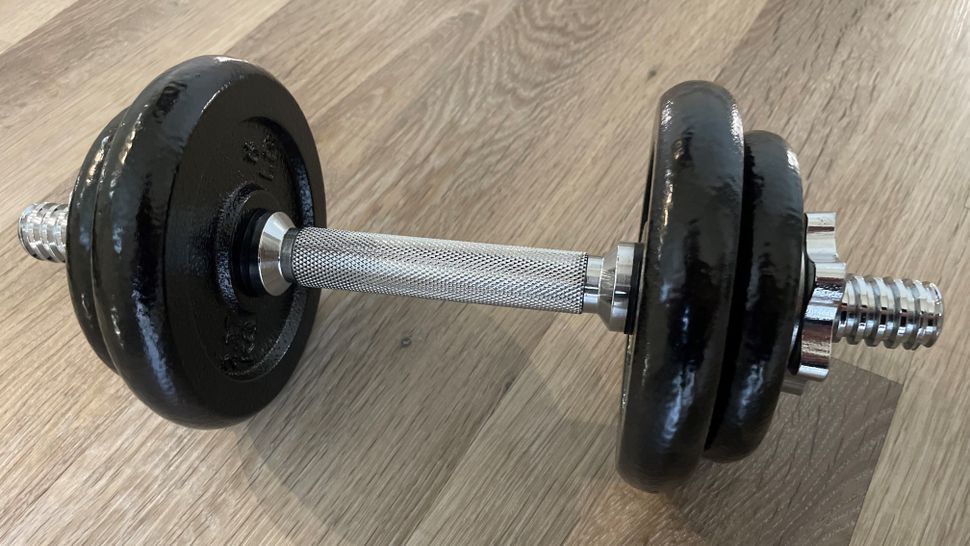 Weight range
The Amazon Basics set comes with eight plates that stack up to 40lb in total weight. That's 20lb per dumbbell, which you can adjust in 2.5lb and 5lb increments. While that will likely be enough for most users, the limited configurations it offers means that more experienced fitness enthusiasts might find themselves wishing for more options.
Setup and features
The kit itself is sturdily constructed. As with most adjustable dumbbells of this design though, you'll find yourself tightening the collars in between sets, often out of habit as much as necessity. The textured handles offer great grip considering how slippery metal can be when your palms are sweaty. The slim design of the handles will be perfect for some; others might find themselves wishing for grips with a little more substance, though.
The cast iron parts not only feel good to the touch but with the plates boasting a semi-gloss finish, they look great too, meaning your workouts will certainly have you feeling like an established weightlifter even if you're just starting out. However, because the plates come in 2.5lb and 5lb increments, prepare yourself for plenty of furious changing around between sets, especially if you want to do back-to-back supersets where you're combining a heavier set such as bicep curls with something lighter like rear deltoid flies.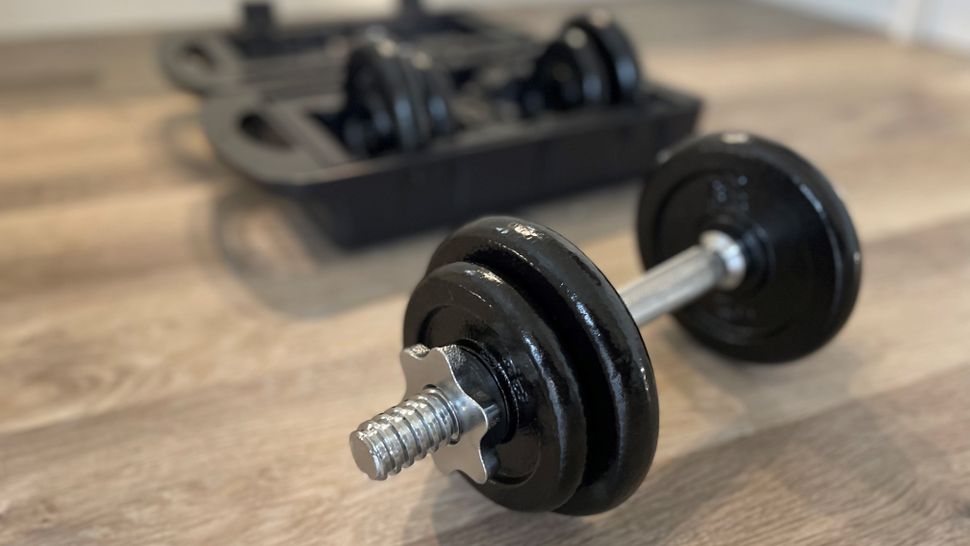 Of course, that's par for the course with any dumbbells that feature a collared design, although with some other sets on the market offering a greater array of plates, it's an issue you'll face with greater frequency with the Amazon Basics model. Handily, the weight for each plate is embossed in both pounds and kilograms, meaning whichever metric you use, you won't find yourself having to do mental gymnastics in the midst of your physical workout.
First reviewed April 2022
Buy it if
You're looking for a starter set of dumbbells
The Amazon Basics adjustable dumbbells make for a serviceable pair of starter weights with some scope for flexibility as your workouts begin to advance.
Your workout regime is pretty fixed
You'll get the most enjoyment out of these dumbbells if you aren't having to switch the plates every minute or two. If you know your routine is pretty straightforward and doesn't use back-to-back supersets of varying weights, this could be the product for you.
You want decent quality on a budget
While by no means the best-looking adjustable dumbbells on the market, the Amazon Basics dumbbells look and feel pretty good for the price point. This is especially true when compared to cheaper plastic or vinyl versions, that may cost you less but won't feel anywhere near as good.
Don't buy it if
You're looking to lift a heavier weight
With a maximum weight of 20lb (9kg) for each dumbbell, they won't be adequate for a significant number of users. If you fall into that bracket and are looking for an all-in-one system of weights, you might want to consider looking at a set of interlocking dumbbells.
You have large hands
Those small grips mean you might find yourself struggling to get a sure grip on this particular piece of kit. Still, if you're planning to share with somebody with a smaller handspan, there's always chalk.
Your workout requires a wider range of weights
If you favour a lot of supersets with significantly varying weights, you might want to look elsewhere, or simply prepare yourself for lots of mid-set plate changes.