The new fastest mobile DRAM from SK hynix could power the future of AI
Lightning fast processing for your 5G phone and more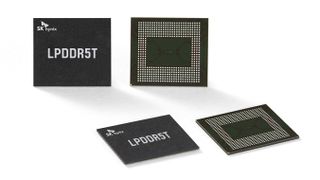 (Image credit: SK hynix)
South Korean RAM gianty SK hynix has unveiled "the world's fastest mobile DRAM", samples of which it has already delivered to prospective customers.
It's dubbed LPDDR5T (Low Power Double Data Rate 5 Turbo), and is a follow-up to the LPDDR5X (Low Power Double Data Rate 5X) chip it unveiled late last year rather than a brand-new generation, which it will call LPDDR6.
This latest Turbo model promises to be quicker and more efficient than ever as the company hopes to see it use in more mobile applications.
TechRadar Pro needs you!
We want to build a better website for our readers, and we need your help! You can do your bit by filling out our survey and telling us your opinions and views about the tech industry in 2023. It will only take a few minutes and all your answers will be anonymous and confidential. Thank you again for helping us make TechRadar Pro even better.
D. Athow, Managing Editor
SK hynix LPDDR5T
The 5T is designed to operate at a data rate of 9.6 Gbps, which is 13% quicker than the 5X model unveiled in November - a development that inspired the company to add the Turbo suffix.
It's also compliant with JEDEC requirements in that it operated within an ultra-low 1.01-1.12V range, allowing it to deliver fast performance while using as little power as possible.
SK hynix has dished out 16GB multi-chip package samples to customers, which can process 77GB of data per second (the equivalent of 15 Full HD movies per second).
It hopes to bring the 5T chip into production later this year using a 10nm process (which it calls 1anm), as well as its HKMG (High-K Metal Gate) process designed to prevent current leakage.
This is a move that prepares SK hynix for the continued rollout and adoption of 5G technology, as it sees its chips being used in all sorts of applications from smartphones to AI, machine learning, and AR/VR.
Sungsoo Ryu, Head of DRAM Product Planning, said that the company: "will continue to work on the technology development to lead the next-generation semiconductor market and become the game changer to the IT world."
Are you a pro? Subscribe to our newsletter
Sign up to the TechRadar Pro newsletter to get all the top news, opinion, features and guidance your business needs to succeed!
With several years' experience freelancing in tech and automotive circles, Craig's specific interests lie in technology that is designed to better our lives, including AI and ML, productivity aids, and smart fitness. He is also passionate about cars and the decarbonisation of personal transportation. As an avid bargain-hunter, you can be sure that any deal Craig finds is top value!