Is a Windows tablet the future of your business?
Tablet PCs are becoming the essential business tool. With Windows Surface Pro offering a plethora of features, should your business move to tablets now?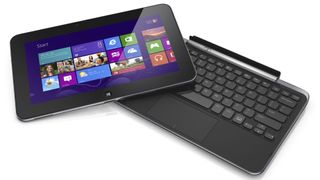 To remain successful in your market sector means leveraging the technology within your organisation.
Today that means developing an agile business that operates on the move. As businesses and their employees deploy mobile digital devices, the tablet PC in particular is becoming indispensable to any enterprise that wants to remain competitive.
In their report, Fortinet state: "BYOD opens up numerous challenges around network, data, and device security, along with blurring the lines of privacy and accessibility."
Brian Horsburgh, Regional Sales Manager, Dell KACE advises: "Supporting BYOD means expanding your estate from one set of machines to a plethora of potential assets. Rather than one Windows operating system and one hardware type, companies can have different OS and hardware types to consider as well as multiple types of device. Users can be working on different assets based on where they are and what task they are doing at any given time. This blend of IT needs management, so being able to handle different OS and device types is a must-have."
Seamless integration
For instance, businesses migrating from Windows XP to Windows 8 gives them the chance to fully embrace mobile working practices. The seamless integration of Surface Pro 2 and Windows 8 on desktops and notebook PCs offers a major opportunity to support everyone within an organisation with tools they can access, no matter their location.
One issue that all business users of Surface Pro 2 face is ensuring that they have the correct security protocols in place. In their recent report into mobile consumerisation, Trend Micro discovered that 83% of companies that do allow BYOD have policies in place that require employees to install security software as a precaution.
The fact that Surface Pro 2 includes a raft of Windows security features enables business users to rest assured that the devices they do deploy or allow into their business under BYOD can be secured from attack.
The new Windows platform uses Defender to protect against malware and viruses, as well as BitLocker technology to protect sensitive information. Also available are TPM, UEFI, and Secure Boot, to keep Surface Pro safe and secure.
Migration benefits
Businesses that migrate to Surface Pro 2 can now place these tablet PCs at the heart of their enterprises. Before advanced tablets like this, tablet PCs were used to view digital assets and little else.
Is Surface Pro 2 disruptive? For businesses that are approaching the refresh anniversary of their major IT installations, tablets can't be ignored. Surface Pro 2, with its usable keyboard and docking station for additional I/O ports and external monitor support, makes this a highly attractive proposition for businesses that want to increase their flexibility and the agility of their workforces.
As an alternative to established mobile computers, the tablet has rapidly developed into an essential business machine. Many tablets remain platforms for the consumption of media with little business acumen. Surface Pro 2 offers not only a new form factor, but is now a new way of doing business.
Mobile communications are now at the heart of every thriving enterprise. Utilising advanced tablets such as Surface Pro 2 is a commercial imperative few businesses can afford to ignore.
Are you a pro? Subscribe to our newsletter
Sign up to the TechRadar Pro newsletter to get all the top news, opinion, features and guidance your business needs to succeed!