Microsoft Viva is giving your sales a ChatGPT boost
Viva is the latest Microsoft product to get ChatGPT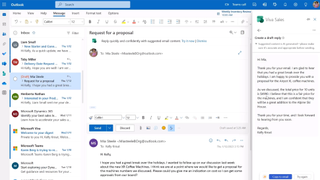 (Image credit: Microsoft)
Microsoft's growing involvement with OpenAI, the company behind the all-so-familiar ChatGPT, is seeing the company's sales-focused software set to get a major boost.
It's set to start with Microsoft Viva Sales, which will see a GPT-3.5 implementation that the company says will "help sellers stay on top of customer emails and spend a fraction of the time doing it."
In doing this, Microsoft hopes to improve the experience not for its clients' customers, but the clients that will actually use the tool. It reckons that a productivity boost and enhanced experience are on the cards.
TechRadar Pro needs you!
We want to build a better website for our readers, and we need your help! You can do your bit by filling out our survey and telling us your opinions and views about the tech industry in 2023. It will only take a few minutes and all your answers will be anonymous and confidential. Thank you again for helping us make TechRadar Pro even better.
D. Athow, Managing Editor
ChatGPT in Microsoft Viva
At launch, it will pull data from Microsoft 365 Graph and the connected CRM (it cites Dynamics 365 and Salesforce).
Sellers will be able to type a prompt which will then see ChatGPT drawing up a suggested reply, which can be tailored along the way. Dynamics 365 Customer Experience Platform corporate VP, Lori Lamkin, said in a product announcement that it will be able to handle a variety of emails, from inquiries to proposals.
End users are set to get a significant boost from this addition, says Microsoft, which carried out a research study that saw sellers spending two-thirds (66%) of their days managing emails.
Microsoft's use of AI has been on the up in recent months, with its current offerings including natural language technology that can generate call summaries, detect questions, calculate conversational KPIs, and extract action items, and this is just the latest addition of what is likely to be a whole flurry.
Pricing for Viva Sales sits at $40 (£30.20) per user per month on an annual plan, plus taxes. Microsoft confirmed in an email to TechRadar Pro:
"There are no planned price increases at this time. Viva Sales is included in Dynamics 365 Sales Enterprise, Premium, Microsoft relationship sales (MRSS) and available for purchase for Dynamics 365 Sales Professional and Salesforce installations at $40 per user per month. "
Are you a pro? Subscribe to our newsletter
Sign up to the TechRadar Pro newsletter to get all the top news, opinion, features and guidance your business needs to succeed!
With several years' experience freelancing in tech and automotive circles, Craig's specific interests lie in technology that is designed to better our lives, including AI and ML, productivity aids, and smart fitness. He is also passionate about cars and the decarbonisation of personal transportation. As an avid bargain-hunter, you can be sure that any deal Craig finds is top value!