The PS4 is now a year old and after a slow start in terms of games, there are now a shed load of excellent titles to play.
From the forthcoming GTA V release and its incredible first person mode, to the amazing world of Destiny and the sporting excellence of EA Sports' range of 2014 titles, there's a game for everyone out there.
So we've rounded up the best games that are currently available for your Playstation 4.
We've split them into categories too, so you can more easily find what you're after.
So here we go, the 50 best PS4 games currently available:
Best PS4 action games:
Grand Theft Auto V:
Rockstar Games' critically acclaimed open world comes to a new generation. Enter the lives of three very different criminals, Michael, Franklin and Trevor, as they risk everything in a series of daring and dangerous heists that could set them up for life. Along with the sweeping visual and technical enhancements and new content updates for all players of Grand Theft Auto V for PlayStation 4, there will also be some special activities and items as a reward exclusively for veteran Los Santos and Blaine County residents. Players returning from the original PlayStation 3 and Xbox 360 versions of GTAV can expect an array of exclusive content to discover when the game arrives.
Call of Duty: Advanced Warfare
Call of Duty®: Advanced Warfare, developed by Sledgehammer Games (co-developers of Call of Duty®: Modern Warfare® 3), harnesses the first three-year, all next-gen development cycle in franchise history. Call of Duty®: Advanced Warfare envisions the powerful battlegrounds of the future, where both technology and tactic have evolved to usher in a new era of combat for the franchise. Delivering a stunning performance, Academy Award® winning actor Kevin Spacey stars as Jonathan Irons – one of the most powerful men in the world – shaping this chilling vision of the future of war. Power Changes Everything.
Destiny
Expand your Destiny adventure with a wealth of weapons, armor, and gear earned in new story missions, three new competitive multiplayer arenas, and a new cooperative Strike and Raid. Beneath the surface of the Moon, a long-forgotten enemy wakes. Survive the true depths of the Hellmouth, and stop its dark army from invading Earth.
Watch Dogs
Play as Aiden Pearce, a brilliant hacker, whose criminal past led to a violent family tragedy. Now on the hunt for those who hurt your family, you'll be able to monitor and hack all who surround you on your search for vengeance, and the truth.
Assassin's Creed Unity
Introducing Assassin's Creed® Unity, the next-gen evolution of the blockbuster franchise powered by an all-new game engine. From the storming of the Bastille to the execution of King Louis XVI, experience the French Revolution as never before, and help the people of France carve an entirely new destiny.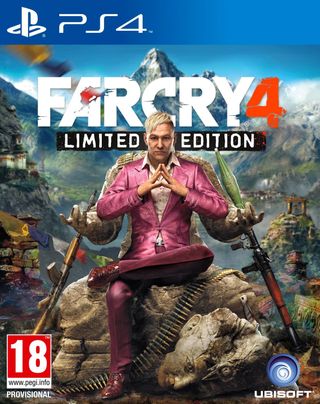 Far Cry 4
In Far Cry 4, players find themselves in Kyrat, a breathtaking, perilous and wild region of the Himalayas struggling under the regime of a despotic self-appointed king. Using a vast array of weapons, vehicles, and animals, players will write their own story across an exotic open-world landscape.
Middle-Earth: Shadow of Mordor
Fight through Mordor and uncover the truth of the spirit that compels you, discover the origins of the Rings of Power, build your legend and ultimately confront the evil of Sauron in this new chronicle of Middle-earth.
The Last of Us Remastered
Winner of over 200 Game of the Year awards, The Last of Us™ has been rebuilt for the PlayStation®4 system. Now featuring full 1080p, higher resolution character models, improved shadows and lighting, in addition to several other gameplay improvements.
Sleeping Dogs Definitive Edition
The Definitive Edition of the critically acclaimed, award winning open-world action adventure, reworked, rebuilt and re-mastered for PlayStation®4. All 24 previously available DLC extensions have been integrated into the game, including the story-extending episode Year of the Snake and the horror-themed Nightmare in North Point. Alongside a wealth of new technological, audio and visual improvements, Hong Kong has never felt so alive.
Tomb Raider Definitive Edition
The cinematic action-adventure that forced Lara Croft to grow from an inexperienced young woman into a hardened survivor has been re-built for next-gen consoles, featuring an obsessively detailed Lara and a stunningly lifelike world. To survive her first adventure and uncover the island's deadly secret, Lara must endure high-octane combat, customize her weapons and gear, and overcome grueling environments. The Definitive Edition of the critically-acclaimed action-adventure includes bonus content and DLC.
Metro: Redux
The year is 2033. An entire generation has been born and raised underground, and their besieged Metro Station Cities struggle for survival, both with each other and the mutant horrors that await outside. You are Artyom, born in the last days before the fire, but raised underground. Having never ventured beyond the city limits, one fateful event sparks a desperate mission to the heart of the Metro system, to warn the remnants of mankind of a terrible impending threat. Rather than stand united, the factions of the Metro are locked in a struggle for the ultimate power, a doomsday device from the military vaults of D6. A civil war is stirring that could wipe humanity from the face of the earth forever.
Call of Duty: Ghosts
Call of Duty®: Ghosts ushers in the next generation of the franchise, delivering a riveting all-new gameplay experience built on an entirely new story, setting and cast, all powered by a new next-generation Call of Duty engine.
Wolfenstein: The New Order
Wolfenstein®: The New Order™ reignites the series that created the first-person shooter genre. Under development at Machine Games, a studio comprised of a seasoned group of developers recognized for their work creating story-driven games, Wolfenstein offers a deep game narrative packed with action, adventure and first-person combat.
Metal Gear Solid V: Ground Zeroes
World-renowned Kojima Productions showcases the latest masterpiece in the Metal Gear Solid franchise with Metal Gear Solid V: Ground Zeroes. Metal Gear Solid V: Ground Zeroes is the first segment of the 'Metal Gear Solid V Experience' and prologue to the larger second segment, Metal Gear Solid V: The Phantom Pain launching thereafter.
Assassin's Creed IV: Black Flag
Become Edward Kenway, a charismatic yet brutal pirate captain, trained by Assassins. Edward can effortlessly switch between the Hidden Blade of the Assassin's Order and all new weaponry including four flintlock pistols and dual cutlass swords.
Metal Gear Solid V: The Phantom Pain
Combining open-world action with a new breed of stealth, take on the rough terrain of Afghanistan and tactical espionage with Solid Snake and a whole host of new characters.
Battlefield Hardline
Live out your cop and criminal fantasy in Battlefield Hardline. This action-packed blockbuster combines intense signature multiplayer moments of Battlefield with an emotionally charged story and setting reminiscent of a modern television crime drama. In a visceral single-player campaign you'll play the role of Nick Mendoza, a young detective who embarks on a cross-country vendetta seeking revenge against once trusted partners on the force. In multiplayer you'll hunt criminals, raid vaults, and save hostages in new cop and criminal-inspired modes like Heist and Rescue. Welcome to your new playground.
Best PS4 adventure games:
Skylanders Trap Team: Starter Pack
Kaos has blown up the walls of the feared Cloudcracker Prison freeing the most notorious villains in Skylands. It's up to you and the Skylanders to find and capture them. Using Traptanium™, a magic material that can harness the power of the Elements , you have the amazing ability to trap the villains and return them to Skylands to fight fo r you! Begin the ultimate adventure as you explore Skylands in search of the escaped villains!
Lego Marvel Super Heroes
LEGO® Marvel™ Super Heroes features an original story crossing the entire Marvel Universe. Players take control of Iron Man, Spider-Man, the Hulk, Captain America, Wolverine and many more Marvel characters as they unite to stop Loki and a host of other Marvel villains from assembling a super-weapon capable of destroying the world.
Little Big Planet 3
PlayStation's most imaginative franchise, LittleBigPlanet™, is back with a new cast of playable plush characters in the biggest handcrafted adventure yet!
LEGO Batman 3: Beyond Gotham
The Caped Crusader joins forces with the super heroes of the DC Comics universe and blasts off to outer space to stop the evil Brainiac from destroying Earth.
Dragon Age: Inquisition
Dragon Age: Inquisition creates a massive, vibrant world on a scale far greater than its predecessors, and does an excellent job of making you feel in command. The heart of this game rests with its characters, who keep you invested in the action.
inFAMOUS: Second Son
inFAMOUS Second Son, a PlayStation 4 exclusive , brings you an action adventure game where surrounded by a society that fears them, superhumans are ruthlessly hunted down and caged by the Department of Unified Protection. Step into a locked-down Seattle as Delsin Rowe, who has recently discovered his superhuman power and is now capable of fighting back against the oppressive DUP. Enjoy your power as you choose how you will push your awesome abilities to the limit and witness the consequences of your actions as they affect the city and people around you.
InFAMOUS: First Light
Locked up in a prison for super powered humans, Fetch is forced to relive tragedies from her past. Unravel her dark secret in Seattle while battling to escape snowy Curdun Cay and seek vengeance against those who wronged her.
Tom Clancy's The Division
The Division takes place in New York 3 weeks after a lethal virus, released on Black Friday, sweeps through the city. One by one, basic services have failed. Society has collapsed into chaos. The President invokes Presidential Directive 51 and The Division, a top secret unit of self supporting tactical agents is activated.
Unchartered 4: A Thief's End
Several years after his last adventure, retired fortune hunter, Nathan Drake, is forced back into the world of thieves. With the stakes much more personal, Drake embarks on a globe-trotting journey in pursuit of a historical conspiracy behind a fabled pirate treasure. His greatest adventure will test his physical limits, his resolve, and ultimately what he's willing to sacrifice to save the ones he loves.
Rayman Legends
The Glade of Dreams is in trouble once again! During a 100-year nap, the nightmares multiplied and spread, creating new monsters even more terrifying than before! These creatures are the stuff of legend… Dragons, giant toads, sea monsters, and even evil luchadores. With the help of Murfy, Rayman and Globox awake and must now help fight these nightmares and save the Teensies!
Lara Croft and the Temple of Osiris
Lara Croft and the Temple of Osiris takes place deep in the deserts of Egypt. In her new adventure, Lara must join forces with rival treasure hunter Carter Bell and imprisoned gods Horus and Isis, to defeat the evil god Set. As Lara and her companions fight the elements of nature across the sands and through ancient tombs, they will battle legendary deities and creatures of myth. With the fate of the world at stake, Lara must recover the fragments of Osiris to stop Set from enslaving all mankind.
The LEGO Movie: Videogame
In a scenario drawn from the film, The LEGO Movie Videogame puts you into the role of Emmet, an ordinary, rules-following, perfectly average LEGO minifigure who is mistakenly identified as the most extraordinary person--and the key to saving the world. Guide him as he is drafted into a fellowship of strangers on an epic quest to stop an evil tyrant, a journey for which Emmet is hopelessly and hilariously underprepared.